The Hollyford Man made of 'Whipcord and Horseshoe Nails' - a True New Zealand Hero known as the Grandfather of New Zealand Tourism.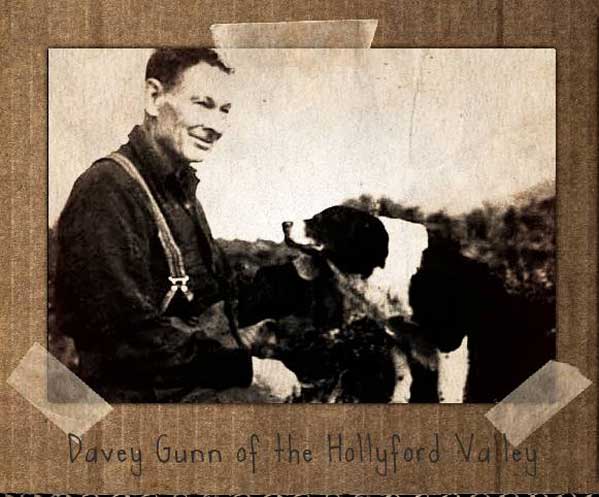 Most Kiwi's would stare at you blankly if asked who Davey Gunn of the Hollyford Valley was, but folk in New Zealand's deep south would look you hard in the eye and give you a slow nod.
This quiet, unassuming Kiwi Bloke, lived in the rugged Hollyford Valley and literally ran his way into folklore in 1936, after a light aircraft crash in Big Bay in remote South Westland. Gunn, sporting a broken rib, ran 97 kilometers (60 miles) on a non-stop mercy mission to summon help, his efforts saw the four survivors rescued. He did so in under 20 hours, in the dark, at a time when most would have taken a grueling four days to cover the remote terrain.
But that's only half the story...  
If you are ever  lucky enough to join a hike through the beautiful Hollyford Valley there is no doubt you will hear incredible stories about Davey Gunn. The guides dub Davey as "The greatest man who ever lived," One of the many ripping yarn I remember was when Davey was chasing steer through dence bush and tore his thigh and scrotum on a jagged branch, without flinching he stitched up the gash with darning needle and some old fishing gut, from that on he was as 'the man made of horseshoe nails and whipcord.' Spawned from tough Scottish ancestry and hailing from the small South Canterbury town of Waimate, Davey Gunn, in 1926, secured the lease of a remote property at Martins Bay (now the finishing point of the Hollyford Track), with four leases totalling more than 25,000 acres in the Hollyford Valley he established his base 'Deadman's Hut' on the banks of the remote Hollyford River. So remote, in fact, that this was one of the last credible sightings of  New Zealand's 'Giant Moa' took place.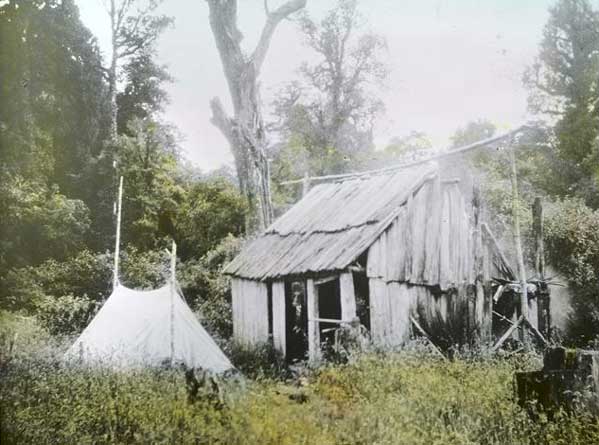 His cattle run was at best very heavy bush country, and his sole income came from selling his cattle in Invercargill, a blistering four month, 175 mile cattle drive away. The holding never made money, and soon became deer infested. Against the the harshest conditions of this difficult country, the isolation and the financial Depression he wrestled to make a living from his largely wild cattle. With the runs on a year-to-year lease Davey was soon close to bankruptcy.
One of the the Grandfathers of New Zealand Tourism 
Davey was no businessman, and money meant little to him, he was a stubborn and difficult fella to work with. He lived very frugally, calling the Hollyford 'The Land of Doing Without', and had little time for 'modern inconveniences'. He was, however a superb bushman and cut tracks along his valley run to get access to the river flats, connecting them by a chain of huts along his isolated run. So to supplement his income in 1936, Davey opened up and shared the land he loved, unwittingly pioneering guided hiking and horse riding trips in the Hollyford and Pyke Valleys.
Then on the 30th December 1936 the ill-fated Fox Moth, cabin plane crashed leading to Davys Gunn being awarded the King George VI's Coronation Medal. 'The Legend was Born' and no doubt this honor helped his fledgling tourism business. Friendly and hospitable by nature, and possessing considerable personal charm his endeavor grew employing guides help him cope with the ever increasing numbers. Davey became a well-known and popular figure, respected for his energy, bushcraft and his knowledge of this remote area. He communicating his own enthusiasm to a generation of trampers. A memorial plaque near the junction of the Pyke and Hollyford rivers bears an inscription that aptly concludes 'all who passed this way knew him as "Davey, the Tramper's Friend".'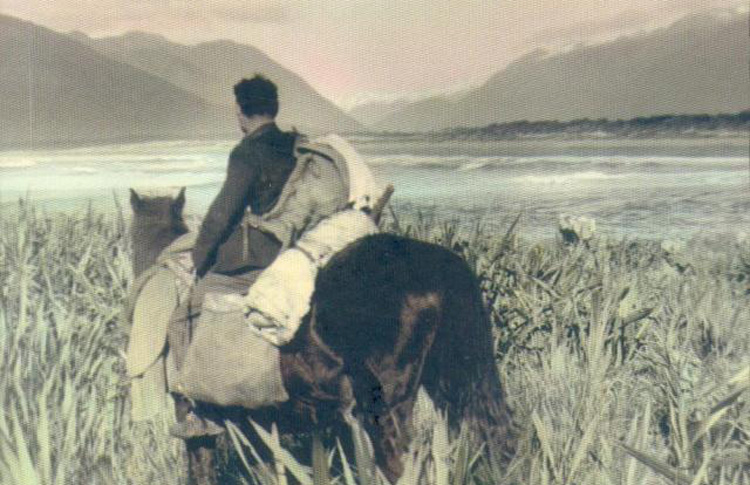 Its not surprising this intrepid bushman earned the reputation, as New Zealand's own Davey Crockett.  It is said that over 80% of his clients were women - but that's a whole other story. In 1950 Davey Gunn slipped over a bluff and was badly injured, from that day on his health began to decline and alas on Christmas Day 1955 he moved his horse into the Hollyford River close to Hidden Falls with a 12-year-old boy mounted behind him.
The horse fell, and both riders were swept away and drowned. Gunn's body was never found. Regarded by many as New Zealand's most beautiful valley, the Hollyford is still accessible to anyone keen enough to see the wonders of the beautiful valley but even with a moderate level of fitness and superb tracks [compared to the 30's] it will still take you three days.  A first Hand Account of Davey Gunn's legendary mercy dash. The New Zealand Railways Magazine, Volume 11, Issue 12 (March 1, 1937)A Wilderness of Enchantment, South Westland and Beyond. New Zealand's least known but most fascinating territory. A Chronicle of a trip made by Mr. G. H. Mackley, General Manager of the New Zealand Railways, and the writer.  
 Hiking the Hollyford Track
Regarded by many as New Zealand's most beautiful valley, the Hollyford is now accessible to everyone with a moderate level of fitness as a Three Day Guided Hollyford Hike