Popular Ways to Experience New Zealand
WHO ARE WE?
First Light Travel is a Kiwi owned company, operated by Brent Narbey and Nigel Williamson. Adventurers themselves, with more than a few travel stories of their own, they know the ins and outs of travelling both in New Zealand and around the globe. Both are absolute travel professionals with a lifetime in the industry, which means you couldn't be in safer hands!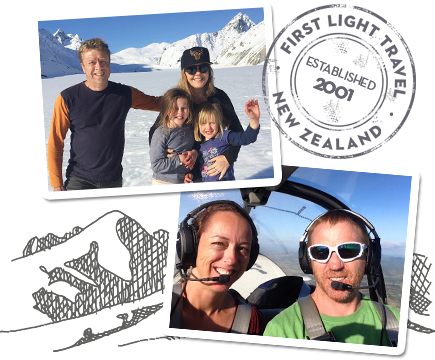 Why First Light Travel Does it Better...
Complete our Enquiry Form and you will receive the first cut of your customised Self Drive New Zealand Holiday Itinerary from your own personal travel consultant.
Your consultant will then work with you to refine your itinerary so that it meets your needs perfectly.
Find out what we can do for you.
We are the only New Zealand travel agency with Enigma, a powerful system storing over 20,000 hand picked New Zealand products & tours.
With the expertise of our travel specialists, you'll find just what you're looking for in a New Zealand Holiday.
Work with your own personal Kiwi Travel Specialist, from start to finish. Benefit from their local knowledge and expertise so you get exactly what you are looking for in a New Zealand Self Drive Itinerary or Private Tour.