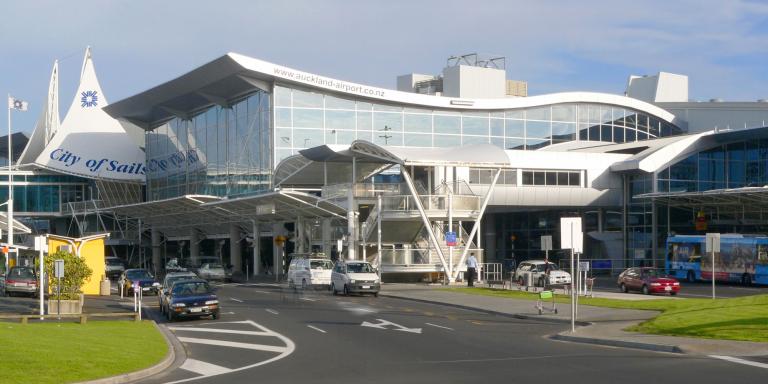 Arriving in New Zealand
However you arrive in New Zealand, you will need to complete the formalities of passport, customs and biosecurity controls. Our international airport arrival areas are laid out so that you do this in order and all being well you will be through in no time.
New Zealand shares no land borders with other countries and it is critical to protect our environment and industries.  In preparation it is well worth looking at the Ministry for Primary Industries website, so that you know what you can and can't bring in to New Zealand.  There are some hefty penalties if you make a false declaration, so it is better to declare items that you unsure of, or use the amnesty bins you will see along the way. If you have food left over from the flight get rid of it now.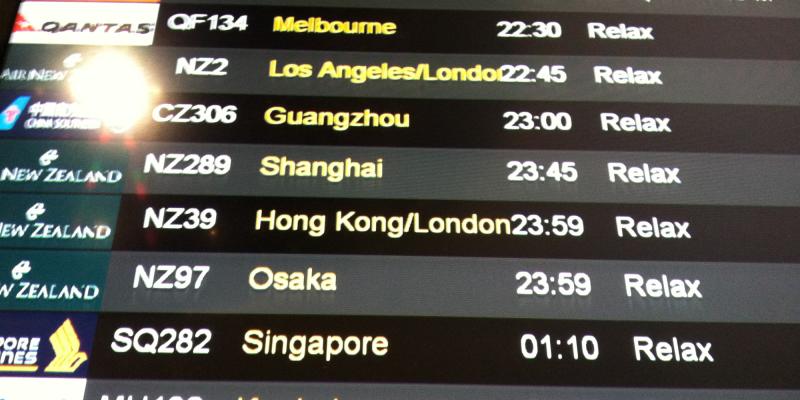 The Process
Preparation: Complete a Passenger Arrival Card during your flight.  Be sure to complete this accurately as it is a legal document. On it, you will have to declare information about yourself, the purpose of your visit and visa information, and what you are bringing into New Zealand. You will need your passport and this document until the form is taken from you.
Passport control: Depending on the passport you are travelling on, you may be able to use New Zealand's 'SmartGate' (electronic immigration gate) to apply for entry permission. Otherwise you will see an immigration officer.
Customs and biosecurity: Next you will collect your baggage and proceed through customs and biosecurity checks. The Ministry for Primary Industries is our biosecurity agency. Quarantine officers will ask you questions, your baggage (or your person) may be sniffed by a detector dog and/or x-rayed, and there may be a search. Items that may present a biosecurity risk include any foods, plants, animal products and outdoor recreational equipment. Some items may be confiscated, and others may need to be quarantined or treated.
Allowances and duty free concessions: Visitors to New Zealand may be entitled to duty free concessions on some goods. People over 17 years are entitled to allowances for alcohol, cigarettes and tobacco. For detailed information on duty free concessions and allowances, please visit New Zealand Customs.
All being well, you will be through this process in no time and you will be off to enjoy yourself.
Public transport
You'll most likely fly into Auckland International Airport. Auckland Airport is about 20 km south of the center of Auckland. There are plenty of options for getting into the city.
Bus: SkyBus is the simplest way to get into the heart of the city by bus. It runs 24 hours a day, 365 days a year. It goes straight to the centre of Auckland and stops near most major city hotels, hostels and transport hubs. No booking is required. Buy tickets ($18) at the airport, or you can save money by buying SkyBus Online.
The Airporter 380 runs from the airport to Papatoetoe and Onehunga Train Stations. This can be useful if it's rush hour and you don't mind transferring to the train -  it'll help you beat the traffic! (There's no train directly from Auckland Airport)
There are also other buses from Auckland Airport to the city, such as Intercity. These are great options if you'd like to get further afield than central Auckland as you can book directly from the airport to other NZ locations.  
Auckland Airport Super Shuttle: The Auckland Airport Super Shuttle is a convenient door-to-door service. It's a great option if you're travelling in a group. It's comfortable and with smaller groups it's almost as fast, but much cheaper than a taxi. It costs $35 for the first person and $8 per extra person in your group. No need to book in advance as they are outside every major airport in New Zealand.
Rental car: If you plan on renting a car you need an official translation of you drivers licence if it is not already in English. There are plenty of rental car options in NZ: for example, Avis, Budget, Europcar, Hertz and Thrifty. They all offer online or over-the-phone booking so you can book in advance. Simply arrive (with your Drivers Licence in English), find your kiosk in the Arrivals Lounge and they'll take care of you.
Do remember that driving after a long flight is dangerous. So, if you're coming off a long-haul flight, a better option could be to pick up your rental car the next day after you've had a rest.
Taxi: Taxi's into the city cost around NZ$75 – NZ$90. This is the most expensive, but most convenient option. To find a taxi, follow the signs to the taxi rank from Arrivals.
Uber: Uber drivers aren't officially allowed to pick people up from Auckland Airport because of licensing reasons, but they sometimes do it anyway. Login to the Uber App when you arrive and see if it's available.
Now you've got your transport sorted. Get it touch with us to help you plan your first night in New Zealand.
More articles to help you plan your trip to New Zealand

Getting to New Zealand
New Zealand Passport and Visa Requirements
Smooth as possible on arrival to New Zealand
Travel Insurance for New Zealand
Doubtful Sound or Milford Sound?
Which New Zealand Glacier to Visit?
Driving in New Zealand
Safety in New Zealand's Great Outdoors
What to Pack for a New Zealand Holiday
New Zealand Accommodation Guide
New Zealand's Need to Know Facts
What do things cost in New Zealand
 
Since 2001 we've been helping visitors plan their dream New Zealand holiday. We aim to make visiting our beautiful land effortless. Let our expert holiday planners put together an itinerary for you, no obligation FREE of charge, or get some friendly advice on what small group tour would suit - Just follow the link and answer a few brief questions.