Which one is Better? Milford Sound Or Doubtful Sound?
Milford Sound is one of New Zealand's most popular scenic attractions. It's easier to get to, and a fantastic experience. On the way to Milford Sound you go through the narrow Homer tunnel and drive through the rain forests of the Fiordland National park. There's plenty of scenic spots along the way. It's around a 3-hour drive from Te Anau to Milford Sounds. Flying into Milford Sound is also a spectacular experience.
Doubtful Sound is the deepest of the 14 fiords in Fiordland National Park. It's three times longer and 10 times larger than Milford Sound. The Maori name for Doubtful Sound is Patea, which means 'the place of silence'. It's considered more spectacular and relaxing than Milford Sound.
What is the weather like in Milford and Doubtful Sound?
You may have heard that it rains a lot in Fiordland and this is true - but the climate varies quite dramatically between Milford and Doubtful Sound. Milford can receive up to 7 metres / 22 feet of rainfall annually, whereas Doubtful Sound receives about a third of that.
Don't be put off by the rainfall at Milford Sound.  The rain seems only to add to the intense atmosphere as the waterfalls put on a thundering performance. This powerful display has been described as if the mountains are crying, in fact some of the waterfalls in Milford aren't actually permanent, and turn up only in the wet, so it is still just as beautiful in wet weather.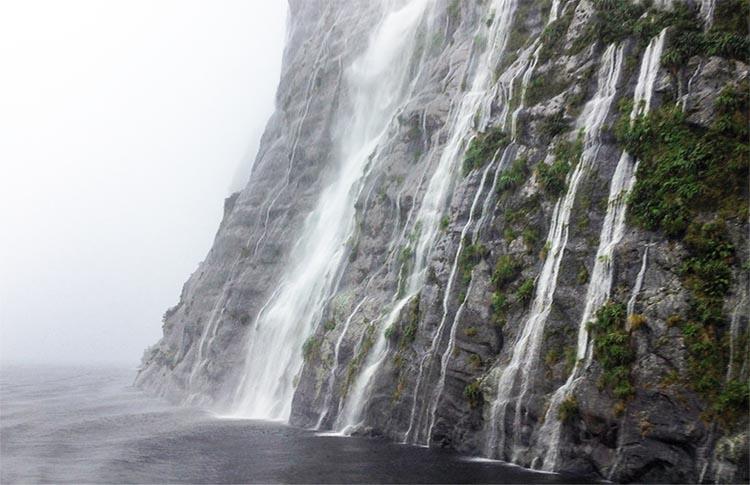 What is the Best way to get to Milford Sound?
The short answer is that there are lots of options: by coach, plane, or self driving. Each have their own advantages and disadvantages. To keep Milford Sound and Doubtful Sound the pristine natural environments that they are - accommodation development is limited so you will most likely be coming from either Te Anau or Queenstown.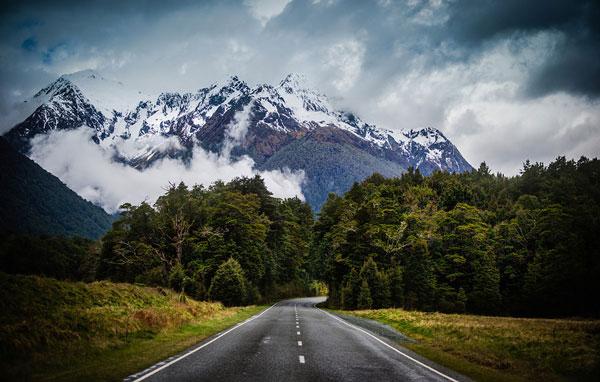 Should I stay in Queenstown, Te Anau or Milford Sound?
We recommend staying in Te Anau before visiting Milford Sound or Doubtful Sound, if you are self driving. (Because of Milford Sound's ecological and cultural significance, free camping is not allowed anywhere in the area, and there is only one lodge).  
The drive from Queenstown to Milford Sound is 4 hours in each direction, (we think that is best saved for the professionals - so hop on one of the Coach Trips instead of driving yourself). An added bonus for staying in Te Anau less than 2 hours from Milford Sound is that you have more options for being there at a less crowded time - an early morning or late afternoon cruise or kayak will truly have you experiencing the Sounds of Silence that Milford Sound is famed for. 
If you do want to stay in Queenstown then the best options are the following:
Take a scenic coach trip connecting with a cruise. This way you can sit back and enjoy the scenery and the expert commentary along the drive.

Take either a scenic flight from Queenstown to Milford Sound - either as a Fly-Cruise-Fly option or coach back one way, so you get to experience the famous Homer Tunnel and meet the cheeky mountain parrot the Kea that frequents the region. We need to protect the Kea - so drive safely around them.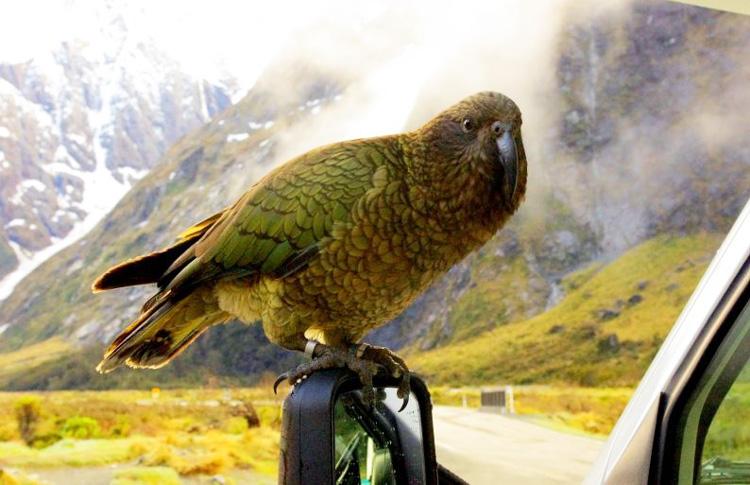 How many days do you need in Milford Sound?
If your interests lie mainly in a kayak trip or a boat cruise then you need a relatively short amount of time, if you are coming in for the day from Queenstown it will be a long day - allow 12-14 hours.
Enjoy a scenic flight on our 12 Day Relaxed Adventure in the Scenic South
Is there an overnight cruise in Milford Sound?
If you are wanting more of an in-depth experience then the Overnight Cruise at Milford Sound will give you the opportunity to savour the experience with kayaks and small boats on hand - the days are long in New Zealand dow at the bottom on the world - dusk in summer in Milford Sound can be as late as 9.30pm. Wildlife sighting opportunities, seals, penguins and dolphins. The cruise departs at 4.30pm and disembarks at 9.30am
Can I hike at Milford Sound?
If you are just as interested in hiking in the Fiordland area then stay a little longer. You can take a half day guided walk into the Milford Track before your cruise. Or if you are self driving stop off at one of the scenic bush reserves and take a walk - make sure to have your raincoat with you and stay strictly to the formed paths. You can even walk the Milford Track - but you're going to need 5 days and plenty of advance booking time to do that.
If you are keen take a look at our 22 Day Off the Beaten Track trip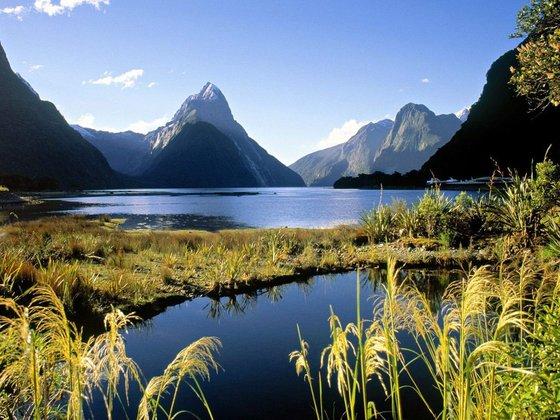 What can I do at Milford Sound?
There are many more options in Milford Sound than Doubtful Sound. Cruises range from 1 hour to 3 hours in duration depending if you take an extended cruise or add on a trip to the Underwater Observatory or add on a kayaking session. There are also stand alone kayak tours and scenic flights. There are also cafes at Milford so you can spend as much time there as suits yourself. Milford has a lot more competition for boat cruises than Milford Sound so the cost is pretty reasonable, the smaller the boat and the longer the cruise and ad-ons up goes the price.
Our 18 Day South Island Birding and Wildlife Tour may be of interest 
How do you get to Doubtful Sound?
All of the tours depart from the Pearl Harbour Wharf in Manapouri, which takes you across the lake to West Arm, then there is connecting coach over the Wilmot Pass to Deep Cove (this must be pre booked).  Coach tours depart from Te Anau (20 min drive) or you can self drive and park at Manapouri. From Queenstown it takes 2hrs 45 mins to reach Manapouri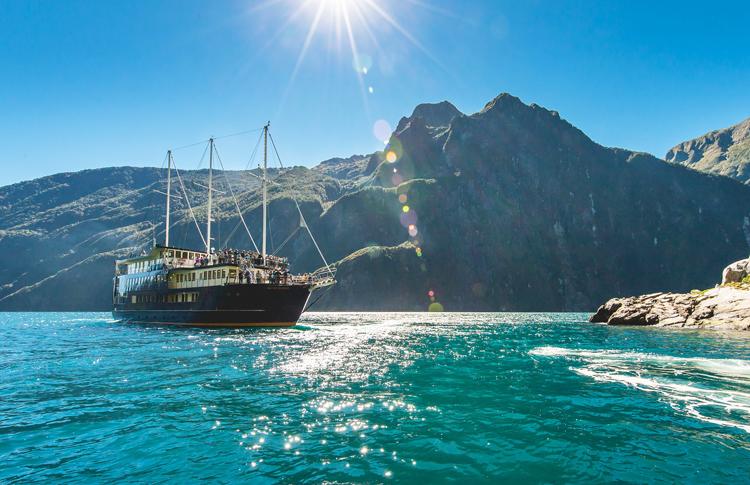 How long is the Wilderness Cruise in Doubtful Sound?
As Doubtful Sound is much longer at 40km/25 miles long (compared to 16km/10 miles for Milford Sound), the cruise is 3 hours duration, but the actual trip is 7 hours as you start with the cruise across Lake Manapouri and the epic trip across Wilmot Pass through Fiordland's rainforest before boarding your cruise for the sound. And of course as it is a longer trip it will cost more than a cruise at Milford Sound, but it is a more wildlife focussed event. Consider if travelling with children if this day trip may be too long, Milford might be a better option.
Is there an overnight option in Doubtful Sound?
Yes there is an overnight cruise which provides plenty of time for observing wildlife in splendid isolation. You'll have a private cabin with ensuite (there are also limited quad share bunks).
You can get up close to the shore by kayak or small boat. This cruise is 1 night from November to April. The tour departs Manapouri at 12.30pm and returns at 12pm the following day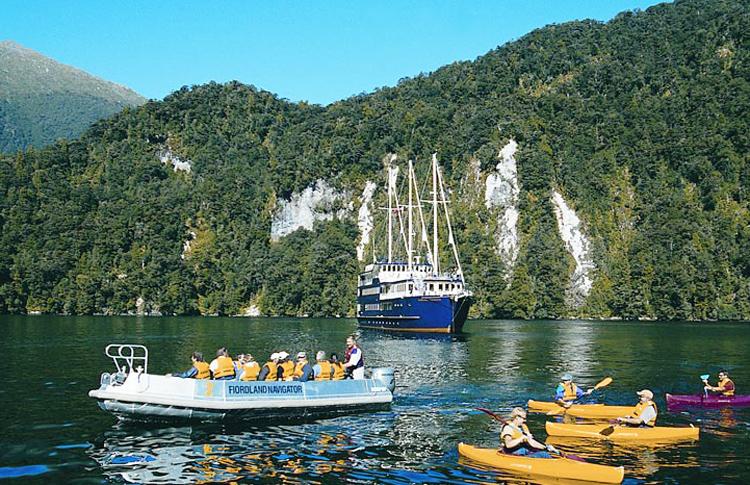 The verdict?
The thing that stops people going to Doubtful Sound is the travel. Of the two, visiting Doubtful Sounds is considered by some a better overnight trip, but if you don't have time, then Milford Sounds is still a fantastic day-trip option.
If you have a slightly larger budget and more time then we would recommend Doubtful Sound. Otherwise head to Milford and make the most of all the fantastic experiences on offer there.
Both Milford and Doubtful Sounds are stunning, unmissable experiences of scenic beauty. Whatever Sound you decide, it's sure to be a highlight of your trip.
Feeling inspired to book your New Zealand getaway into Fiordland? View our most popular Self Drive itineraries here!
At First Light Travel we can plan the perfect self-drive holiday for you. To get started and find ideas you can view our most popular itineraries - all of our trips can be customised for you!