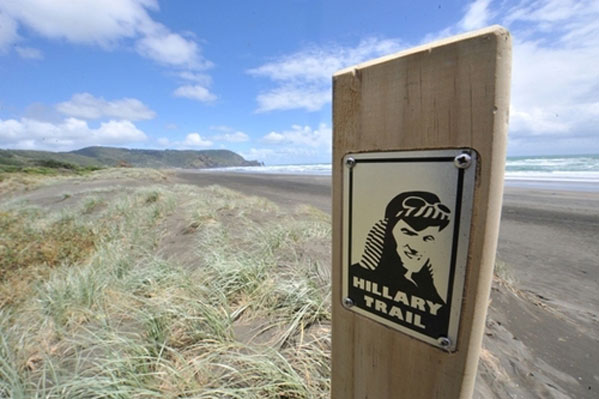 After only a few weeks in New Zealand our intrepid Dutch intern, Remy de Jong,  decided to hike the West Auckland 4 Day Hillary Trail – Mid Winter. The 70km (43 Mile) trail is is known for its lush native forests, giant stands of mature kauri and huge dunes that backdrop the volcanic black sands that stretch along endless roaring beaches. It also has low-lying wetlands riddled with swamps and rivers, deep valleys and steep hills with tracks rutted, 'rooty' and slippery – especially in winter. Carrying all Kit and Kaboodle on his back - everything he needed for 4 days in the wilds … In his on words: Waar ben ik in vredesnaam aan begonnen? Roughly Translated: What the hell am I doing! Here's his post…  
Prepare for everything, expect nothing... As a newbie to New Zealand, I thought this would be a great opportunity to experience New Zealand's world famous great outdoors. I had just arrived three weeks ago, from Holland, and had heard great thing about the hiking in New Zealand. Since I don't have a car and couldn't take too many days off from work (an internship with First Light Travel) I started looking for hikes close to Auckland - I found out about the Hillary Trail. The Hillary trail, a one of a kind 4-day 3-night tramp through the Waitakere regional park (East of Auckland City). It sounded like a great experience and challenge, so after getting some time off work I started preparing for my adventure.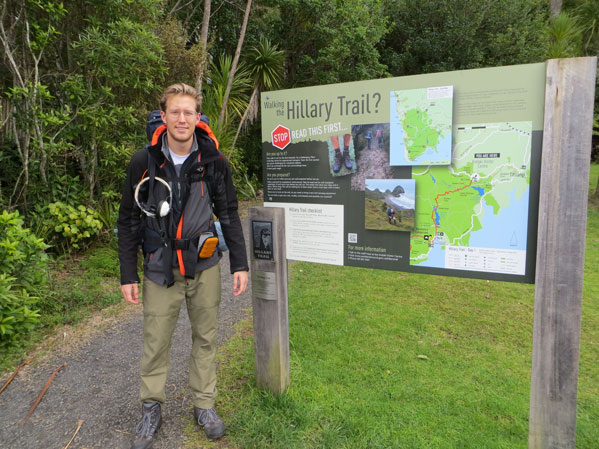 After reading the booklet, my feet started to itch. I starting with booking the camping grounds online with the Auckland City Council – This was my stick, no matter what the weather would be like, I was going! Lucky for me it would turn out to be great! So the first preparations were made, now the gear had to be arranged. Preparation is everything, warm clothes, dry clothes, camping gear and food. Prepare for anything and expect nothing, that's the motto for tramping in New Zealand, where you can and will experience 4 seasons in one day. Trade Me (Online NZ buy and sell site) and sales at Katmandu camping store were of great help in finding all gear needed for this trip. Finally only food and the bus ticket needed to be arranged. Bag packed and off to bed early the night before, alarm set at 7am, hopped on the bus at 8am and started my great walk to the visitor center at 9am. From the bus stop to the visitor's center adds 6 km (3.7 miles) to the trail. After arriving at the visitors centers I bought a map, so whenever I got too tired, I could take a shortcut without getting lost. I advise those of thinking of doing the trail to buy one, because the track can get very tough and it gives an detailed overview of all the tracks in the area, so its also handy if you want to come back and do one of the alternative trails one day!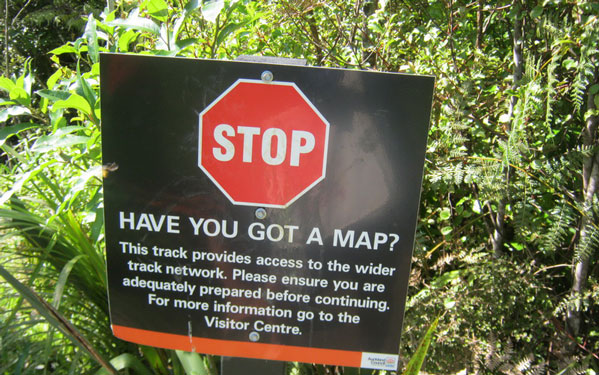 At 10am I headed off, I met Brendon right at the start of the trail. He was about to do his own trail, a two-day trip to the reservoir lakes in the park, which provide Auckland of its tap water. The first day was nothing compared to what was coming up. Good tracks, nice weather and few climbs. It gives you the illusion that you are going to be fine, but it is better to be described as the silence before the storm. Surrounded by the beauty of nature, Kauri trees and stunning views it was a blessing to be out there. My 15-kilo (30 Pounds) backpack felt light as a feather and after 4 hours and 12 kilometers (7.4 miles) I arrived at a sheep farm in Huia. It's a small village nearby Daniel Bay. The hills are beautiful and look charming, this turned out to be a misperception as I was about to find out the next day!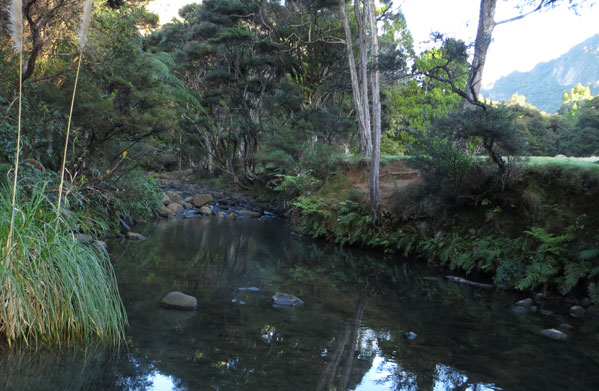 The sheep farm turned out to also house the Karamatura camping ground, the first of this trail. I set up my tent and explored the surrounding. I started reading How to kill a mockingbird in the last hours of Daylight that were left. At nightfall I cooked my protein dinner (beans and rice) and went to bed. - Sleeping in a tent, in winter with two summersleeping bags isn't the best setting for a good night rest!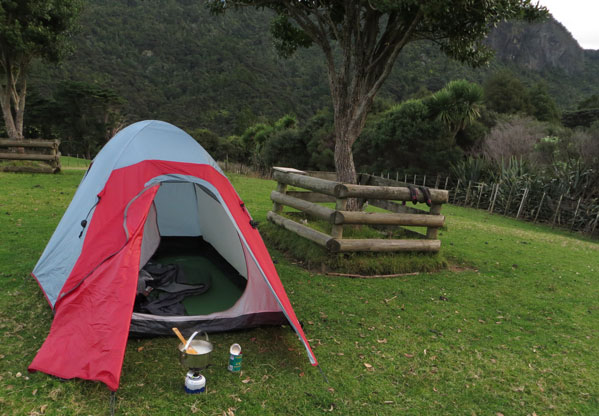 So at around sunrise on day two I got up, awoken by the sheep and a rooster on the farm. An hour later, after packing up and having breakfast I was ready to go! Day two consists 15 km (9 Miles) of track along the coastline mostly up and downhill. Steep climbs and though downhill tracks gave me a different and more realistic view on the Hillary trails actual condition. Prepare for narrow tracks and high cliffs. This is the day were you face the first challenges of climbing and your physical condition is tested! But the rewards are amazing, the views to the other side of Manukau Harbor are a great reward and looking to the other side you face the Waitakere hills.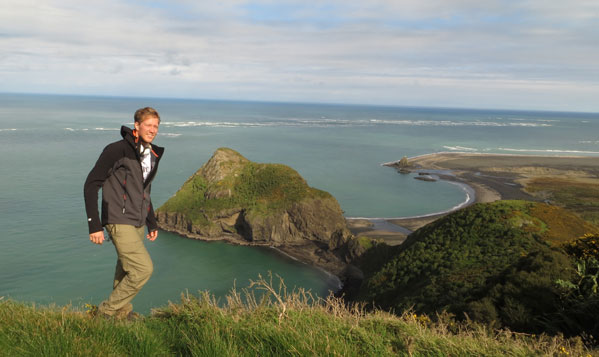 The second day I met a couple from Wellington, after explaining to them I was actually doing the full 4-day trail and not a day walk they were amazed. She responded: 'Mostly tourists do the trail, I bet there are even few Aucklanders who actually know about the existence of the trail.' He added: ' and even if they know about the trail, or the beauty of the park in general, they hardly bother to come here -  too close tohome.  Well Aucklander's, get on your feet and put on your hiking boots! Explore your backyard before you head off to the other side of the country or even the world! – This is one beautiful park! We walked down hill together and as they hoped in their car. I still had 2 hours of hiking ahead of me. Uphill and downhill, to get finally to the Pararaha valley were the second camping ground was. The way down to the camping ground was hard and dangerous, steep, slippery and muddy. Holding on to trees and or chains provided, I found my way down. The camping ground was next to a river and was partly occupied by high school girls, taken on a trip to experience the forest and hiking for the first time in their lives! – The scenery was getting better! After another great night rest, I left camp at 8am, it was going to be a long hard day. I guess I have never been so tired, as after the third day. Not even after my last year's trip to the Mount Ventoux (France) where I cycling top to bottom 3 times in one day in order to raise money charity was I so tired. Day 3 started of with a track leading out of the valley, through the wetlands towards the volcanic black sandy beaches. I soon stumbled into wetlands you have to cross with many swamps and rivers before being confronted by large sand dunes that frequent the West coast beaches. It is a beautiful start to a long, hard days walk. After a long walk along the beach the track leads you back into the hills, all the way up to the cliffs for the most rewarding views of the whole trip! –A View as far as you can see along all the wild beach's including the beautiful Piha beach with its massive Lion Rock.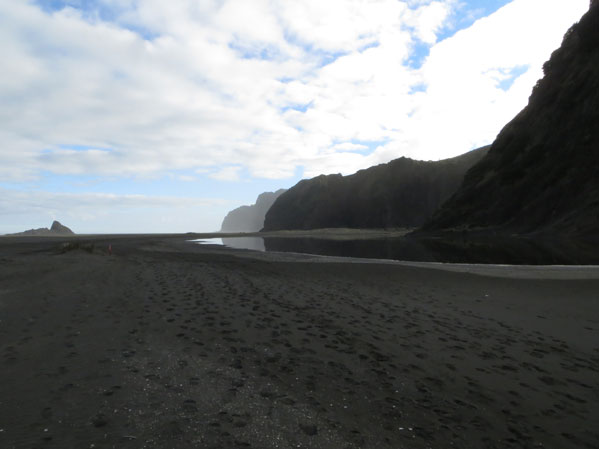 Regardless of the rewarding views, my legs were sore and getting worse with every step. At the end, with still three more kilometers (1.7 Miles) ahead of me to the Craw Campground, I walked as an old man, leaning on my stick, feeling the blisters on my feet with every step, and my legs crying for rest. I started thinking about hitchhiking back to Swanson and leaving the trail unfinished, I tried to get some rest that night on the cold and lonely Craw Campground.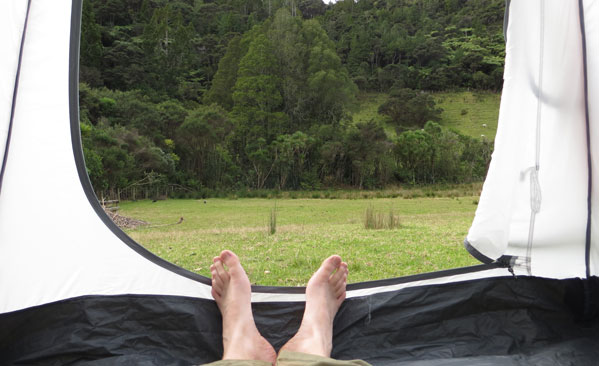 That morning I woke up earlier than normal thinking I couldn't just stop. That would not feel right, you finish what you started! So I packed my gear and started walking, there were still almost 20 kilometers (12 Miles) to cover to Swanson. It was the muddiest and steepest track I have experienced ever, with dense woods and long tracks! Regardless of the views my goal was to get an apple when I got to Swanson, some real fruit after my bean and rice diet of the past few days  On the fourth day, all the tracks of the former days seemed combined. The beauty of nature was stunning as I headed further inland. Valleys alternated with hills, rivers turned into waterfalls and well paved tracks into mud covered with roots hidden deep within. Only 6 hours later, I arrived in Swanson. It seemed like that train had been waiting for me because after buying an apple I could hop right in and go back to the city. I felt proud and satisfied, because I finished it. I think I'll go back in spring or summer. Just to enjoy its beauty again!
Advice: Wintertime makes the track harder, because of the weather and the cold during the nights. But it is still beautiful, and as many people who crossed my path told me, Waitakere forest is underappreciated among Aucklander's. so I recommend you just go out there and enjoy one of the many day hikes and or camp the night, do some beach fishing or go surfing. But above all, enjoy Waitakere's beauty!
About Remy: My full name is Remy de Jong. I study International Marketing and Management at the Fontys Hogeschool in Tilburg and live in Arnhem. I currently live in the East, in Arnhem in the province is called Gelderland. He is currently doing a 6 month internship in Auckland with First Light Travel.  
The Hillary Trail Named after the New Zealand mountaineer, Sir Edmond Hillary (The first to the top of Everest) The Hillary Trail is a tough but worthwhile 4 day 3 night wilderness hike. Hikers carry all their camping gear and provisions on their back, making this a tough The 70km (43 Mile) trail so research, preparation and fitness is essential.
If you would like any assistance arranging this Auckland walk as part of a longer New Zealand holiday or you require further information on this or any other Great New Zealand Hikes.