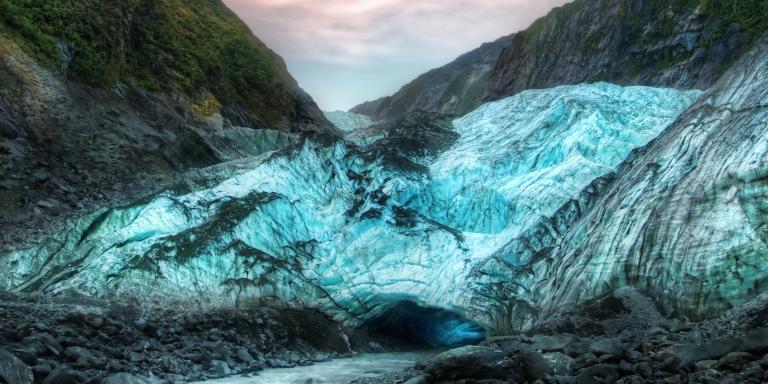 The Fox and Franz Josef Glaciers
The South Island's West Coast is home to New Zealand's two most famous glaciers - Fox and Franz Josef. These living remnants of the ice age carve a spectacular landscape from the vast snow and ice fields of the Southern Alps to their terminal faces in the lush rainforests of the West Coast. Nowhere else in the world, at this latitude, have glaciers advanced so close to the sea, making Fox and Franz Josef quite unique.
Franz Josef Glacier was first explored in 1865 by Austrian Julius Haast, who named it after the Austrian emperor. The township itself is five kilometres from the glacier, and is a bustling little town providing a variety of ways in which to visit the glacier, as well as a variety of accommodation and restaurants. Although busy during the summer months, Franz Josef is a good base for exploration of the glaciers as well as Westland National Park and the Okarito Lagoon to the north.
It's an easy walk to the terminal faces of both glaciers. Or, if you're adventurous, then a helicopter ride, or a guided ice walk are simply unforgettable experiences. The Fox Glacier and Franz Josef Glaciers are a short 30 minute drive apart. Franz Josef Glacier is located in a World Heritage Area.
To reach these glaciers it's a four-hour drive from Queenstown or a three-hour drive hour from Wanaka.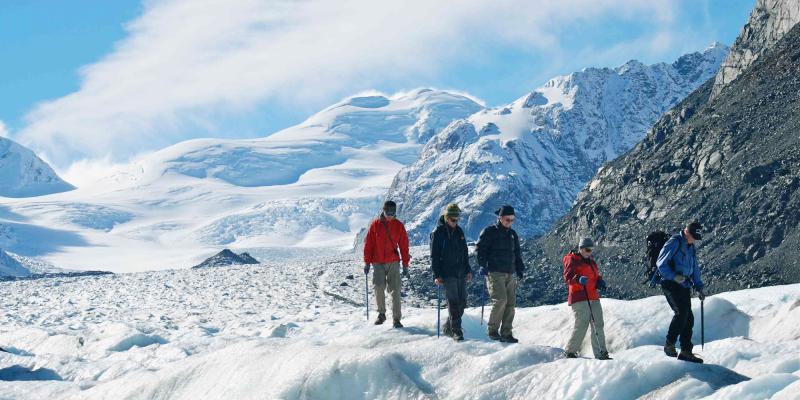 The Tasman Glacier
On the other side of the Southern Alps, the Tasman Glacier is the largest in New Zealand. Sitting below Aoraki/Mount Cook in the National Park, it's 29km (18 mi) long, up to 3km (1.8 mi) wide and covers an area of 101 square kilometres (62 mi).
The Tasman Glacier has a beautiful terminal lake. It's a short walk to view the glacier. Or the terminal lake makes a breathtaking boat trip. The Tasman Glacier is about a 4.5-hour drive out of Christchurch.