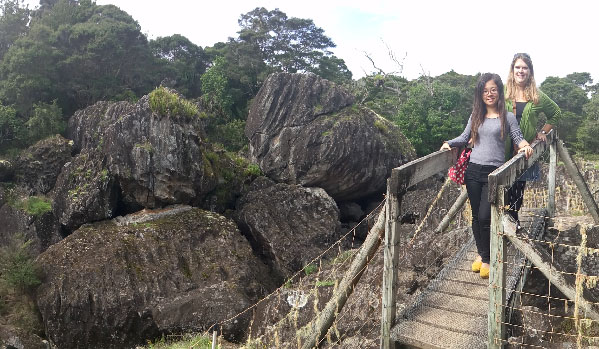 Anne and Sophie get out of Auckland for a long weekend and explore tropical Northland and the Bay of Islands. With adventure on their minds they intend to make the most of the three day break and are looking for fun! Oh What to do in the Bay of Islands? Hiking, Sailing and Diving and thats just the beginning....    
What to do when you are living in Auckland and need some time off over a long weekend? Head up to the beautiful Bay of Islands and enjoy some sunshine before the grey & rainy winter weather sets in. That is what Sofie and I thought when planning our trip over the long Anzac Weekend. Friday night after work we hopped into the car and drove north – after all it is only a good 3.5 hours up to Paihia, a nice seaside town from where exploring the Bay of Islands is easily done. Our decision to leave Auckland late in the day was a good one – almost no traffic and we managed to see a stunning sunset while driving. For the first night we booked ourselves into at a cute little backpackers – we didn't want to make anyone wait for us as we knew it will be a late arrival.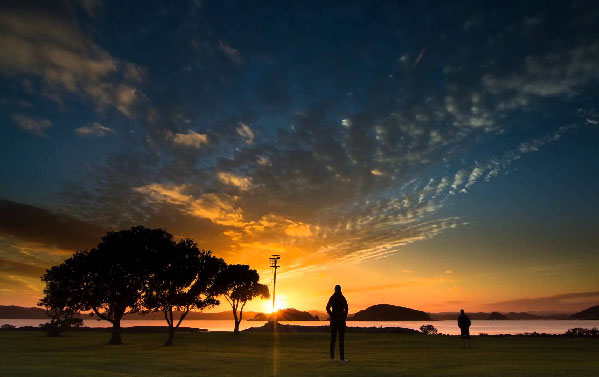 The next morning we took the passenger ferry from Paihia over to Russell – a scenic little ride and the classic ferries are a must-do when you head over. Upon arrival at Russel Wharf we were greeted by Nik, skipper of the sailing yacht Vigilant who took us for a wonderful day of sailing through the Bay of Islands. Although the wind can only be described as a light breeze we set sail and discovered plenty of the little and bigger islands which give the Bay of Islands their name. Nik told us that basically everything that consists of not only rock but also has some plants/moss on it is considered an island – the reason why there are officially 144 islands to be found. We sailed past Robertson Island and learned about Captain Cook's endeavours and that actually some Frenchmen were there earlier but didn't manage to settle down. Nik was a source of knowledge – not only about sailing but also about local Maori history and the beginnings of European Settlement. We finally anchored in Stingray Bay – a beautiful and sheltered cove with crystal clear water. Snorkeling here was great fun – interesting rock formations on the bottom and the side of the bay offered plenty of shelter for fish such as Scorpion Fish, Desmoiselles and Goat fish and of course the name giving Stingrays.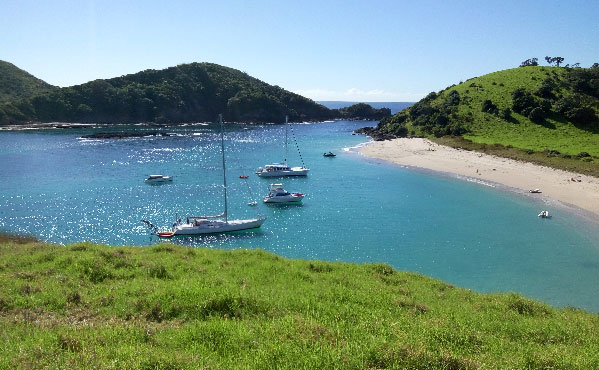 A brief walk to the top of the island revealed stunning views over the Bay and after taking what felt like a 1000 panoramic shots we went back to the beach to relax in the sun. We watched the other guest kayaking around the yacht before Nik got us back aboard with the little dingy and there we enjoyed an excellent lunch – the wind was a bit tricky blowing away our salad leafs but we managed to adapt and had one of the most scenic lunch spots I have been to. On our way back the wind picked up so that we got the nice sailing experience and didn't need the motor to help us moving  We were hoping to spot some dolphins – which we saw from the far distance but they didn't come closer but then we found a lot of Korora instead – the New Zealand little blue penguin. Grouped together in bundles of about 4 they relaxed on the water surface and we all got some really nice pictures of them.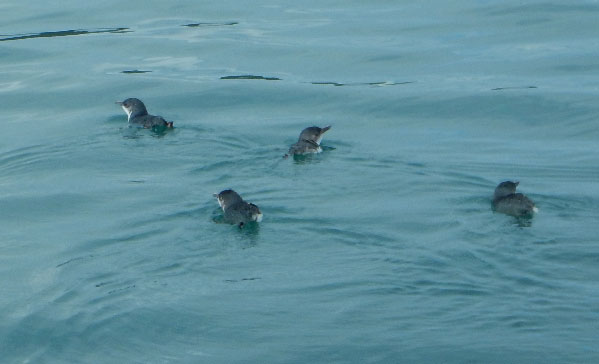 Back on shore in Russell we took another scenic ferry ride back to Paihia and went on to our home away from home for the following 2 nights – the Morepork Riverside Lodge Bed & Breakfast. Our hosts were amazing and we felt welcomed from the very first moment – enjoying stunning views from our room over the garden and surrounding fields with the Waitangi River inbetween. In the evening we joined our hosts and the other guests for a typical Kiwi dinner : Lamb and Pavlova – what more can you wish for?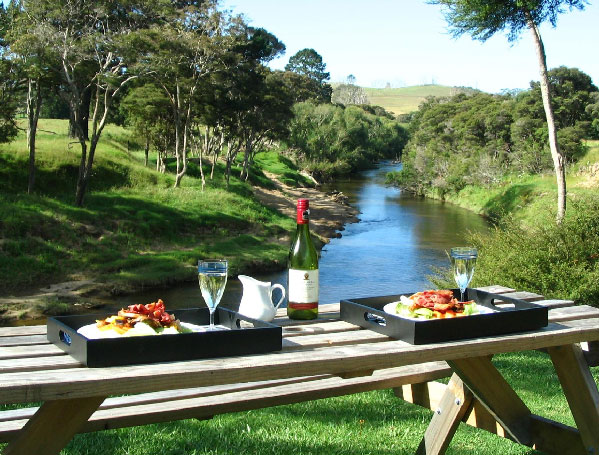 After a good nights sleep we went on the next morning to explore parts of Northland we haven't seen before and ended up visiting a fascinating rock formation called Wairere Boulders. The Swiss couple that owns the ground has done a great job making this formation accessible to the public. You climb over and under the massive boulders through a stunning little valley – rainforest included. The loop track around the boulders took around an hour and then we decided to hike up to the platform as well – steep and narrow in places but definitely worth the view! From the platform on top of the formation you have a wonderful view over the rock fall and as this attraction is off the beaten track we almost had the whole valley for ourselves. Unfortunately it started raining soon after so we couldn't spend the rest of the day at the beach as planned. Instead we went out for an early dinner and ended up in Charlotte's Kitchen, a rather new restaurant at the end of Paihia Wharf with big windows looking out into the bay and over to Russell.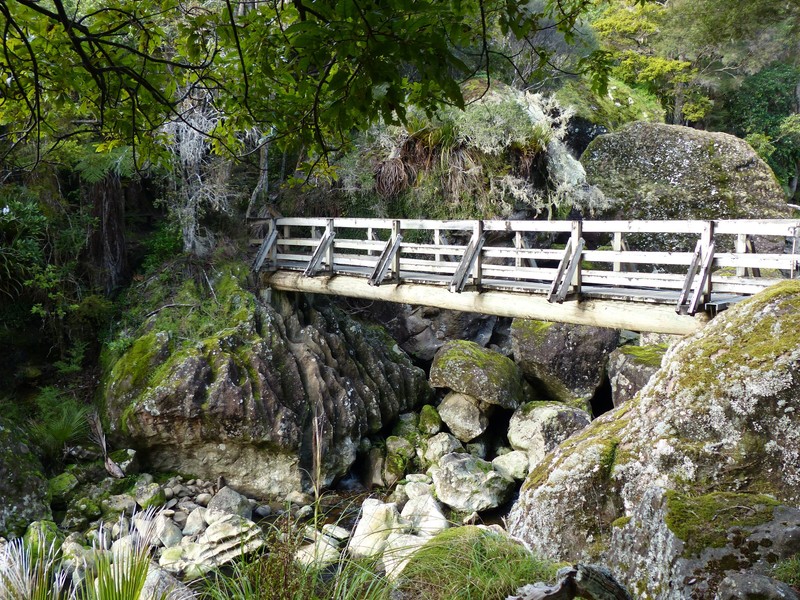 The service and food were excellent and we even got a good view of a Blue Marlin (115kg) when the Fishing Charter boats came back with their catch of the day. On Monday – ANZAC Day- we had to leave behind our wonderful B&B as we were planning to go diving. A short car ride brought us to Opua, from where we caught the car ferry over to Russell. As it was still early in the day (thanks again to our hosts for preparing us cooked breakfast at 6am!!) we got to see a wonderful sunrise while travelling over to Okiato. From there we travelled along one of the windiest road I have encountered in New Zealand so far. 40 minutes along a gravel road with potholes and through a forest – pure adventure (and I was lucky my car has a 4WD). We then arrived at Northland Dive – learning that there is a paved road as well – which we will take next time. Julia, Shane and Litsa welcomed us and gave us a brief overview in the comfortable kitchen how our diving day will go. We were the only beginner level divers – the other 6 divers of the day were all experienced and ready to go out on their own. LItsa helped us sorting out the gear (we don't own anything but our own mask/snorkel yet) and after being equipped with all things necessary and filling out the necessary paperwork we were off with boat and trailer to our launching spot. From there it was only a short 15 minute boat trip out to the wreck of the HMS Canterbury – the first dive site of the day for the experienced divers. After they went off we headed over to our first dive site of the day – Putahataha Island. This dive site is open water diver friendly with a maximum depth of 26m. On 16m is an entrance to a cave – which we explored with torches. Amazing. Diving in a cave feels like being in zero gravity – as you cannot see the water (it might sound crazy but people who had that experience will agree with me!). We saw schools of fish, an octopus was hiding under a rock and "the King of the Island" followed us during the whole dive. The fish were curious and came quite close – one or two of them even fancying a scrub on their belly.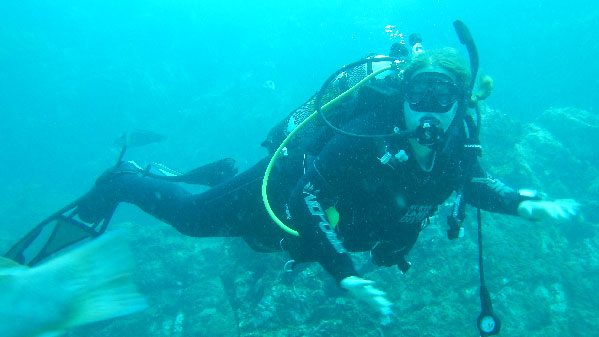 During our surface inter al we stopped in a little bay and had a fabulous picnic lunch – learning that it seems to be completely normal to put chips on a sandwich – never saw that before. Then Julia, our skipper, took us for a scenic trip around Cape Brett and through the Hole in the Rock – amazing and definitely gave us an adrenaline rush as we were on a rather small boat and speeding over the waves. Good fun! The second dive took place at Kariparipa Point East – with an entering swim thru – which unfortunately we couldn't complete as it goes deeper than our certification level allows. We still saw heaps of fish, especially the camouflaging Scorpion Fish. The rocks were also home to a colourful collection of Nudibranches – a species every diver we encountered so far gets excited about. We definitely need to learn about fish and other marine species names or otherwise our after dive talks will continue on as "Have you seen that big striped one on the other rock?".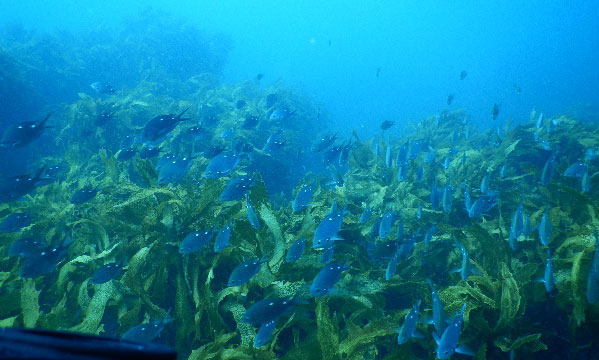 After our dive trips we went back to the Cowshed and after sorting out and cleaning the gear filled in our dive log books. We will be back for sure – next time we want to see the Canterbury with our own eyes and not only on the pictures of the other divers! The day ended with our trip back to Auckland – with a broken down car 70km before Auckland – but that's a long story to tell another time.