3 Day Landsborough Wilderness Rafting
Experience the true beauty of New Zealand's wilderness with a real adventure that will have you camping in the remote Landsborough Valley and rafting the Landsborough River over 3 days. To access the first nights camp site you will be flown by helicopter or fixed wing plane into Landsborough Valley. The next morning you will continue your adventure as you raft down the Landsborough Valley past majestic 2,500m high mountains, hanging glaciers and rainforest. Soak up the magnificent surrounds and enjoy the adventure that will create one lasting memory.
Traverse some of New Zealand's most remote and untouched alpine scenery, then raft down the Landsborough River as it flows from Mt Cook National Park to the Haast River in South Westland. On this three day, two night trip you'll glide past 10,000ft (3000m) mountains, hanging glaciers and through dense rainforests. The Landsborough is a serious river with numerous rapids varying from Grade 2 – 4+ providing a fantastic rafting adventure.
---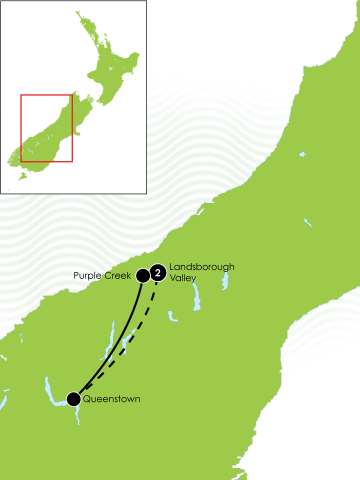 Visited Locations
Inclusions
Highlights
Please Refer to the Day by Day Itinerary