Ride the Queen Charlotte Track
The Queen Charlotte Track is a 70km 44 (mi) single track stretching from Ship Cove to Anakiwa. The Queen Charlotte Track is renowned for its stunning scenery, comfortable lodge accommodation and, best of all, the pack-carrying service that everyone can enjoy. The terrain can be rough in places and some sections quite steep.. but what a beautiful ride!
One of the biggest bonuses for bikers is the capacity for water transport operators to transfer packs by boat to your destination each day. The track has been purpose-built to cater to mountain bikers and walkers.  However it is a single track which, in New Zealand terms, indicates that the terrain can be rough in places (with rocks, tree roots, steps and so on) 
From the beginning of March to the end of November the entire track is open for biking and offers an incredible extended trip.
---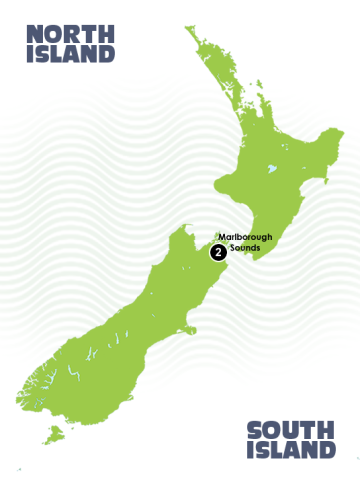 Visited Locations
Inclusions
Water taxi to and from the track and transfer of luggage each day
Your Queen Charlotte Track Land Coop Pass
Highlights
Various Other Hikes & Adventures (See Itinerary)