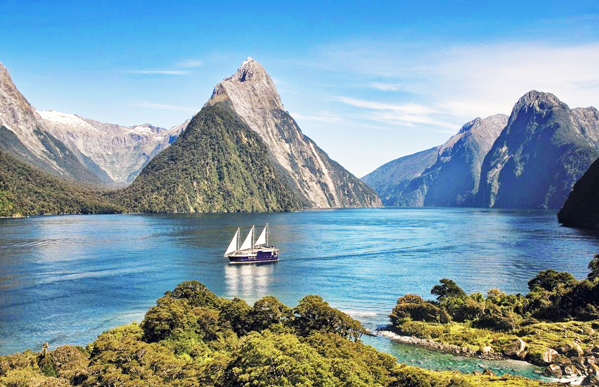 What do you picture when you think of New Zealand? Crystal-clear rivers twisting and turning through untouched forests, mountains dusted with snow and waterfalls cascading into bright blue pools? If so, you've definitely got Milford in mind. As one of the most famously beautiful places in New Zealand, "where is Milford Sound?" is a pretty common question that we get asked! Often referred to as "the eighth wonder of the world," Milford Sound nestles majestically into the Southwest coast of the South Island, in the Fiordland region.   
What is Milford Sound?
Milford Sound is the most famous and easily accessible fiord in New Zealand; but, in fact, it is not a fiord at all! Bordered by soaring granite cliffs that are cloaked with lush greenery and showered with waterfalls that come and go with the rain, our most enchanting stretch of water is actually a coastal waterway. It emerges from the Tasman Sea and is blanketed with a layer of New Zealand's freshest H2O.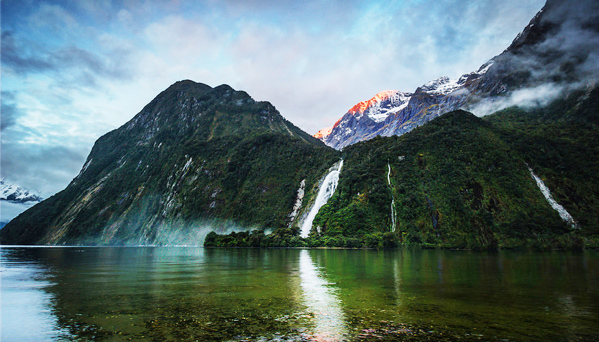 How far away is Milford Sound from Queenstown?
We weren't exaggerating when we say Milford Sound is beautifully remote. It is about 176.5 miles – that's around four hours driving on our roads – from main tourist hub, Queenstown. But it is far from being a boring four hours; as one of the most scenic routes you can drive in New Zealand, the road to Milford is just as majestic as the sound itself. Traversing the mighty Southern Alps and journeying deep into the UNESCO World Heritage Site that is Fiordland National Park, you will need to allow way more than the estimated four hours so you can stop to photograph the jaw-dropping beauty passing you by.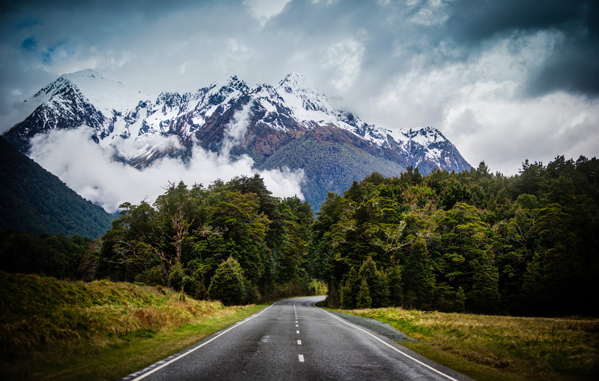 What is the best way to see Milford Sound?
There are numerous ways to see the best of Milford – by road; by sky; by water; by foot. A scenic flight gets you up-close-and-personal with famous Mitre Peak, which towers over 5000 feet above. A boat cruise or kayak tour gets you to the heart of paradise where some curious wildlife could pop up and say hi. If you drive yourself, you can choose to explore whatever way you want; plus, the Milford Road is one of the most awe-inspiring journeys you can take on four wheels.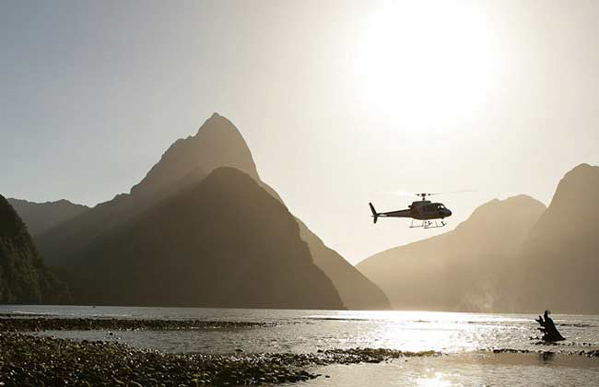 We love the freedom and flexibly of exploring our country by car, and Milford Sound is one of the best places to be in control of the wheel – there's something new and beautiful around every corner and, when you're driving, you can stop to absorb it all whenever you please. So, where is Milford Sound for you? If it is in your dreams, a chat with the First Light Travel Team could make it a reality.