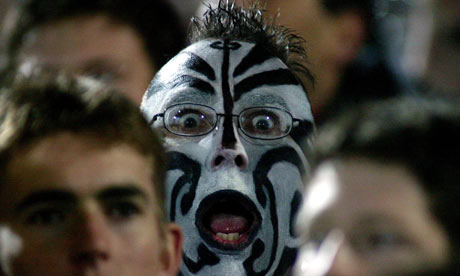 Firstly an apology.... For those who visited our fine land during September and October you probably experienced something  rather unusual - MASS HYSTERIA, GROWN MEN CRYING, TRIBES OF PEOPLE WITH PAINTED HEADS - you are probably looking for an explanation.
Well, New Zealand has just hosted the seventh Rugby World Cup and this was the largest sporting event ever to be held in New Zealand, attracting over 85,000 international visitors and WE WON!!!!
In a nail biting final at Auckland's Eden Park on Sunday, the New Zealand All Blacks defeated France 8–7. winning the 2011 Rugby World Cup! The 23rd of October 2011 is  a date that will be remembered by Kiwis for a very long time....you see despite being the perennial favourite, New Zealand hadn't won the World Cup since hosting the inaugural tournament in 1987 and two of the biggest losses in knockout matches in the intervening 24 years were to France - throw in the fact that the 8-7 win was the lowest scoring Rugby World Cup final of all time  and its no wonder I can still hear fireworks as I write this entry - 3 days later.
For our North American friends trying to understand the game "Rugby is a contact sport and Gridiron is a collision sport."