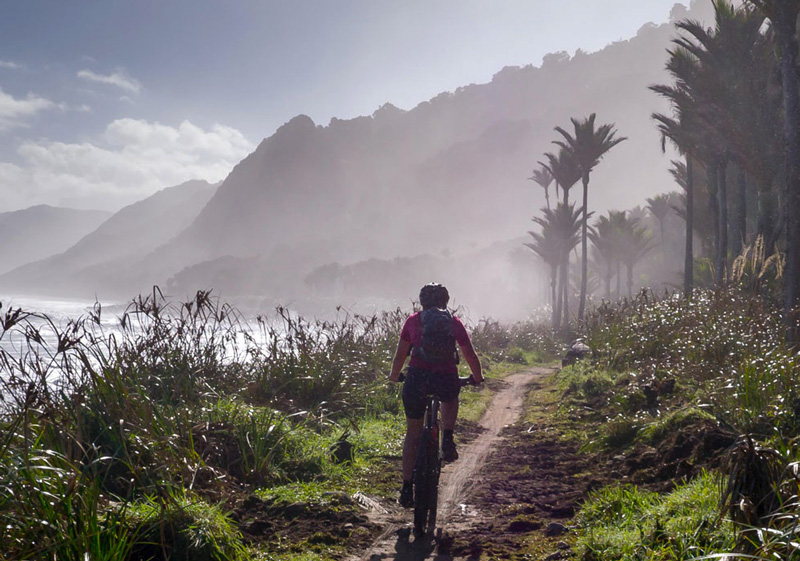 Over the last decade Biking in New Zealand has experienced a surge in popularity with increasing numbers of international visitors making the pilgrimage to experience our great outdoors on two wheels. Whether you are a Mountain Biking Gladiator wanting to carve up the worlds best single tracks or you just want to have a relaxing experience getting from A to B while soaking up the sunshine and outstanding scenery - then we have a lot on offer… Here is a list of our tried and tested favorites… 
1) 2-4 days Heaphy Track – Mountain Biking
One of the countries 'Great Walks' is now a 'Great Ride' and perfect for those fit enough and looking for a challenge. The Heaphy offers a rare opportunity to mountain bike through the beautiful Kahurangi National Park a on a coast to coast journey through New Zealand's true wilderness. The track, known for its contrasts in terrain, navigates through tussock, native forest and nikau palm through to the Wild West Coast Ocean. The trip is equally rewarding traveling in either direction and offers some of the best mountain biking in New Zealand Historically used by Maori traveling from Golden Bay to the West Coast to collect pounamu (Green Stone) the track is now controlled by the Department of Conservation (DOC) and can only be ridden in the winter months from May to September. Fit parties need only take 2 days, overnighting at one of the DOC Huts on the way. 6 to 9 hours riding required each day (In winter 9 hours is all the daylight you get) to complete the track. Those that wish to take their time and enjoy the environment will comfortably do it in 3 days.
Track Conditions: The track varies from smooth and wide, fast flowing trail to technical and rocky  with steep and exposed sections with the frequent crossing of streams required.
Skill: Intermediate to advanced mountain biking skills are required as the terrain is mostly advanced Grade 4 and can become tricky in the rain. Fitness: A good level of biking fitness
Duration: 2-4 days, 1-3 nights.
Options: Fully supported and self-guided options (see contact details at the bottom of the page to get further info)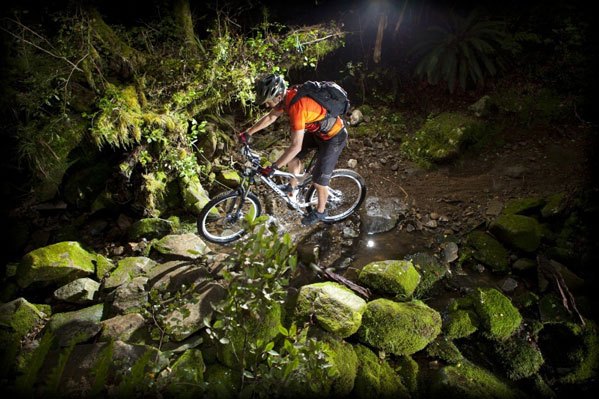 2)  Day Cycling the Tasman's Great Taste Trail
Think those Lazy Hazy Crazy Days of Summer, peddling the country roads of the sun drenched  Tasman District stopping occasionally to tasting local craft beers (share a pint with the friendly locals) or sample some local wine made at one of the many boutique vineyards on the way - take your time, there is no rush. If this type of two wheeling tickles your fancy then the Tasman's Great Taste Trail offers a scenic, safe and easygoing environment to experience this  wonderful region - a great family option. Starting in Nelson the trail offers panoramic coastal views out over the beautiful Tasman Bay and Western Ranges, including the LOTR famed Mountt Arthur and Owen. Throw in some wildlife at the Waimea Estuary, home to a range of bird species of internationally significants including the white heron and it makes for rather scenic riding - by the time you have read this the route will continue from Mapua to Motueka and on to Kaiteriteri, the gateway to the Abel Tasman National Park.
Craft Breweries: Beer has been central to the regions culture, dating back to the 1840's, today there are a number of family-run craft breweries and outlets that welcome visitors to sampling at the bar.
Boutique vineyards: With 25 boutique family owned wineries located from the plains up to the hills offering fine examples of Pinot Noir and Chardonnay. The region has a growing reputation for the aromatic varieties of Pinot Gris, Gewürztraminer and Riesling, so get into the countryside and meet the winemakers at their cellar doors.
Galleries: With a great climate and inspirational natural surroundings its not surprising the region has historically attracted a creative community. Painters, photographers and sculptors have flocked here and studios with National and International acclaim can be visited. Galleries are as numerous as artists themselves.
Track/Road Conditions: predominantly easy off-road trails. With some sections on quiet roads.
Skill Required: Basic Fitness: A basic to average level of biking fitness required depending on the route/distance you choose to do.
Duration: 2 to 8 hours

 3)  The Whakaipo To Kinloch (W2K) Lake Taupo
This is a fantastic track and if you love riding 'off road' through native bush, listening to native bird song while enjoying stunning lake views then this is a cracker. A favorite with locals, this 14km (8.6 Mile) ride takes you from Whakaipo over to Kinloch - the track can be ridden in either direction. There is a 9km (5.5 Mile) loop known as the Headland Loop that can be added taking you to the headlands at the top offering stunning views of Lake Taupo and the volcanoes of Tongariro National Park. This is an easy to intermediate ride without any real hills but it does undulate with a few steep pitches to keep you on your toes (can be easily walked)
Track Conditions: This is an all weather surface, the track is made out of pumice which drains easily making it a great option for a rainy day. This is a Single Track - Dual use, with an elevation of 360 to 640 meters (1181 to 2099 feet).
Skill Required: Basic. Fitness: An average level of biking fitness is required.
Duration: The W2K  is a 1.5 to 2 hours one way ride. While Headland Loop is 1 to 2 hours.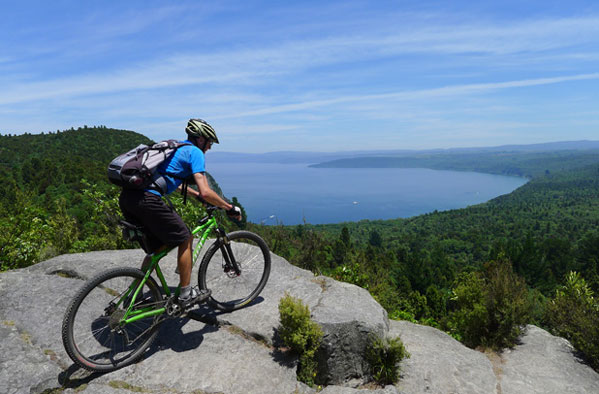 4)  Gondola-accessed Mountain Biking Mayhem - Queenstown
Considered by many as the hottest Mountain Biking destination in Southern Hemisphere, the Queenstown Bike Park was built by riders for riders and is set in the pine trees of the Ben Lomond Reserve. Boasting some 30km (18 Miles) of tracks with the longest run being 6km (4 Miles) long, the 450-meter (1476 feet) vertical rise via the Gondola allows easy access to the 12 naturally flowing single tracks over a variety of terrain that caters for all abilities. With spectacular scenery and the only gondola-accessed mountain bike runs in the Southern Hemisphere; the park has been voted one of the best tracks in the country and is a 'Must Do' for the many keen bikers that visit New Zealand.
Track Conditions: The 12 Trails range from extreme downhill, forested cross country expeditions, kids friendly zones with rock gardens, groomed trails to off-camber goat tracks.
Skill Required: Learner to Gladiator
Fitness: There is something available for all levels – Gentle Anne to Rambo Duration: Opening times are 10am to dusk and the Gondola assisted bike passes range from half day to multi-day passes.
Months of operation: Jan, Feb, Mar, Apr, May, Oct, Nov, Dec
Location: 5 minutes walk from central Queenstown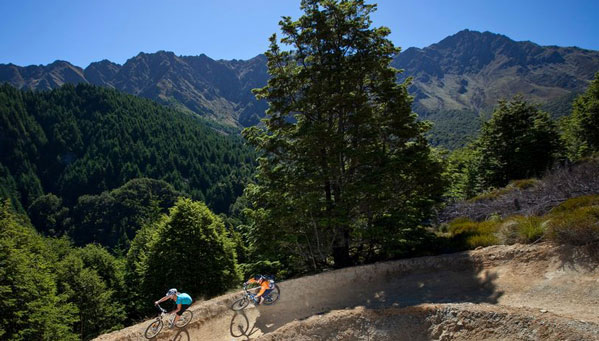 5)  Marlborough Wine and Food Cycle
Located in the lower Wairau Valley at the top of the South Islands, Blenheim, the regions capital, enjoys excellent sunny weather and is New Zealand's premier wine growing region perfect for cycling between vineyards enjoying the tastes and soaking up the atmosphere. Connected by quiet, flat, country back roads, there are over 40 wineries to be explored all within a 10km (6 mile) radius. Cycling from winery to winery allows you to truly experience the beauty of the wine region and the stunning mountain scenery that surrounds the valley.
Options: Guided or self-guided options are available with road support offered for collection of wine purchases en route or to collect riders that don't wish to continue. (see contact details at the bottom of the page to get further info)
Road Conditions: predominantly flat and easy quiet country roads
Skill Required: Basic
Fitness: A basic to average level of biking fitness required depending on the route/distance you choose to do.
Duration: 2 to 8 hours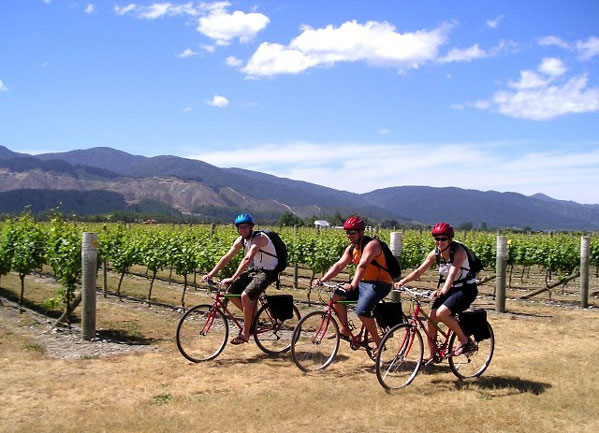 6)  4 – 6 Day Alps 2 Ocean Cycle Trail – Otago/Canterbury
This is New Zealand's longest (continuous) bike ride. Starting from the 'Cloud Piercer' Aoraki/ Mount Cook our tallest mountain the trail descending down 610 meters (2000 feet) over 300 km (186 miles) to the Victorian era coastal town of Oamaru. People come from all over the world to the view this un-spoilt paradise and now it can be done by bike showcasing the countries geographical and historical highlights as the trail takes you through a World Heritage National Park, past glacial fed lakes, golden tussock land, limestone cliffs and ancient Maori Rock art.
Skill Level: Suitable for all abilities of cyclists, the trail includes a mixture of off and on road trails, which can be enjoyed in sections or in its entirety.
Trail Conditions: This is a grade 2-3 (easy to intermediate) trail, but includes sections on public roads.
Fitness: Moderate level of fitness is required
Duration: Allow 4-6 days for the entire ride, or many day excursion are available.
Options: Fully supported and self-guided options (see contact details at the bottom of the page to get further info)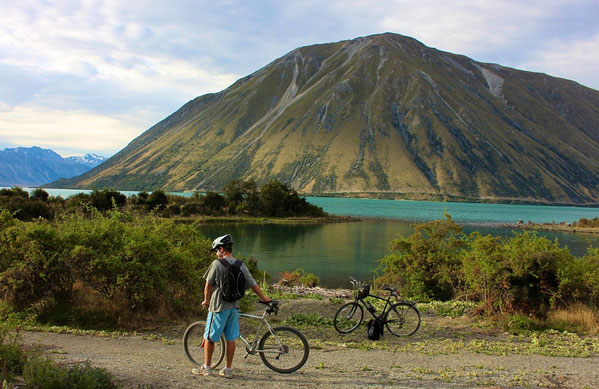 7) 2 to 4 Day Queen Charlotte Mountain Biking Track
The Queen Charlotte Track in the South Islands Marlborough Sounds is one of the greatest multi-day single-tracks in the country that is known for stunning scenery and its challenging terrain - this is a great mountain biking experience. The single track ranges from 1 meter to 1.5 meters (3 to 5 foot) wide and being clay based it is hard and fast when dry but can be very slippery when wet. While the track is not a steep track, the highest point is 406 meters (1332 feet) above sea level, there are many sharp ascents and descents that do require decent riding skills. The 72km (45 mile) track has been purposely built to cater to both walkers and bike riders alike; the track is closed to bikes from December to the end of February every year. For the fit and furious this is easily accomplished as a two day ride but if you want to take some time and soak up the scenery and history then a leisurely 3 or 4 day ride is a doddle giving you much more time to explore and take in a few of the beautiful side walking trips. One of the great aspects of the Queen Charlotte Track is the accommodation options available ranging from the quintessential DOC huts, tenting, through to luxury lodges, not to mention the great cafes and restaurants en route making this a really pleasurable trip. But just as you thought it couldn't get any better... there is great network of water taxis available to transfer your luggage on to your accommodation - no need to lug a backpack around with you!
Skill Level: Queen Charlotte Track is graded as intermediate/grade 3 and advanced/grade 4 and does includes some steep slopes, narrow sections of track with some obstacles that are difficult to avoid or jump over.
Track Conditions: This is a clay based track it is fast when dry and slippery when wet. There are sections that are technical difficult with some obstacles that are difficult to avoid or jump over.
Fitness: If you are contemplating doing the track in 2 days then a good level of fitness is required, for a 3 or 4 day ride then moderate  fitness will suffice but most riders will find some sections of the track easier to walk.
Duration: Allow 2-4 days for the entire ride, or single day excursion are available.
Options: Fully supported and self-guided options available (see contact details at the bottom of the page to get further information)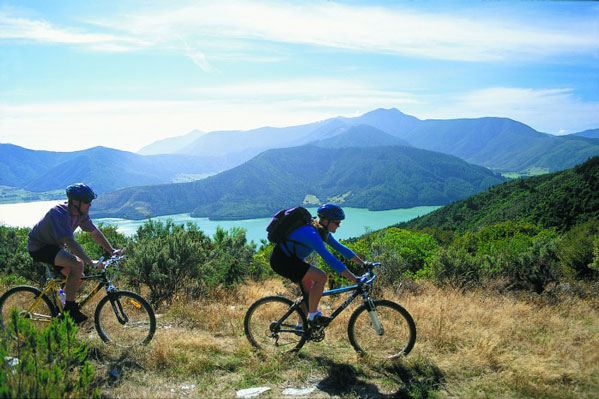 8)  Our Mountain Biking Mecca - Whakarewarewa Forest Rotorua
Finally we present you Whakarewarewa Forest on the outskirts of Rotorua, this magnificent forest contains some of the oldest mountain biking tracks in the country and is known to many as the Spiritual Home of Mountain Biking in New Zealand. Escape into the beautiful magnificent stands of towering Californian Coastal Redwoods - it is here you can experience some of the Best biking in New Zealand. With more than 100kms (62 miles) of mountain biking trail loops for you to choose from, and are unbeatable for topography, riding surfaces - the trails weave through lush ferns that carpet the way for the soaring forest canopies of Larch, Douglas Fir, Redwood, Radiata, and Eucalyptus and to top things off you can often see glimpses of the regions beautiful lakes, geothermal activity and mighty Mount Tarawera. This forest caters to all levels of Mountain Biker novice to veteran - there is something here for everyone. The recent addition of the new Redwoods Cafe at the Visitor Information Centre at the base of the park make a fine rendezvous for some après trail chatter.
More articles to help you plan your New Zealand Holiday of a Lifetime.
Getting to New Zealand
New Zealand Passport and Visa Requirements
Smooth as possible on arrival to New Zealand
Travel Insurance for New Zealand
Doubtful Sound or Milford Sound?
What is the Best Time to Visit New Zealand?
Driving in New Zealand
Safety in New Zealand's Great Outdoors
What to Pack for a New Zealand Holiday
New Zealand Accommodation Guide
New Zealand's Need to Know Facts
What do things cost in New Zealand
Which island is better - the North or South Island?