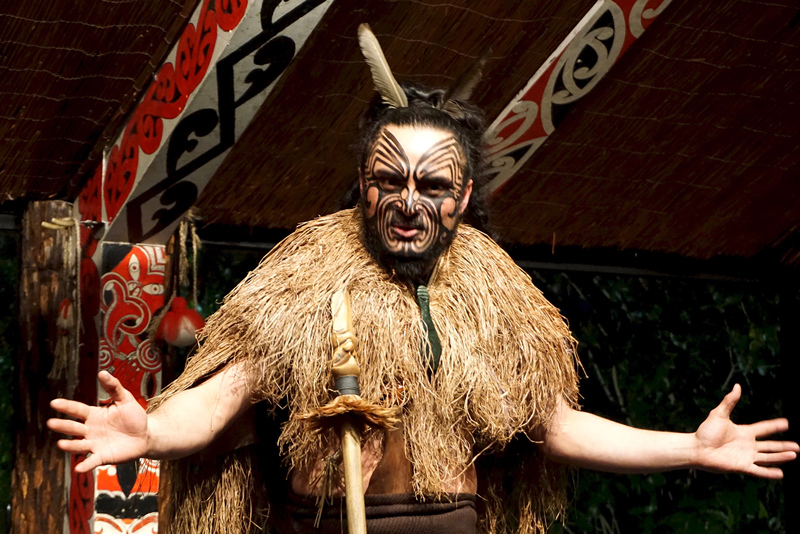 Last week we took our 2 and 4-year-old girls to see the Tamaki Māori Village Experience in Rotorua. The experience from our perspective was a good one. Once home, like a good little tourist, I logged onto Trip Advisor to air my thoughts and contribute to the so called "reviews you can trust" I came across a review that at first glance looked deliberately malicious (a false review) but on further inspection it became apparent that the reviewer had little or no understanding of contemporary Maori or held a totally unrealistic expectation to what he was letting himself in for. To guide your decision to whether this popular cultural experience is right for you or not, it is important to know what exactly Tamaki is, and what it is not.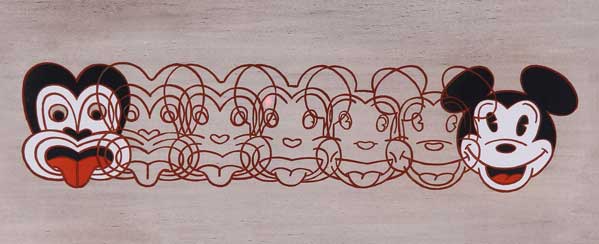 First some facts ....
Contemporary Māori don't run around in grass skirts and live in forests, they are in-fact represented in all aspects of our society from politicians, university lecturers, doctors, lawyers, all the way down to travel agents. Yes, there is still some friction between Māori and Pākehā (non-Māori), a hangover from the European colonization that did resulted in land confiscations amongst other things. Fortunately the last 30 years has seen progress with righting some of the wrongs through the Watangi Tribunal, set up to address a range of grievances the Maori have against the crown. (The New Zealand government)
A couple of items that need further explanation..
The performers Moko (Tattoo) was represented by make up, not the real deal?
It is very rare to see a traditional moko anymore, I have probably only seen one, perhaps two woman with a traditional moko in my lifetime - I have never seen a man with a traditional moko. Pākehā introduced the 'Suppression Act' of 1907 that made it illegal for men or women to wear moko, fortunately women living in remote parts of the North Island continued to receive moko and kept the tradition alive. The process of moko was as sacred as it was painful. Bone chisels were tapped with a light mallet, so that it cut a groove in the patient's skin, like slowly ploughing a field - the pain must have been excruciating. Coloring was usually from burnt and powdered Kauri gum, or charcoal, mixed with oil or fat. I recently read that after the pakeha came, gunpowder was sometimes used. Apparently after they healed the lines looked not so much black as dark blue. One of the stations in the Tamaki village shows the equipment that was used. Only distinguished (aristocratic) families, chiefs or tribal leaders possessed these and the right was handed down from father to son, this title is a birthright and cannot be removed from them. A "Sign of Aristocracy" as explorer James Cook noted in 1762. I suppose not unlike a coat of arms.
The Māori Village Experience was not original?
We can arrange for history buffs to visit ancient pa site's (fortified village's) they are scattered through out New Zealand, but all you are only going to see is an old trench or earth mound covered in grass representing what once was a historically site. This is not going to give you insight into how they lived or their art and tikanga (culture). I was impressed with the Māori Village Experience; it was built within the parameters of an old 'Pa' site, set within a stand of Beech trees. It was obvious that a lot of time and effort had gone in to its reconstruction - I would say it is the best representation I have seen. But more importantly the Tamaki performers charged with illuminating this history, were knowledgeable and keen to engage. My girls were enthralled with the stick game's being taught at one of the whare (house). Each whare in the village offers a particular insight into the village way of life and those that are interested can learn a lot if you take the time to engage. We certainly found this side of the experience interesting - a unique glimpse at the past and certainly not tacky.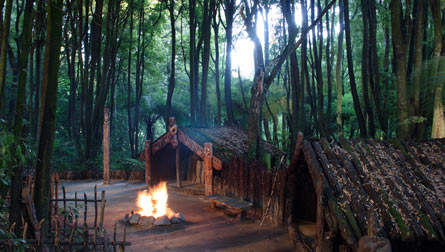 They used an acoustic guitar at the traditional concert?
The Māori have always had a strong tradition of performing arts (kapa haka) dating back to pre-European times where it developed from all traditional forms of Maori pastimes. In a 21st century context Māori musical prowess has influenced the modern New Zealand music scene since early in the twentieth century. Growing up I can remember enjoying Māori reggae bands like "Herbs" and more recently drum and bass guru's "Fat Freddy's Drop". Tiki Taane is the latest of Māori artist to raise a few eyebrows. In my mothers day the crooners of the 60's were Māori artists Howard Morrison and John Rowles The Tamaki performing arts (kapa haka) concert, showcases traditional stick throwing and poi action songs (a dance performed with balls attached to flax strings) along with some foot taping songs from early last century, like the world famous (in New Zealand) Pōkarekare ana - and yes this is played with an acoustic guitar. This mixture of both traditional and modern gives you a balanced overview and will entertain all ages without putting you to sleep. Cultural? Certainly, and if you were invited onto a Marae (meeting house) today, this is exactly the sort performing arts you will see.
The Food was odd….
Many South Pacific Island Nations cook food in underground ovens. The Māori version is called a Hangi. The traditional hangi is quite an involved process. Firstly, volcanic rocks are heated in a large fire for hours until they are extremely hot. They are then placed at the bottom of a pit or hole in the ground, a layer of earth is placed over the rocks. Wet sacking (presumably made from flax fiber) is placed on the earth. Woven baskets filled with various meats and root vegetables wrapped in leaves are placed on the sacking. Again wet sacking is placed onto the baskets; finally the hole is filled with earth. The idea is that the heat radiating from the rocks turns moisture into steam that rises through the earth, leaves and food until everything is cooked. Sounds easy? - Absolutely not! Being a keen Boy Scout in the 70's, I had to, on at least a dozen times, "put down" a hangi. We slightly amended the process using 1 foot length of railway irons instead of volcanic rock. Chicken mesh instead of flax woven baskets and good old heavy-duty hessian sacks instead of the flax fiber matting. If only ours tasted half as good that of Tamaki's. Many a boy scout went home to mum after a weekends camp starving. - This is a craft, perfected over generations. And what you get is a genuine hangi. You will get to see your food uplifted from the hangi pit whilst the process is explained before going inside to the concert. The result of this long process is tender, off-the-bone meat and delicious vegetables, all infused with a unique smoky, earthy fragrance. Yes you could be forgiven for saying the flavor is odd, because there is a fair chance you may have never tasted anything like it before, part of the unique experience of being in Aotearoa, Land of the Long White Cloud.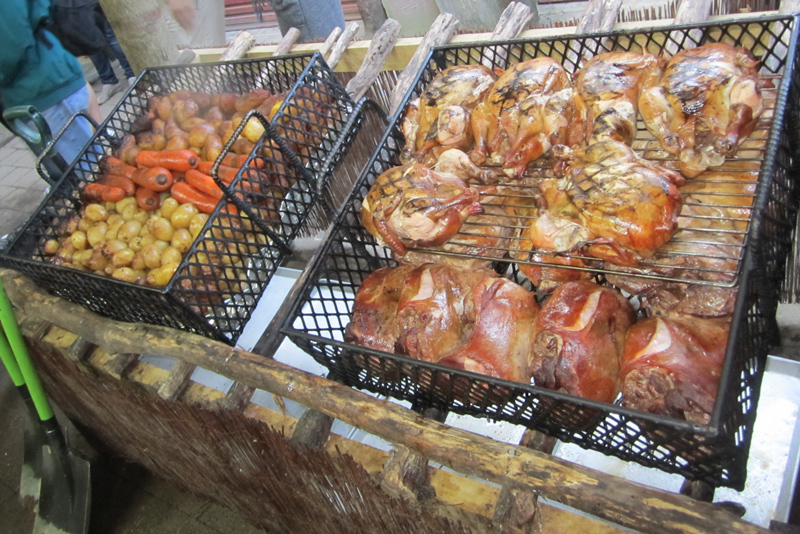 The back story to Mike and Doug Tamaki – The Tamaki Brothers
In 1989 two Maori brothers Mike and Doug Tamaki had been looking everywhere for money to develop a tourism business idea and had been declined a bank loan. Brother Doug (with a little persuasion) sold his Harley Davidson motorcycle and purchase a 16-seater mini bus. The brothers and their families have worked hard to create a Maori culture experience outside of the hotel environment. With ambition, vision, and an eye for detail the brothers won the New Zealand tourism award for culture and heritage on four separate occasions and remains the only indigenous tourism company to win New Zealand's Supreme Tourism award.
To conclude: There is much more to Maori culture than watching the All Blacks do the haka before a rugby match, Maori are the first peoples of New Zealand, and their culture is fascinating. If you want good value then you cant do much better than this. Set aside an evening for this while you are here.