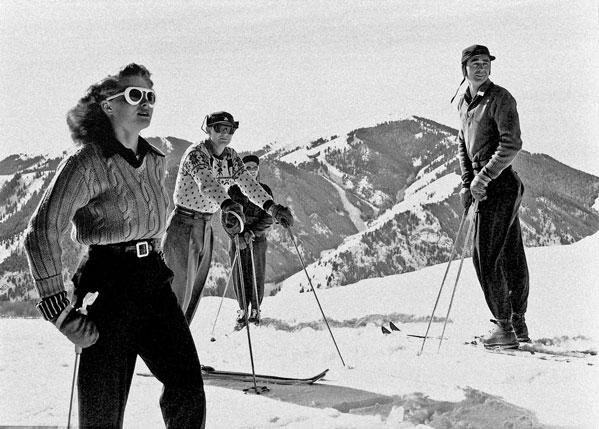 In June as the ski season draws to a close in Europe and North America and summer in South East Asia starts to heat up, its time to adventure down to ice cool New Zealand's South Island and enjoy an exhilarating winter experience - pristine powder paradise. If you really want diversity when carving up the white stuff, it is here you will undoubtedly experience heaven when Skiing New Zealand. The island is dominated by the Southern Alps peaking at 3000m and running 500k along almost its length. These are the backbone of the island and contain more than 360 glaciers and with a season that lasts to November this makes the skiing boarding possibilities limitless. 
Skiing New Zealand
The fields are spread widely throughout the Southern Alps with commercial ski fields, club ski fields, Nordic cross-country, and heli-ski areas. They provide a broad range of skiing terrain, from cool running on carefully groomed downhill, to cross-country touring routes, and the ultimate challenge of off-piste descents. Snowboarders will never run out of challenges to go faster downhill, higher on the half-pipe and more daring on the ramps all that can give you that maximum buzz. Heli- Guiding operators cover an extensive range of off-piste skiing throughout the Southern Alps and guides will take you by helicopter to ski or board some of the most pristine untracked snow you can find amongst these world-class mountains. The Tasman Glacier near Mount Cook can provide you with a spine tingling adventure, enjoyed by small groups with professional guide's sporting the ultimate in modern safety gizmo's you can grit your teeth, suck down that adrenalin and know in the back of your head your flying with the best. If you want to party and are looking for the après ski and board scene, then the three main centre's to hang - Queenstown, Wanaka or Methven. They all make ideal base's with fields close by and all have wilderness heliskiing available.
Queenstown
The largest and most commercial of the three is noted for its excellent shopping and range of  luxury lodge accommodation surrounded by stunning alpine scenery. Being New Zealand's self-proclaimed extreme sports capital, you can try bungee jumping, sky diving, whitewater rafting, skiing and boarding. The aprés ski scene is legendary with a huge number of bars, restaurants and night clubs which buzz throughout the season. Also worth noting is Queenstown's Winter Festival during July offers 10 days of fun and festivities on and off the slopes with races, carnival fireworks, night skiing and music. All this is very accessible with it own international airport. The two ski fields close to the town are Coronet Peak and The Remarkables.
Coronet Peak
Situated 18km from Queenstown and blessed with varied terrain and outstanding views. There are many ways to get down Coronet through every type of terrain from the wide groomed run called M1, to mogul runs, to wide open back bowls. Once you know the ropes, you'll discover the secret verticals, dips and drops of one of New Zealand's longest established ski areas. If skiing all day isn't enough, on Friday and Saturday nights you can ski into the night as well. Coronet is home to the Winter Festival.
The Remarkables
The Remarkables are set in a vast natural amphitheatre high in the rugged ranges above Lake Wakatipu. It has altitude; a long, reliable season and its north facing aspect make's it sheltered sun trap. Nearly three quarters of its slopes are ideal for beginners and intermediates. Powder bowls and off-piste extreme runs provide challenge for more advanced skiers. In September the field hosts the Remarkables Spring Festival - a riot of snow sports and crazy events.
Wanaka
Wanaka is a picturesque jewel among New Zealand's major ski destinations. Lake Wanaka runs away to the north of the lakeside town providing stunning views of Mt Aspiring National Park and the bush clad West Coast toward Haast Pass. The situation of the lake (to the north) also enables sunshine to flood into the town even in mid winter providing a warm environment for the non skier (or tired skier) to enjoy more leisurely pursuits. Wanaka is often likened to Queenstown but 20 years ago - but she is rapidly catching up and with only a 1.5 hour drive from Queenstown Airport she offers a more chilled environment to enjoy your aprés ski. Wanaka is base for both Cardrona and Treble Cone fields.
Treble Cone
Treble Cone is about a 30 minute drive from Wanaka and has developed a reputation as an advanced skiers and boarders domain with great half pipes and lifts that reach the top of the mountain in six minutes .The 660m of vertical skiing over convoluted and changing terrain remains Treble Cone's greatest attribute and the regular north west snow throughout winter makes for awesome `powder days'. Both the Norwegian Alpine ski team and the New Zealand freestyle team use Treble Cone as a base for training. In recent years New Zealand's second halfpipe was put in place at Treble Cone to cater for the growing number of snowboarders.
Cardrona
Also around a 30 minute drive, is known as the family ski field and offers three distinct ski areas each with it's own degree of difficulty, providing something for everyone. There are several purpose built beginner runs which lead onto wide rolling trails for intermediates. If you think your and expert you may wish to check out the Arcadia Chutes, where the New Zealand Extreme Skiing competition is held each year. Cardrona is quite spread out with only 390m of vertical drop yet it runs several kilometres long. A lot of emphasis has been placed on snowboarding and offers more in the way of specific runs for `shredders' than most fields. New Zealand's first half pipe was built here in 1990 and our Snowboard National Championships have been held at Cardrona for the past four years.
Methven
Surrounded by the chequerboard fields of the Canterbury Plains and dwarfed by a magnificent backdrop of mountains, this once quiet, rural village and has a lot to offer snow lovers from within New Zealand and overseas. It is also the place to be if you wish to fish, play golf, jetboat, tramp or bike ride. Not all the excitement goes on in the Great Outdoors, Methven has a lively nightlife, with a variety of restaurants, bars and a nightclub. Situated only 92 kms from Christchurch's international airport it is accessible to all. The two most noteworthy fields are Mt Hutt and Mt Potts
Mount Hutt
Mount Hutt has developed the enviable reputation of being the first field to open each season. Within easy reach of Christchurch it has become a favourite destination for local skiers as well as hosting a number of international ski events each season attracting top class skiers from all over the world. Powderhounds just won't believe their luck. With plenty of adrenaline-pumping Black Diamond runs on the South Face, extreme skiers and boarders will have as many different challenges as they can handle.
Mount Potts backcountry
Dubbed 'the new spot X' by a visiting La Grave guide, Mt.Potts Backcountry is the  highest snow field in the South Island and provides snow cat accessed powder skiing and snowboarding. Heli lifted from the lodge each morning, in small guided groups, everyone is outfitted with an avalanche transceiver, cat rides all day, a picnic lunch, and transport back down the mountain is all in a days skiing at Mt. Potts. An extreme field for skiing and snowboarding you drop in at the highest point of 2254m and ski or board down to the top hut at 1750m – pure heaven! You can arrange to fly to Mt.Potts from Queenstown, Christchurch or Tekapo The South Island also boasts the largest number of club fields in the Southern Hemisphere which should not be overlooked by the demanding thrill-seeker.While not offering the same standards of facilities as the larger, commercial fields mentioned above, these fields do however offer some of the best skiing around although it may be a little harder to get to. This extra effort can be what makes the skiing that much more rewarding. Some that are worth checking out are:
Craigieburn Valley
Craigieburn Range, Canterbury -- rope tows only - Steepest ski area in NZ - NOT suitable for learners - Best chute skiing around - Outstanding native forest on field
Temple Basin
Craigieburn Range, Canterbury -- Most reliable snow in Canterbury -- Lots of intermediate terrain -- BEST SNOWBOARDING IN NZ -- Awesome steeps -- Special goods lift for your gear -- 40-60 minute walk to ski slopes
Ohau
Mount Cook Region -- Fantastic views -- great ski touring -- Uncrowded and unpretentious Great value and great fun.
Amuri
Hamner Springs -- Small area -- great terrain. Brilliant for intermediates -- Good constant fall line skiing -- Snowboarders will enjoy. As you can see, the skiing New Zealand is extensive and offers something for everyone. So come and check out some of the best snow country south of the equator, and enjoy magic moments where views of glistening slopes and snow-capped peaks go on forever. Written by Brent Narbey