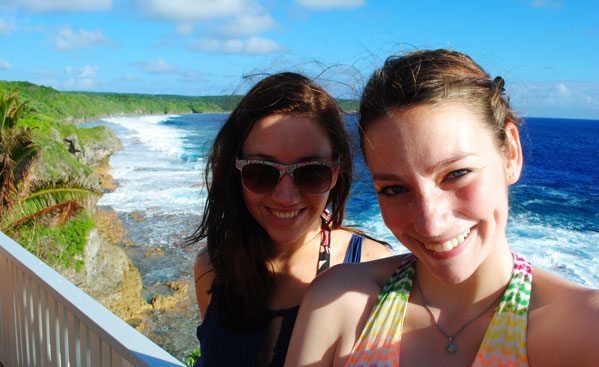 Commonly referred to as 'the Rock' Niuē is an island nation located 2,400 kilometres (1,500 miles) northeast from New Zealand. With a local population of just 1400 people we decided to send our German interns Sina & Rieke to find out just how much fun could be had. Here's their report…
 Hi there, Last week we went to Niue and we just want to give you our impression of our trip, and about the destination as a place to holiday. First of all, how easy is it to get there? Niue has a lack of commercial flights to the country. There is just one (or two?!) commercial flights a week operated by Air New Zealand, So clients living in Europe or in North America need to pass by New Zealand first (departure around 9am from Auckland, flight time about 3 hours), before they can continue their journey to Niue.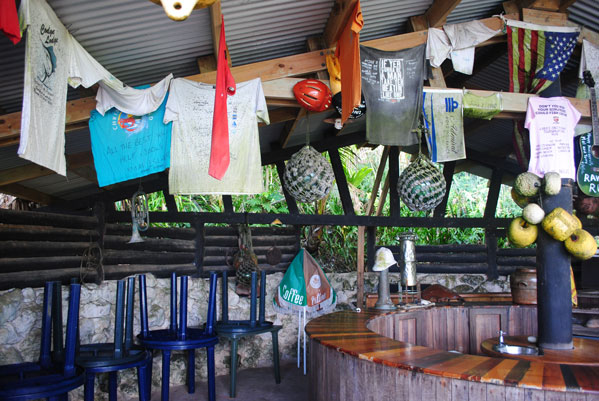 We had a great time in Niue as it is a very beautiful and very small island. It is easy to get around (about 30mins by car from the very south to the north) and if your clients are staying at Matavai Resort, which is the most upmarket accommodation (4 stars) in Niue, the staff can organise a car for you without any issues, apart from the fact they will have to pay for a Niuen driver's licence (NZ$22).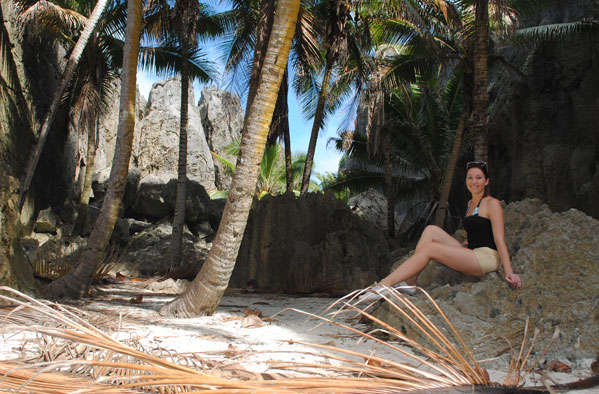 Niue is an amazingly safe place, the people are friendly and your clients will be impressed by the beauty of the caves, its reef flats, its chasms, the rock pools and by that incredible sea water. There is also a high possibility to spot humpback whales during July and October - you even can go diving with them. Niue offers a variety of things to do and most of them are free. As already mentioned there are a lot of caves, chasms, sea tracks, cycling tracks, lookouts and the best places for snorkeling, scuba diving and whale watching.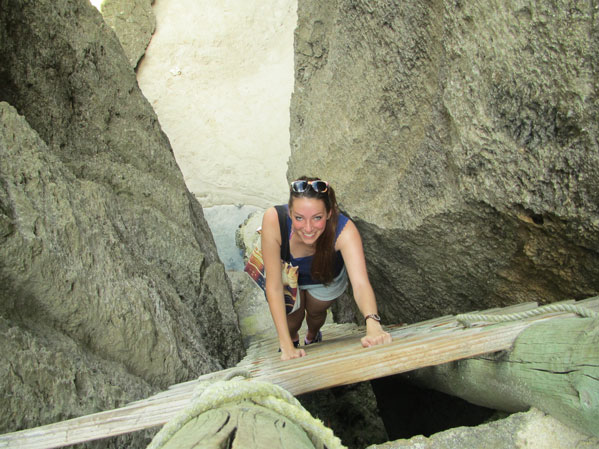 But we would say that it is definitely not for everyone. It is a place more suited to the adventurous or for people who love nature, included kids over 10 years as some of the hiking tracks are very dangerous, and you CAN'T walk them without sturdy shoes AND water shoes (we didn't have any). We missed the beaches a little bit. Niue doesn't have any to sunbathe on, you just can have a rest on a rock.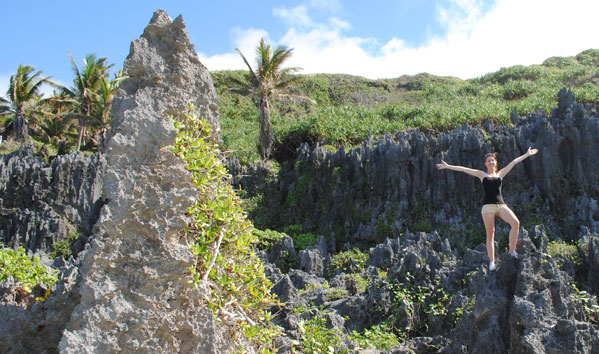 Moreover Niue is a very simple place, it only has a few supermarkets, restaurants or accommodation. Sometimes you think you are the only person on the island and after one week you probably will know nearly every person on the street. So we think one week is about the right amount of time to spend on the island.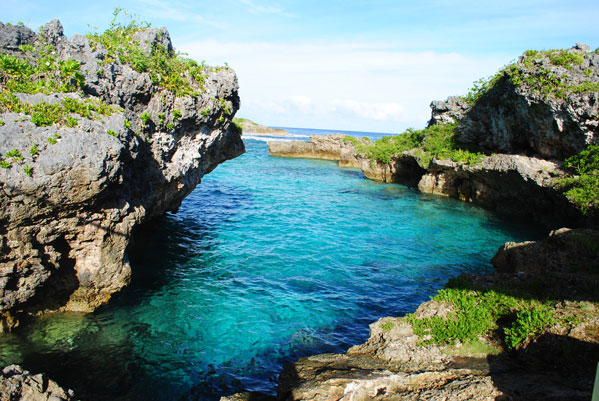 Accommodation Feedback: Niue Backpackers: Alofi central, no pool, no air conditioning, rooms are very simple, but for a backpacker absolutely fine, just $25 a night, usually no mixed bedrooms, Ira (owner) was super friendly and she showed us nice places on where to go, accommodation is above the yacht club and Ira is usually in there, you can buy a few cold drinks, they don't offer tours but will definitely help if someone wants to do a tour Namukulu Cottages & Spa: About 10 min drive by car to Alofi, a lovely silent place with a great view to spot some whales, best for families with kids older than 10 years,  Spa & Massage treatments, 4 huge dogs, they have a pool, the view from the rooms is not really special, but also nice, the owners are friendly and take care of everything, no restaurant or bar area, they don't offer tours, very close to Limu Pools (best snorkel place) and nice caves Stone Villas: Close to Alofi (about 3mins by car), no air conditioning, but fans (you don't need an air con though, because it is pretty cool as villas is built of lime stone), the two Units are wonderful and charming (we loved it!), no views (villas are in the bush), very separated and nice for couples, you have everything you might need there and the rooms are nice, owner was very friendly, self-contained Unit, they don't offer tours Restoration Reef: Alofi central, STUNNING view (house in the rocks with own walkway to a viewing platform) over the cliffs and the sea, absolutely amazing and ideal for younger couples and honeymooners (as walkway to viewing platform is a bit dangerous, not a place for children or older people), booking needs to be done early enough, simple room but with ocean view, no pool, no air con, owner very friendly, self-contained Unit, don't offer tours.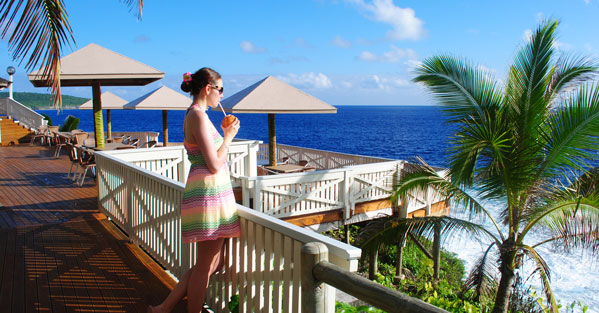 Matavai Resort: (Above) About 10 mins by car to Alofi, 2 pools, air conditioning in every room, rooms are nice and spacious, it is the most luxurious accommodation in Niue, view from bar terrace just amazing and probably the best place to stay in the evening, nice restaurant – they offer 2 times a week 'special dinners' (one night 'barbeque' and the other night 'buffet with a cultural show'),  staff is very friendly and take care of every guest (organised our car and our tours), pool bar, restaurant and bars also open for people who are not staying at the Matavai, welcome drink and cocktail, orientation tour is included (tour guide has a lot of knowledge, he built the resort and was once the owner), people will have everything they need, great for couples and families, offer snorkel gear, dive shop is close.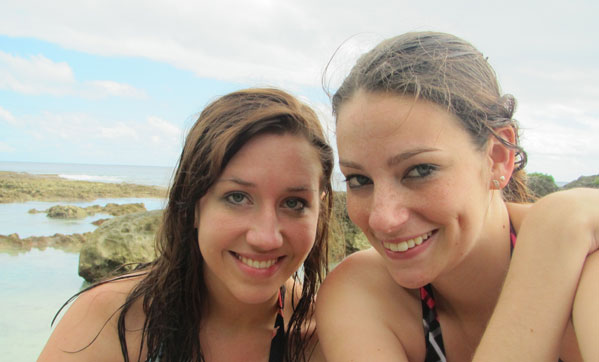 Cheers, Sina & Rieke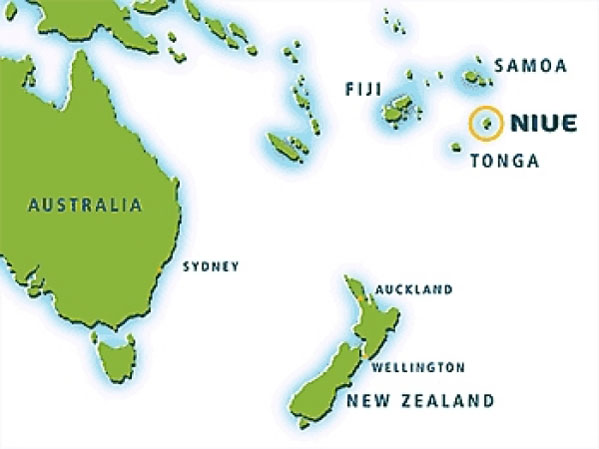 If you are keen for a Niuean Adventure and want more information contact Island Escapes