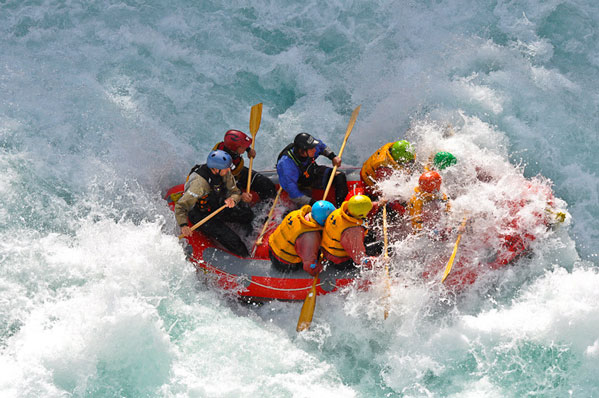 One of the best ways to truly explore New Zealand's most isolated and beautiful environments is with a rafting adventure. Pristine waterways – often complete with high-energy rapids and canyons – wind through temperate rainforests, past sky scraping mountain peaks and alongside valleys dotted with wildflowers. At First Light Travel, we love down-to-earth adventures in the New Zealand wilderness, and rafting in New Zealand through isolated backcountry is about as good as it can get...  
About two-thirds of the South Island is mountainous, a result of the collision of the Australian and Pacific Plates. These mountains are home to isolated, majestic ice-carved valleys bordered by soaring mountains, often with a pristine waterway or two running through them. On the West Coast, high levels of torrential rainfall create turbulent rivers of white water that tumble down from the Southern Alps. We believe these beautiful, off-the-beaten track environments are best accessed by – you guessed it – an expert rafting tour. Picture this: Soaring over the rugged mountains, glaciers and coastline of the West Coast as you're whisked to the head of a beautiful waterway. You and your group are dropped into a remote wilderness, the only sounds around you being the melodic call of native birds and the humming of cicadas. As you prep your belongings and the raft, the sun warms your back and you feel a rush of excitement – this is the epic New Zealand rafting adventure you've always dreamed of.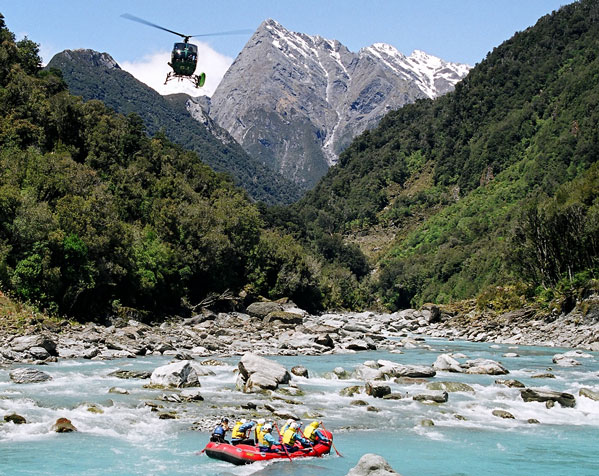 It's possible to experience epic rafting in a day trip, but the most unforgettable memories come with an awesome multi-day trip. Combine a thrilling day of paddling through some of New Zealand's most spectacular environments with the camaraderie of working as a team. Get out of your comfort zone and learn new skills, be inspired by the beauty around you and end each day reflecting on some truly epic memories over a hearty kiwi meal. Every river on the West Coast has its own distinct personality. Moodily changing in the flash of an eye, waterways in this region are highly affected by weather, season, flow as well as natural events such as landslides or flooding. They are challenging and tumultuous and rafting with a local guide is the only way to go – their expert understanding and regional experience helps you stay safe while pushing your rafting skills to the limit.
The Hokitika River
This grade 3-4 waterway is home to deep, narrow canyons, stunning scenery and tight, technical spots of white water.   Near the West Coast town of Hokitika – known for its history, wild beaches and Jade – this river is perfect for those looking for a medium-level trip that's full of excitement without being too challenging.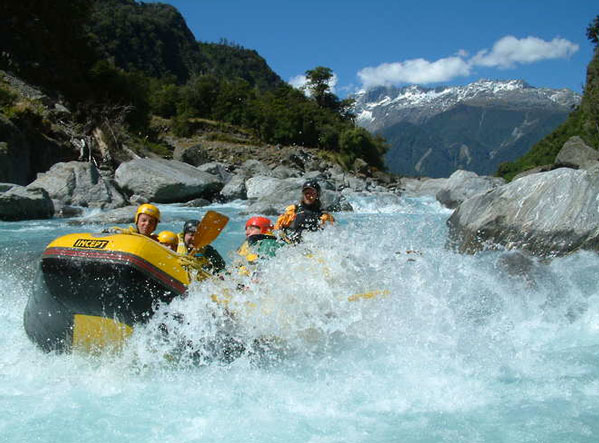 The Perth River
For the most challenging, full-on rafting on offer in New Zealand, look no further than the West Coast's pristine Perth River. Local guides know this grade 4 – 5 waterway as the most intense but rewarding rafting experience in the country. Complete with deep canyons, long rapids, steep drops and clear blue water, this river offers the ultimate rafting adventure. A high level of fitness or previous rafting experience is required.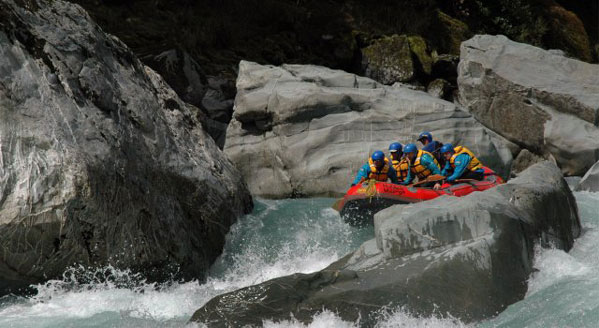 Whataroa River
A rafting adventure characterised by spectacular granite sculptures, plenty of rapids and two deep canyons, the grade 3-4 Whataroa River is perfect if you're after an unforgettable New Zealand river experience but don't have the experience required for the Perth. Limited numbers of people are allowed to raft this river, so if it sounds like you, get in quick!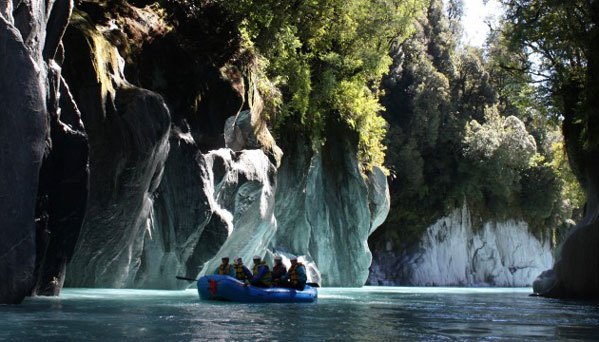 Inspired to embark on a New Zealand rafting adventure this summer? Get in touch with First Light Travel – we'll put together an adrenaline-filled, uniquely New Zealand experience you'll remember for years to come. Find out more about our New Zealand Rafting Options.