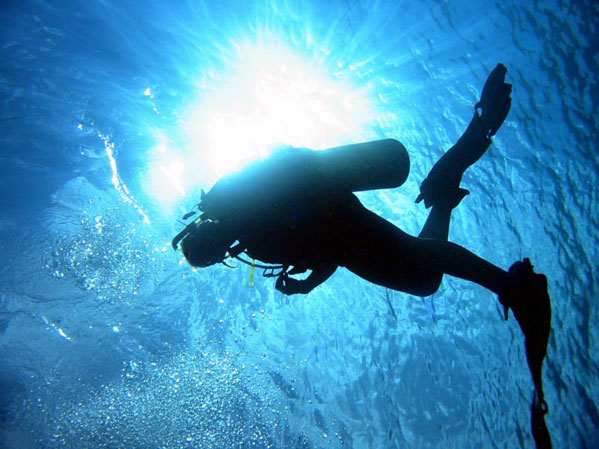 Superlatives, Superlatives and more Superlatives! Yes we all know the Great Barrier Reef has nice diving, however it's certainly not the be all and end all of diving in Australia. Lets face it, unless you get right out to the actual outer reef you cant help comparing the diving to places like Egypt's "Red Sea" or Fiji's coral coast and there is at least half a dozen other well known diving locations with similar diving. So here you go, a selection of 10 unique Australian dive sites, that may inspire you to think differently when planning diving Australia rather than just focusing on Diving Australias Great Barrier Reef.
Fish Rock at South West Rocks.
Australia's best ocean cave dive, and voted among the top dive sites in Australia, Fish Rock is situated just two kilometres from Smoky Cape at the South West Rocks on the New South Wales. The thrill of entering a 125 metre (410 ft.) long cave and moving right through the centre of a small island is a dive not to be missed. As well as the cave itself, Fish Rock is home to a large array of marine life, hence how the island came to be named. Importantly both Fish Rock and Green Island are critical habitat areas for Grey Nurse sharks that live here in large numbers all year. Created by a fault in the island, Fish Rock Cave runs from the deeper seaward entrance at 24 metres (78 ft.), 125 metres (410 ft.) through the rock emerging into the fish filled, silhouetted shallower entrance fringed by gorgonian corals (pink) at 12 metres (39 ft.). Fish Rock has a completely unique ecosystem. The temperature inside the cave is one degree warmer than the surrounding ocean and the water always clear.  A regular strong current brings the nutrients to the area attracting the fish life. It is easy to plan your dive to minimize or take advantage of the current (drift dive).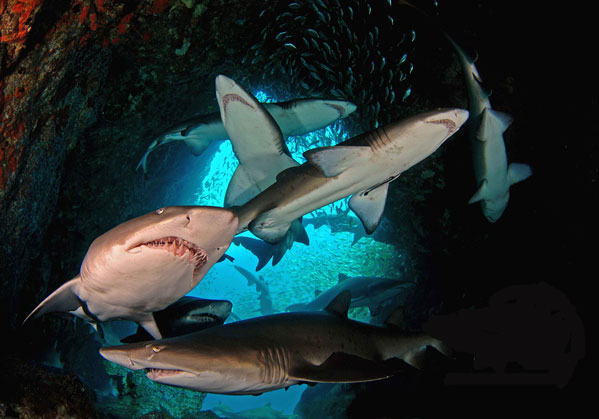 SS Yongala
In 1911 the coastal steamship SS Yongala sunk in a cyclone 90km (55 miles) south-east of Townsville near Cape Bowling Green in Queensland, with the loss of all 121 soles. Now home to one of the world's greatest dive sites. Resting on a sand this 110m (360 ft.) wreck lies in 15-30m (50 to 100 ft.) of water and attracts a vast variety of marine life. Descend and witness what makes this location so famous. Eagle rays, turtles, sea snakes, queenfish, , cobia, giant gropers, batfish and large schools of trevally are just a few of the things you will see. There is also a huge diversity of soft and hard corals on the skeleton of the SS Yongala. During the winter you may even hear the calls of the migrating whales. This dive is definitely a dive that showcases the fish species in the Australian Coral Sea. Due to strong currents this dive is only suitable for advanced divers.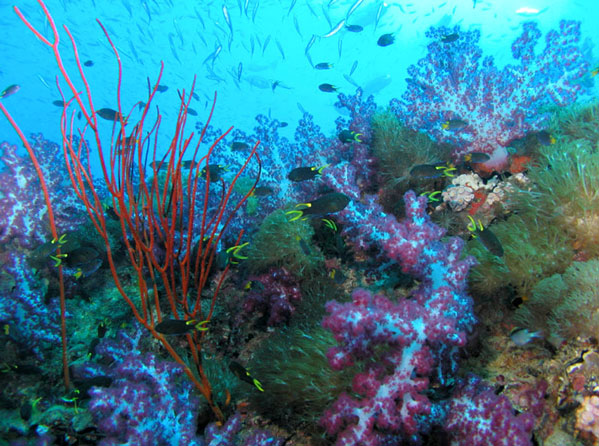 Tasmania's Cathedral Cave
Tasmania's Waterful Bay is an area well known for its large sea caves; the largest, Cathedral Cave, consists of a massive entrance (maximum water depth 21m (68 ft.), extending back into  various smaller caverns with narrow tunnels and cross passages, often with large schools of fish hanging near the entrances. The walls are brightly covered with invertebrates, typical of temperate waters and as you can imagine offers photographers spectacular photo opportunities. There are other smaller cave complexes, plus the large canyons of the Patersons Arch area that offer varied intertebrate life with great swim-throughs and walls but without the rock ceiling. These caves are for experienced divers with good buoyancy control.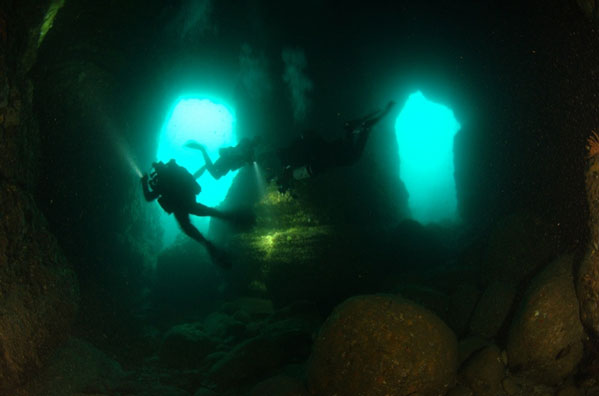 Julian Rocks Marine Park
Just 2.5 kilometers (1.5 miles) from Byron Bay is one of Australia's most popular travel diving destinations, the Julian Rocks Marine Park and is rated as one of the top ten scuba  locations in Australia. The meeting and therefore mixing of tropical warm waters with the cooler temperate waters makes diving around Byron Bay very unique. Named by Captain James Cook in 1776, Julian Rocks consists of ancient metamorphic rock thrust through the earth's crust millions of years ago. The rocks are an extension of Cape Byron, separated by the ocean forming a unique habitat providing food and shelter for rays, sea turtles and corals.  With over 600 recorded species of tropical, temperate and pelagic fish inclusing whale, manta ray, dolphin, leopard shark, the endangered grey nurse and at least three species of turtle are all common visitors to the rocks. All the action is just 10 minutes from Byron Bays main beach.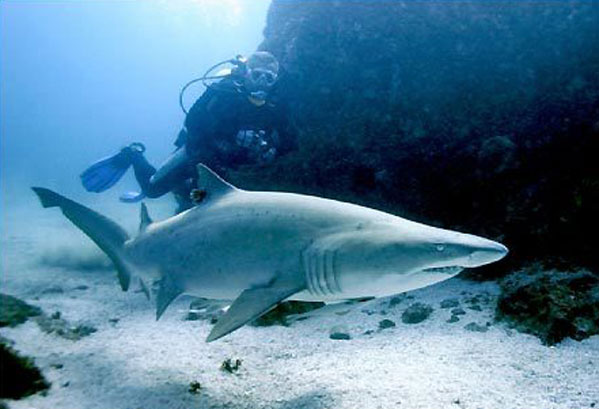 HMAS Swan in Perth
Dunsborough in Western Australia hosts one of the largest accessible dive wrecks in the Southern Hemisphere, the HMAS Swan. This 113 metres (370 ft.) long and  decommissioned naval destroyer was scuttled in Geographe Bay just off Dunsborough in 1997 and now has become one of the most popular wreck dives in Australia.  Sitting in 35 metres (114 ft.) of water and on a slight list, the HMAS Swan is truly a spectacular site, all kinds of fish and marine animals have made the wreck their home. Schools of bulls eye fish hang around in many of the ship's rooms, while brim and King George whiting patrol  the hull. Samson fish, sweep and blue devil are commonly seen. The wreck is only a 15 minute boat ride out to sea from Meelup Beach. Dunsborough is a three hour drive south of Perth.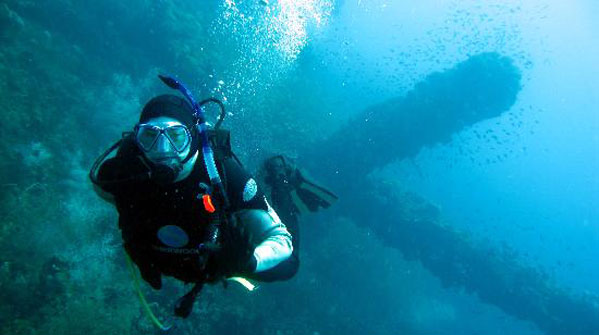 Coffs Harbour / Solitary Islands
Blessed with a wonderfully diverse marine life, Coffs Harbour has fantastic diving for those wanting to make the effort. This is also the only place in Australia where the Great Dividing Range meets the vast Pacific Ocean. One of the best sites is the Solitary Islands, located just south of the Great Barrier Reef. The Solitary Islands comprise of five islands, three pinnacles, and several shallow water reefs. Underwater the Solitary Islands terrain is made up of an exciting surfeit of gutters, valleys, boulders, kelp forests, and caves that are frequented by manta rays, giant cuttlefishes, Leopard sharks, Grey Nurse and White-tip Reef sharks - not to forget turtles, boxer crabs, and many other interesting sea animals.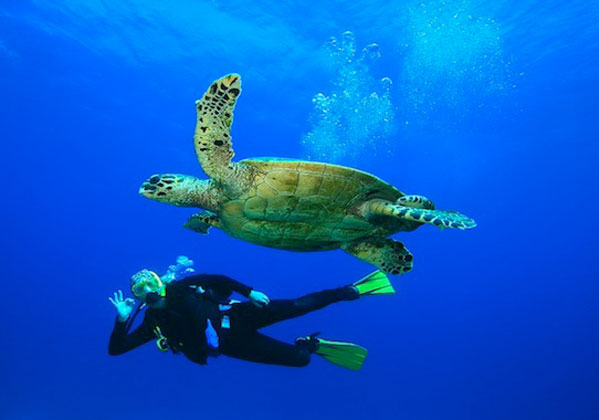 Rodney Fox Great White Cage Diving
Pioneering shark cage diving 40-years ago, Rodney Fox has been at the forefront of human interaction with Great White Sharks ever since. As advocates for the Great White, their expeditions have educated the public and attracted adventurers from over the world. Aboard the "Princess II" tours depart Port Lincoln in South Australia  to the famous Neptune Islands, which is the very best place in the world to see and photograph the Great White. Fox is the only operator in the world to cater for qualified SCUBA divers in their special submersible cages. Descend to 18m (60ft) to the bottom and enjoy some awesome shark viewing opportunities, as well as being surrounded by other local sea-life, including the worlds largest stingray, southern eagle ray and giant blue wrasse. Non-certified divers can participate in our regular surface cage dives. There are both 3 and 4 night expeditions available.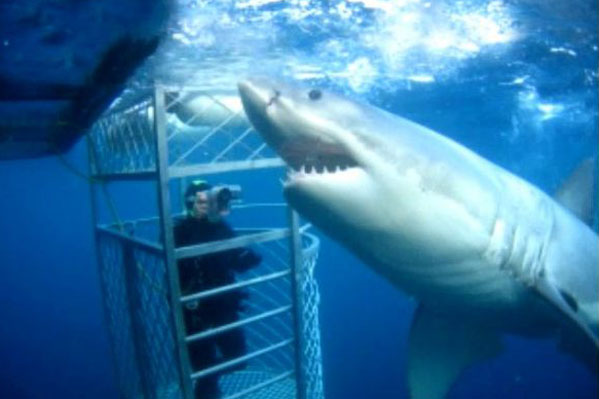 HMAS Brisbane
Scuttled in 2005 of Queensland's Sunshine coast the former destroyer, ex HMAS Brisbane has become an artificial reef and is attracting a growing number of divers from around the world. Being on a sandy floor in 27 metres (88 ft.) of water, sitting bolt upright the HMAS Brisbane has 12 to 15 metres (39 to 49 ft.) of water over her front decks and 18 metres (59 ft.) over her stern. Consistent water clarity and minimal swell makes for comfortable diving. A school of predatory yellow tailed king fish 'buzz' the schools of bait fish that surround the wreck. Local well known inhabitants include a large bull ray, lion fish, angler fish, blennies, nudibranchs, squid sea hares, and schools of juvenile snapper. Other visitors do include greasy cod and eagle rays and a shovelled nose ray.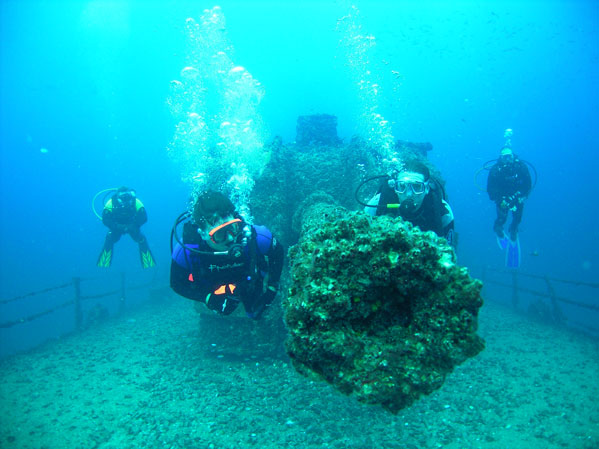 Busselton Jetty
Busselton Jetty is the longest timber-piled jetty in the Southern Hemisphere and stretches 1.8 kilometres (1.1 miles) across Geographe Bay in W.A. The warmer waters of the Leeuwin current create the perfect environment for the abundance of colourful tropical and sub-tropical marine life. Often described as Australia's greatest artificial reef, Busselton Jetty is rated as one of the top ten dives in the country. There's an incredible forest of  coloured corals, beautiful sponges, many fish and colourful invertebrates sheltering beneath the old karri timber supports, making it suitable for both novices and experenced divers. Warm currents, shade and the protection offered by the jetty structure has resulted in more than 300 species of fish and coral being recorded. You're likely to see many schools of old wives, yellow fin and bullseyes, tiny porcupine and pineapple fish as well as rays, cuttlefish octopi all hidden amongst the old timbers.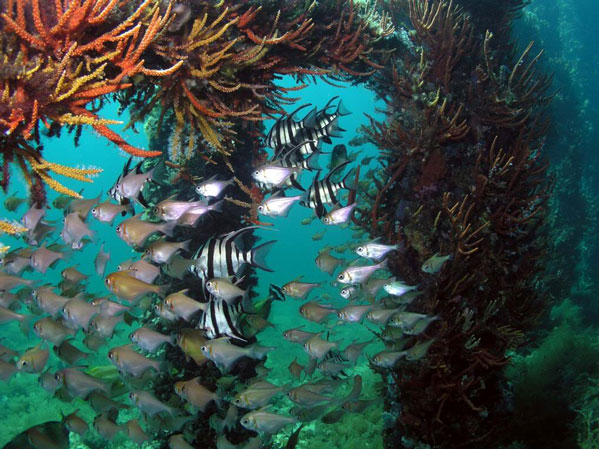 Rottnest Island
The diversity of fish, coral species and shipwrecks in the waters around Rottnest Island make it one of the most fascinating dive sites to be found in such close proximity to a capital city (Perth). With over 370 species of fish, around 12 shipwrecks and numerous reefs and coral, diving around Rottnest Island is worthwhile. Rottnest Island attracts tourists from all over the world to dive the picturesque waters. The island consists of mainly limestone reefs with a combination of temperate and tropical species of fish, making it a great location to see many different varieties. Some closeby cavern diving adds to the variety. Visibility is usually good in the area and better still its just a short ferry ride from Perth.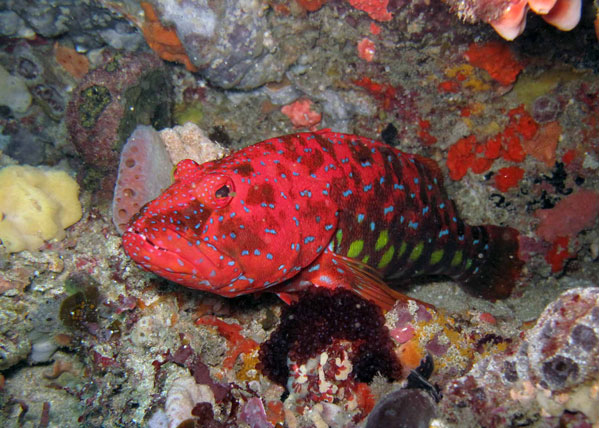 Interested in Diving Australias Great Barrier Reef or Elsewhere
For further information on Diving in Australia   or if you would like to go Diving Australias Great Barrier Reef. 
First Light Travel Australia is proud to be an Aussie Specialist- a designation awarded by Tourism Australia, and your guarantee that our travel consultants are experts in Australian Travel.If you are traveling to Australia then who better to give you the best advice than an Australian specialist travel agent..