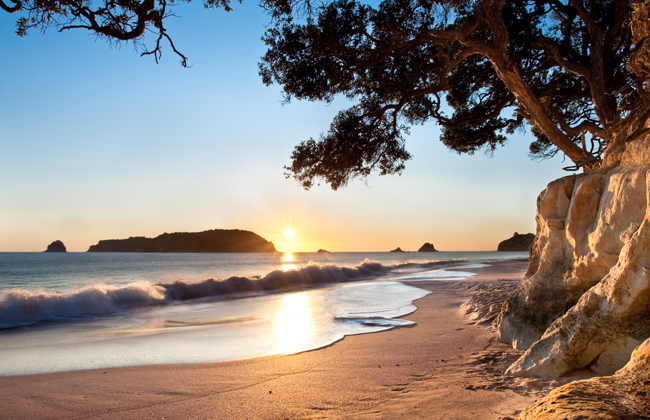 A favourite holiday destination for Kiwis and international tourists, the sun-kissed Coromandel region on New Zealand's North Island, is full to the brim with some of New Zealand's best beaches – the only problem you'll have is deciding which of these pristine places of paradise you want to visit. The beaches of the Coromandel region are characterised by stretches of rugged coastline, surrounded by dramatic volcanic hills and each offer something special and unique; from calm waters in which to snorkel or swim, to waves just waiting to be surfed, a world-renowned iconic hot water beach and a cove whose otherworldly good looks has seen it forever captured on the silver-screen. Check out our handy guide to experiencing the best beaches of the Coromandel region.  
Hot Water Beach Hot Water Beach, on the east coast of the Coromandel, is one of New Zealand's most iconic beaches. This incredibly unique place is part of the V-shaped Mercury Bay on the Coromandel Peninsula. So why is a beach, which has the powerful Pacific Ocean, crashing at its shoreline, known as Hot Water Beach? Let us explain. While the beach itself might look like a great place to explore, it is the hive of activity that happens beneath the surface that makes it so special. Below the sand, natural hot water from two underground reservoirs of volcanic heated water, bubble and filter to the surface where Hot Water Beach comes into contact with the Pacific Ocean. You can create your very own Jacuzzi, right on the edge of the ocean, by digging a custom hole in the sand. All you need is a spade, a swimming costume and a beach towel (you can take your own spade or hire one from a local café). Hot Water Beach is reached by foot via a small stream and this special activity can only be experienced one to two hours before or after low tide. Due to the nature of the powerful ocean, swimming at Hot Water Beach is not advised. Top Tip: With the underground water temperatures at Hot Water Beach known to reach a maximum of 64°C (147°F) an area close to the ocean is a great spot to create your custom spa, giving you the option of having cooler water from the Pacific mix with the hot water below.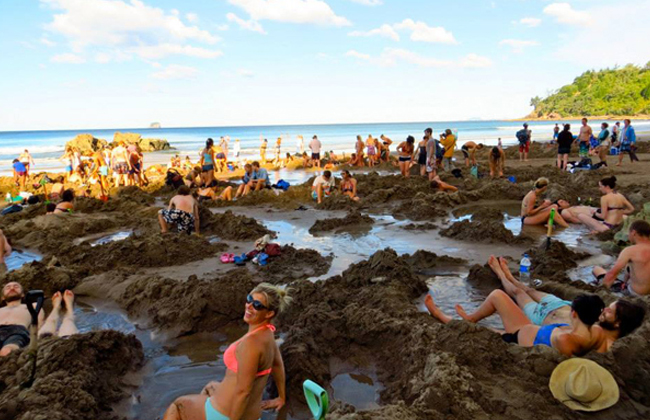 Cathedral Cove: A short drive from Hot Water Beach brings you to Cathedral Cove – a sprawling beach of white sand, sheltered crystal clear blue waters and towering limestone cliffs. In fact Cathedral Cove is so stunningly beautiful it was filmed as one of the locations in the blockbuster hit The Chronicles of Narnia: Prince Caspian. You can reach Cathedral Cove by parking at the designated carpark and walking on foot. The spectacular scenery encountered along the way, with various lookout spots and smaller coves like Stingray Bay and Gemstone Bay (which are perfect for snorkelling and diving) has made this one of New Zealand and the Coromandel's must-do walks. Cathedral Cove is also home to a marine reserve, just one of six in New Zealand, which can be explored by kayak, water-taxi or a glass-bottom boat cruise, allowing you the chance to peek in on the rich marine wildlife that flourishes beneath the surface. Top Tip: The sheltered nature of Cathedral Cove is a picture-perfect place to enjoy an iconic New Zealand pastime of eating fresh fish and chips on the beach.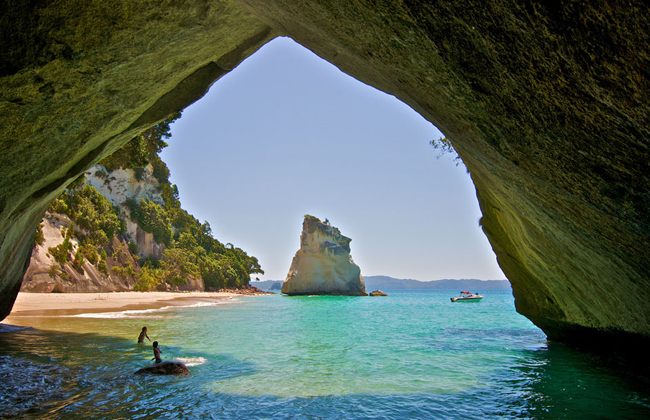 Whangamata: A little further afield is Whangamata, a small coastal town highly regarded as one of New Zealand's most popular holiday destinations. Sun-drenched yellow sands stretch 6km (3.7 miles approx.) and different points of the beach allow for a variety of activities. Calm estuaries sit at either end and are ideal for safe swimming, paddle boarding, kayaking or boat launching. The estuaries also lead out to the Pacific Ocean and are a popular destination with big game fishermen. Fishing charters are also available for those wanting to experience the thrill of the catch. Whangamata Beach is also one of New Zealands best beaches for catching some waves. Out from the beach is one of New Zealand's best surf breaks for experienced riders, while the beach itself is perfect for beach surfers and those wanting to learn. The local Whangamata Surf shop offers surfing and paddleboard hire and lessons for those keen to experience the world-renowned swell. If you're keen on a break from the beach (but really it's pretty amazing so why would you!?) the Coromandel Forest Park and Tairua Forest surround the town and provide heaps of adventures and outdoor experiences including; walks, mountain bike trails and the chance to find more secluded bays by foot. Top Tip: Whangamata is at its busiest during the New Year period of the New Zealand summer. It's best to visit Whangamata when the Kiwis and kids have returned to work and school so you can have this glorious place all to yourself.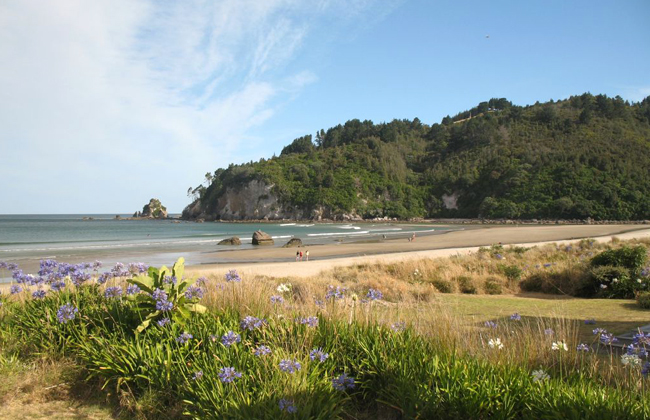 Opoutere Beach: Known locally as the Coromandel's 'best-kept secret' Opoutere Beach is a remote place windswept beauty far from the maddening crowds. Opoutere Beach is one of the few undeveloped surf beaches left on the Coromandel Peninsula that is easily accessible to the public. The beach itself is protected from development by a forested reserve full of native New Zealand trees and wildlife that runs for almost the entire length of the 5km (3.1 miles) beach. The untouched white sand and clear waters offer the perfect conditions for swimming (safest at low-tide) surfing and surfcasting. At the southern end of Opoutere Beach is the entrance to the Wharekawa Harbour with its impressive sand-spit, an established wildlife reserve and breeding ground for some of New Zealand's most endangered sea birds, including the 'New Zealand Dotterel' and the long red-beaked 'Variable Oystercatcher.'
Top Tip: There is so much to explore at Opoutere Beach – including rock pools, easy walks, a historic goldmine and some ancient and long departed Maori settlements - you might want to stay a night or two at the local camp.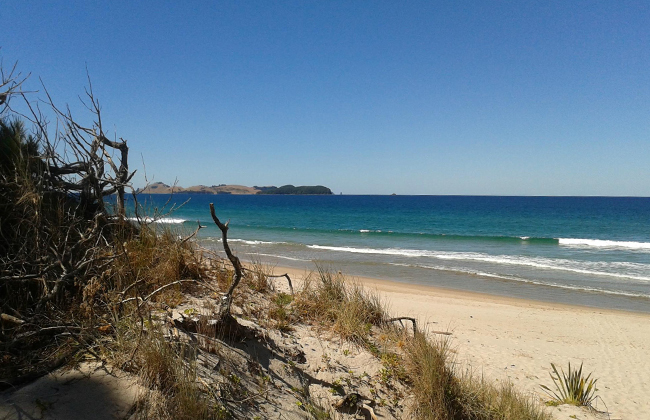 Would you like to visit one of these beautiful beaches when on holiday in New Zealand? To receive a free, no obligation, personalised itinerary - just follow the link and answer a few brief questions.