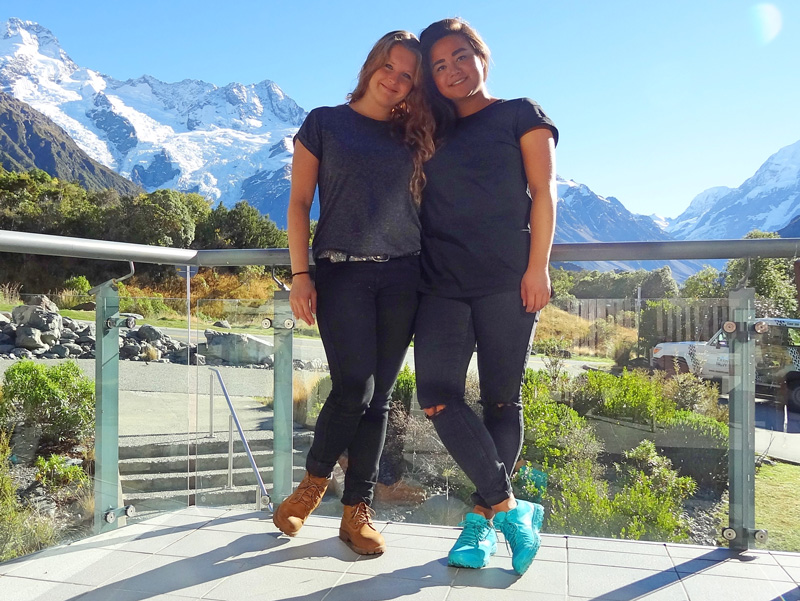 When you have seen most of the world, and you have been traveling in every possible way there is, you think you have seen what there is to see, but believe us, you can still be amazed. Our names are Kathleen Mahn and Lynn Kristensen from Germany and Denmark. We are doing a one semester internship at First Light Travel in New Zealand. We are both really keen travellers that love to explore new places and cultures and right now we got the opportunity to work and study within the travel industry in New Zealand. With the days we had off, we took the chance to explore the beautiful South Island. This is the first time for Kathleen to visit New Zealand, where as Lynn has been here before. Now we would like to share our trip with you guys: So make a good cup of coffee, get yourself comfortable, and enjoy our adventure down south and explore the most beautiful and diverse parts.
Day 1- What is a perfect day? Just imagine this, its cold, its dark and your alarm clock goes on at 4 o'clock in the morning, normally this would NOT be a good start, but for us it was the start of a new adventure, which is a pretty good reason to get out of the worm comfortable & cosy bed. Honestly, we didn't really have a clue of what to expect but from all what people forecasted us, it was going to be cold. So we left warm Auckland and jumped in a not really luxurious plane. People and especially Lynn have always told me that the south island is the part of New Zealand where people fall in love with the country - for me this still had to be proved. But it seems like every little coincidence wanted to prove that this is true. I knew that this country is full of surprises because I work with the fact every single day but this trip just made me speechless. Our first stop - Mount Cook. This was originally the reason for me to come down and the reason to convince Lynn before "summer" officially ends but how it turns out things don't always come the way you planed. Anyway Mount Cook is the highest mountain in New Zealand and enough reason for us not to leave out this natural treasure. So we made our way down from Christchurch to Mount Cook in our little campervan. While Lynn fell asleep on the way, I for myself, realised that already this drive is to fascinating to be true. Totally impressed by the scenery I drove through the valleys, out of the blue, this line of cars came, and we where driving very slow. What was going on? Traffic Jam? I looked in the back mirror and the line was getting longer and longer, and I still couldn't figure out what was happening. When I finally realised what was happening, I bursted out laughing! It was a giant House transported on a truck on the road, followed by a couple SUV's. I've seen Sheep's and cows crossing a street but a HOUSE? I always thought usually you just move to another house, but this time, the house moved with the owners, which was pretty strange to me. But in our (European) mind, that represented the real New Zealand Kiwi experience. Driving through the South island, you think that things can't be more amazing, but it can. Even though I have been here before, I still get amazed by the breath-taking nature. I woke up by Kathleen stopping the car to the side, and jumping out of the car to take some pictures. While my eyes were adjusting and my mind was processing what was going on, Kathleen was already back in the car driving. We stopped by this little coffee shop, to buy coffee by these very kind owners. And we took a little stroll to a beach by this clear wonderful blue lake, Tekapo. While we were sitting there, Kathleen was blown away how beautiful it is down here, and how the scenery always changed to something more beautiful. The way she was talking about it, just made me more and more excited. If you have never been here in New Zealand, I hope we will inspire you to come here, and see it for yourself.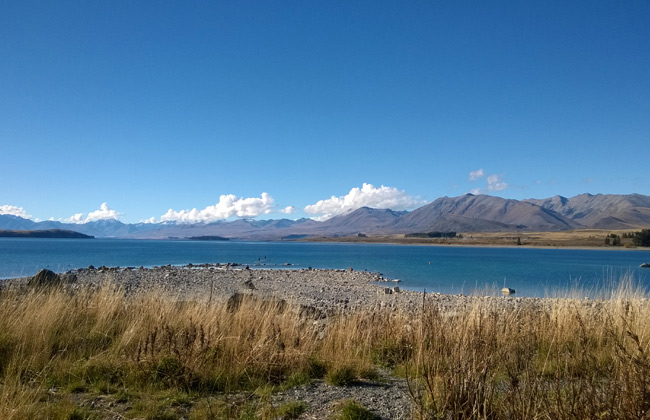 We made a turn, and now there was only 55 km to our hotel, The Hermitage. Making our way through a flat curvy road, with brown "hills" on both sides, and out of the sudden, this blue lake appeared, is was so clear and calm that it reflected the sky like a mirror. While we where taking some pictures (real Chinese style) we started to see these Mountains with snowy peaks. We knew we were going to stay near Mt. cook, so we started to look for the highest mountain, but where was it? We expected one of the hugest mountains one has every witnessed BUT it was just nowhere to see. Through out the road we recognised that the closer we got to our destination the more stunning and big the mountain would appear on the horizon. When we got to the hotel there was no doubt left- THIS was the outstanding, Mount Cook. It was still incredible unbelievable but we managed to check in the hotel. Of course we were the lucky ones to get into eight floors with direct view on the mountain.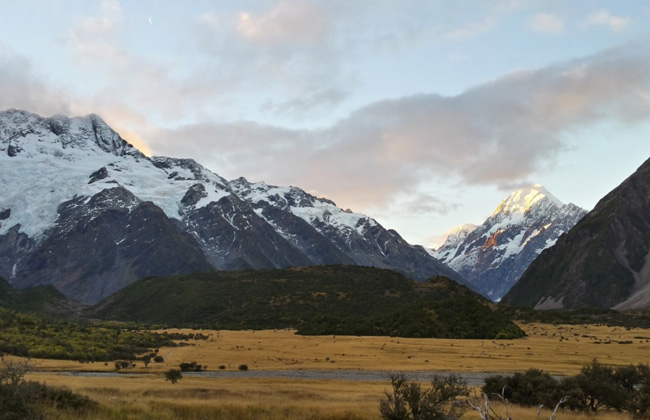 To digest everything we went for a little walk, before our perfect and incredible luxurious dinner at the Panorama Restaurant was starting. This fabulous food just rounded up our perfect day. Since there is no big city near to the Mt Cook village and the village itself is SMALL, we could not hear any noise coming from cars, people, constructions, only sounds of birds and the wind. I think where ever you go there are hardly places, which are quiet but still tell you so much. HOW AMAZING IS THAT! So to sum up our evening consisted of expensive food and wine and enjoying a coffee under the stars.
Day 2 – Add some colour to your life After waking up in one of the most magnificent places in the world, in a huge bed and not on a hard camping ground or a van you definitely feel ready for the day. We enjoyed a quick breakfast at the bottom of Mount Cook and we already knew this was going to be an even better day. The Sun was tickling our faces, so it almost felt like summer. Just remember its April, we're talking about Fall here!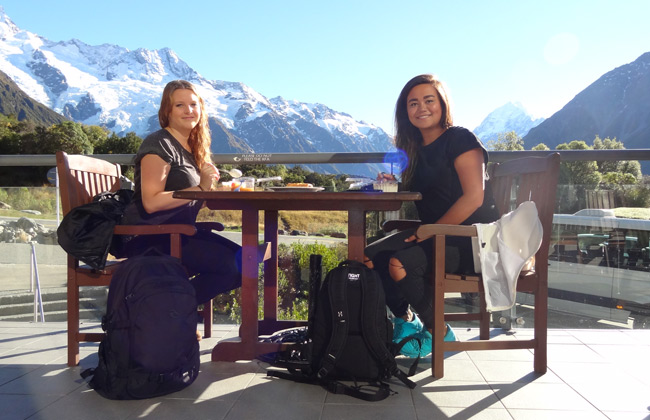 Back on the road there was already the next marvellous natural wonder waiting for us! Not even 24h before we saw a mirror like lake next to us that had now turned into a light blue surface with clouds on top of it that looked like cotton candy on ice cream surrounded by leafs so colourful like a jaw of bonbons. And only a few metres later we drove through the cloud, which made us really feel the expression "to have your head in the clouds". On our way down to Queenstown we passed another significant valley but this time it looked like a death valley that seduces you to stay. We did! Now we were surrounded with really dusty brown looking hills, trees that look even brighter through the sun and a clear blue sky. Besides a few passing cars there was nothing – again. The perfect place to lay in the sun for a while. Still stunned by the constantly changing scene we drove further down. At lunch time we had almost reached Cromwell. This whole area is surrounded by wine yards all the way down to Queenstown. We stopped at a little restaurant in the middle of nowhere that provided us with organic lunch- Yummy! Now I could tell you that on the last meters to Queenstown we passed the most beautiful place you could imagine, but that would not be truth. So far every lake, every hill and every mountain was amazingly stunning – This place was too, just in a different way. But see for yourself: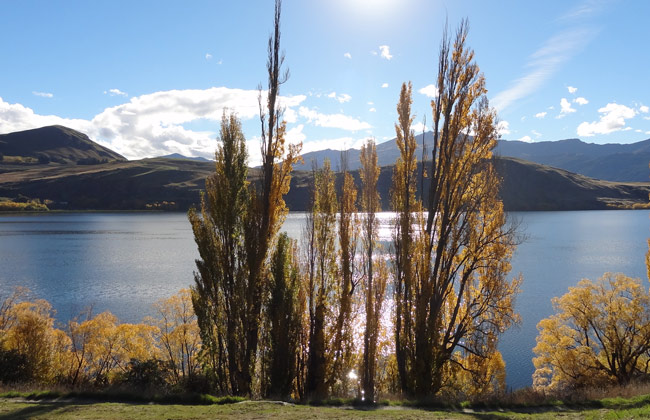 So between Arrowtown and Queenstown I found my personal scenic highlight, because the action was still to come. In the soft light of the afternoon we reached Queenstown. Our only goal was to reach the camping ground before dawn, so we still had plenty of time to explore the city a bit.
Definition of city: A centre of population, commerce, and culture; a town of significant size and importance. (The Free Dictionary) One thing you have to know about New Zealand is that there is only one place where this definition would fit – Auckland. So if I say city this is not technically suitable for Queenstown, but it is an important place to be. Queenstown lies between mountains and has a really special surrounding which makes you want to stay directly. There is all you need, people, mountains and lakes plus forest and nice bars. We decided on missing out on the bar part and use the last energy we had to go for a stroll in the park. Good place to reflect all the overwhelming natural beauty we had seen so far.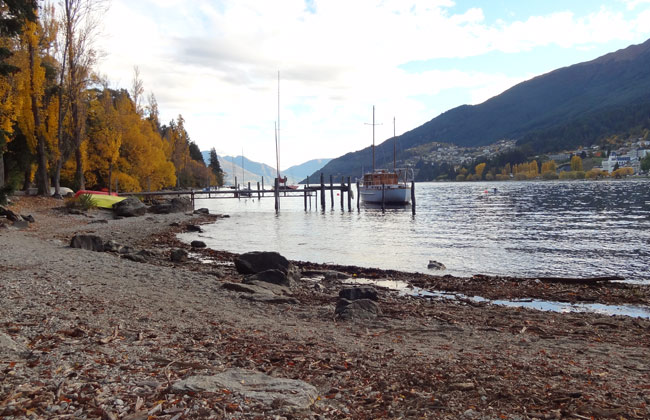 Day 3 - A thousand nicer ways to die: The third day of our journey was probably the most exciting , fun , energetic day and on the same time the day which was all about beat your fear and do the impossible- The Nevis Tandem Swing. A Short Image You are standing on a 160 metre high platform between a mountain range and there is literally nothing touching the ground. Now – You are about to fall down like a free fall just held by a couple ropes and then swing over the ground until you get lifted up.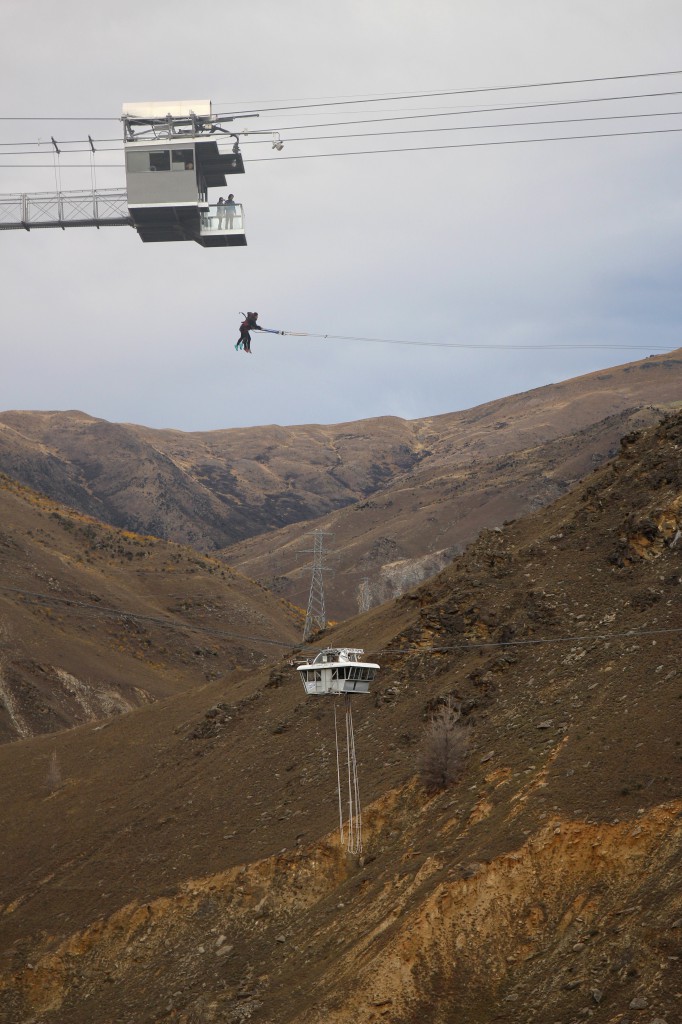 The really cool and brave people reading this might say – I would have done this easily. Others wouldn't have done this for the most money in the world. Lynn and I somehow belonged to both. First we thought it is a really cool thing to do and just a little better than a skydive. But believe me when you actually stand on that platform there you think of thousands nicer ways to die then this. Not even exaggerating we were about to pie our pants! But at that point there was no way to back out anymore and hey at least we had us right?!? The last thing we heard before we were going down was: "do you want to count down or just let me surprise you?" And then she dropped us- WITHOUT any warning we were falling until the rope caught us and we started swinging again. During these ten minutes you feel any possible feeling there is: fear, confusion, excitement, fun, anxiously, hate, happiness and I could go on with this. But I guess we can truly say that this experience was worth it and we are proud of us.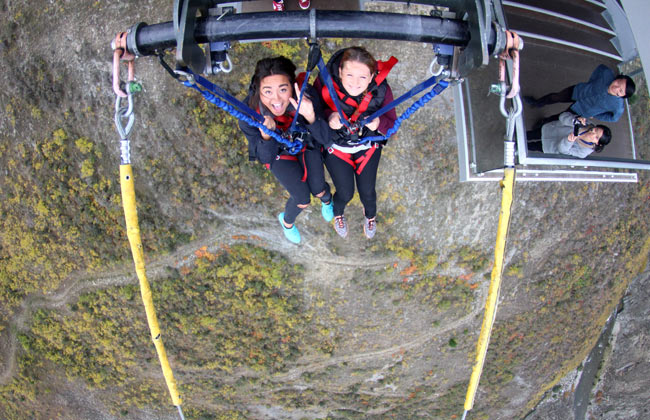 With no time left to recover we made our way down around Lake Wakatipu to our next activity: The Dart river wilderness Jet. And this time the weather wasn't with us at all. Almost late we grabbed a rain jacket and jumped on the bus. Our guide for the day had more to say than our brains and bodies could handle, so we slowly started drifting away and then the bumpy road came. This made its mission impossible to relax for a while. Under normal circumstances in every other country the bus would have stopped to let you walk the river bed. But just remember we are in New Zealand here, which means the bus keeps driving no matter what. Our first stop was the Mount Aspiring National Park where we went for a little guided stroll. Since our guide was obsessed with Moas; we know more than we wanted to know now.
For those who don't know what a Moa is Here a short definition: Any of various flightless, wingless, ostrich-like birds of New Zealand that have been extinct for over a century. One species grew to 13 feet (4 meters) in height, making it the largest bird of modern times.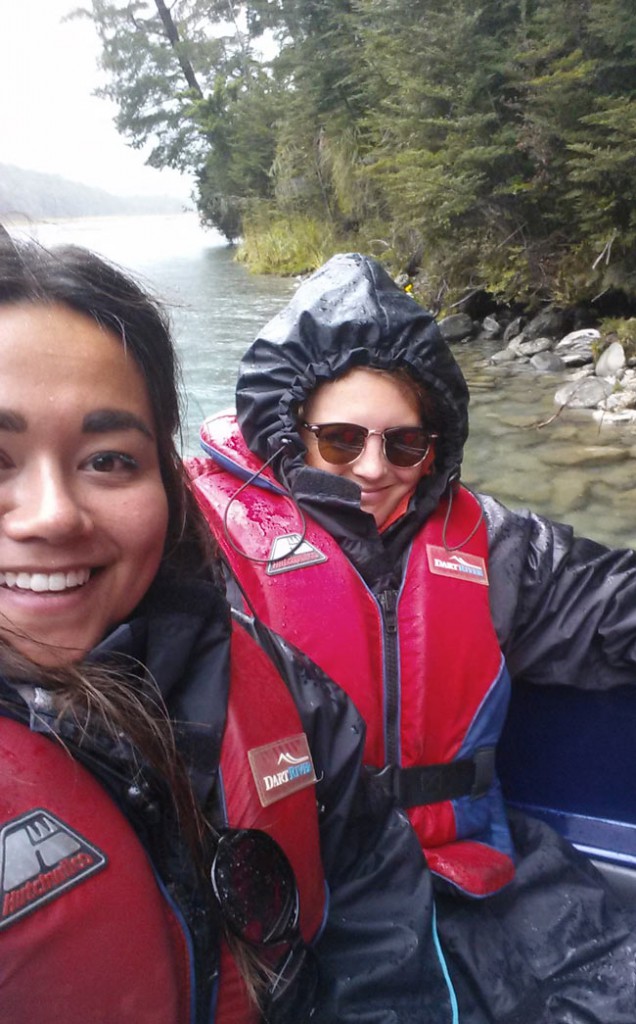 Right when it started raining cats and dogs, we where ready for our jet boat tour. So we slide in our rain jackets, covered our head and put on the sunglasses. After Lynns suggestion we sat right in the left corner, which is of course the wettest place you could possibly sit. After we got used to the whipping rain that hit the rest of our face, we really enjoyed it. Even though the sky wasn't clear blue as usual, the nature was once more stunning. Green Mountains formed in all kinds of shapes by glaciers, which just end in turquoise water that is so clear that you can see the grey stones on the ground. And then you just scratch the surface of the 3 meter deep water with an incredible fast boat that it almost feels like flying. What a life! But the best was jet to come: A 360 degree spin. While Lynn started laughing harder and harder with every spin, our Chinese friends in the front felt noticeable worse until they almost fainted. But no worries, they survived the trip without real embarrassment. The only thing that didn't survive our trip so well was the hair- We looked more like we just ran through a cyclone for two days. 4 pm- and our day still weren't over! Now came probably the hardest part of the day. After so much excitement, fund & fear we had a 3 hour drive in front of us. Still in pouring rain. So we got in the car and drove in the sunset, by the time it got dark we drove the final hill, letting the beautiful sparkling lights of Queenstown behind us. And as if the whole world was mourning with us for leaving Queenstown (the city where I fell in love with NZ) behind, it started to rain once again. It was one of the hardest drives for us on our whole trip, because roads in new Zealand are really curvy, no lights and a lot of mud and water pouring down the mountainsides. But we made it to a camping ground in the middle of trees and bushes. NO that was not scary at all! We just locked ourselves in the van and slept tight.
Day 4 – How can it rain so much? Originally our plan was to drive to Franz –Josef Glacier and do a glacier – explorer Tour with a Heli Hike and Hot Pool. When we woke up that morning, it was still raining but we were still full of hope and positive energy that it would stop and clear up until we had the trip planned. Still joking around, we drove the three hours through three, hill, mountains and tales. After an Hour it was time to get a coffee in Haast. By the time we managed to leave the car we were literally blown away… by the wind. This was just insane and not like we planned this at all. But you have to take the day how it comes right? Back in the car we made our way along the coast up to Franz-Josef. And when we couldn't even see a little tiny part of the glacier we realized this trip is not going to happen this time. YES – This would have been to good to be true and most of you will probably say we did enough already anyways. We had to come up with plan B! What do you do if you in the wild nature in pouring rain searching for inspiration? Go to the I-site and the friendly people at the front desk will help you out. However, Plan B ended up being pretty boring compared to the past days. We just drove half way down to Christchurch to a holiday park. Since the rain still didn't stop by the time we got there, we had the chance to feel like a real human being again. Translated that means: Take a warm shower, comb your hair, charge your phones and cook in a real kitchen. Apparently, a little fat bird found it really interesting what we were doing so he decided to follow us for the whole stay and once in a while scare the crap out of us, when jumping out of a bush.
Day 5- See you soon South Island The next morning when we woke up - Oh wonder – It was raining, which didn't contribute to our general mood in a positive way. If you have seen the most incredible natural heritages combined with so much action and you know that there is so much more to see there is no way you want to leave. On the other hand we have a good reason to come back now or again in lynns case. Honestly there is much to tell about this day anymore. We drove back to Christchurch and a little further to Akaroa a little harbour city, where you can find the smallest penguins in the world if you're lucky …and know where to go. Once more we were not. Back in Christchurch we dropped our lovely, ugly green – purple campervan off and got back to the airport.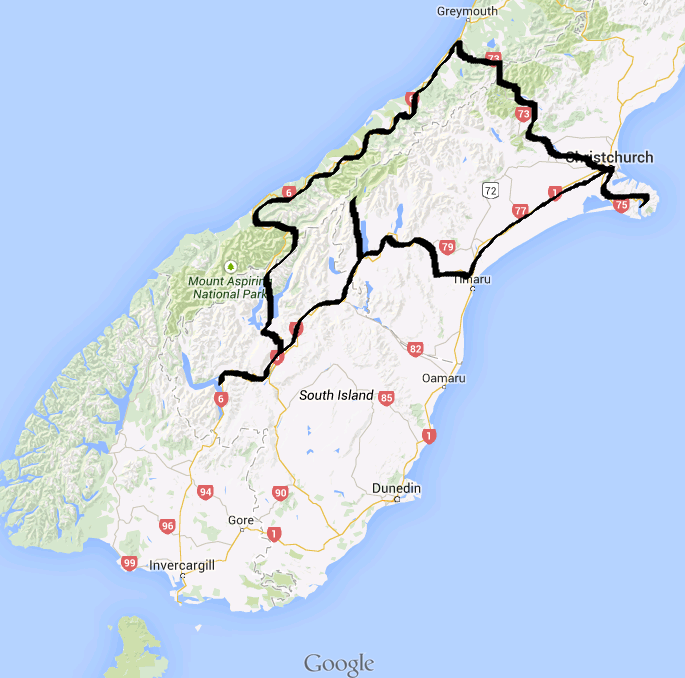 The only thing that is left to say about this trip is: What we saw and did during this trip is something we would like to bring close to everyone, because the truth is we can write a thousand of pages , show you hundreds of pictures and tell you a lot in person but it will never look like we saw it. We hope we could paint images in your head that make you want to come down here wherever you live, so you have the chance to see it through your own eyes and find your own words for what you saw.
Kathleen and Lynn XX