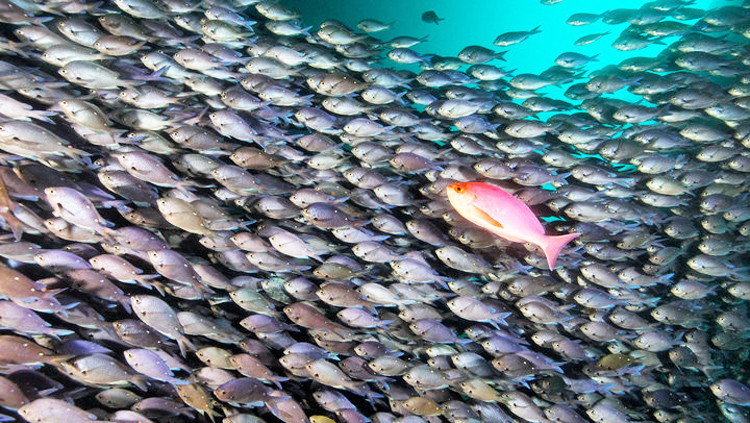 Sub-tropical reefs, clear water springs and wrecks are the spectacular foundation on hundreds of dive sites along the often indented 15,000km (9320 miles) of coastline and in numerous lakes and rivers, many of which are of world class standard. New Zealand is truly a diver's paradise. British Born John Hopkins joined our 10 day diving adventure through New Zealand - this is his story.
Boasting coastal waters teeming with colourful, fascinating sea life and clear waters that make for excellent diving. Many of New Zealand's best diving spots are just off shore, offering easy access. The quality of marine life is extremely diverse – many invertebrates, especially nudibranches and a variety of fish, including tuna, marlin, snapper, trevally, kahawai and shark. Marine mammals such as dolphins, seals and whales attract nature-lovers from around the world.
New Zealand lies exactly halfway between the equator and the South Pole – indeed lat. 45 deg S. passes through Central Otago. The water and weather are both, therefore, temperate, benign even. Below, there's a crazy mixed-up muddled-up marine life world where coral reef crinoids exist with forest of kelp, volcanic rock formations are covered with hard corals and seafans. The fish themselves are totally different to any other Pacific area. Coastal waters teem with colourful, fascinating sea life and the usually clear waters make for excellent viewing, especially in the prime months from February to June.
Many of New Zealand's prime diving spots are just offshore, offering easy access. One of the best spots is the crystal-clear waters of the Poor Knights Islands Marine Reserve, whose amazing range of fish, including many tropical species, was considered by the late Jacques Cousteau to be one of the world's top ten diving locations. To exploit all types of diving in New Zealand one must be prepared to be flexible. Time and tide are the main factors in deciding where to dive at what time – when all details fall into place, the underwater bio-diversity is amazing.
Here is my experience on a 10 day Dive Tour of New Zealand Highlights From a 2 Week diving extravaganza in New Zealand I had become mesmerized by its fluid-like behavior, my eyes left the jellyfish and glanced up just in time to see out of the corner of my eye a number of flying objects. Eight huge stingrays seemed to be homing in on the divers below. It was so difficult to believe I was not in New Guinea, the Solomons, Fiji or even Vanuatu, but I was in fact in the Poor Knights Marine Reserve 45 minutes off Northland in the North Island of New Zealand. Yes, New Zealand.
Our adventure had begun two days earlier (our ten day dive tour of NZ) when the van made the rounds to the various Auckland hotels picking up bleary-eyed travelers early in the morning to take us on the dive adventure of a lifetime.
The freeways of Auckland soon gave way to the open country roads of Northland and our first stop was at Tutukaka for two days diving The Poor Knights and the Twin Wrecks. After 45 minutes on a very slick dive boat we donned our gear and in. The 'first-timers' were betrayed by their wide eyes as they meandered through the Labyrinth of arches and caves, after all The late, great Jacques Cousteau did name this area as one of the top 10 dive sites in the world.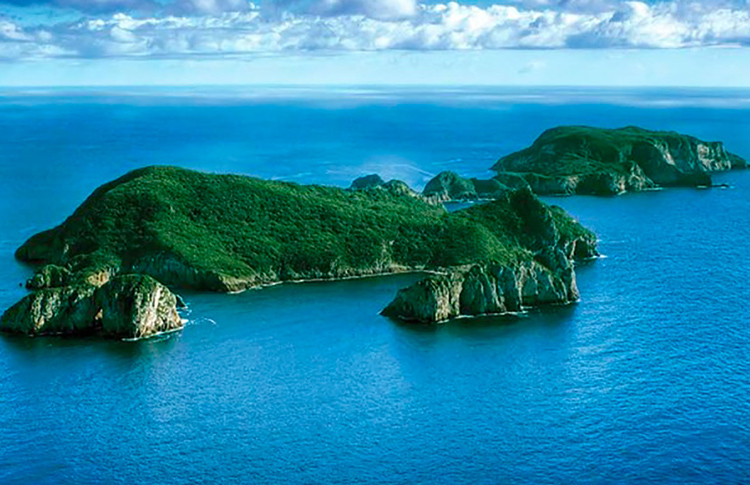 The Poor Knights are situated such that they receive the warm sub-tropical current that flows from the upper reaches of the South Pacific Ocean.This warm water means that the islands are home to many species of fish that are normally only found much further north. The islands have literally hundreds of different dives, but they all have one thing in common. Underwater caverns!! Caves, tunnels, chimneys and arches abound, cut into the softer sections of the igneous rock by the water action. Virtually every dive has at least one of these physical features and most two or even three. There are at least 11 major archways that start above the water's surface and drop down to depths of up to 45 metres. As can be imagined, this makes a spectacular underwater fiesta.
New Zealand has purposely sunk 2 Navy vessels (The HMNZS Tui and HMNZS Waikato) making a fantastic day's diving, like huge adventure playgrounds underwater, they are accessible for divers of all levels. At 62 metres long The HMNZS Tui now lies in 30 metres of water. You can penetrate the wreck through purpose cut access and exit points to explore the control room, bridge, crew living quarters and engine rooms via established routes. Bubbles streamed through gaps in the hull from divers exploring the interior. Golden snapper schooled above the ship, and after the divers emerged, moved back to their refuge.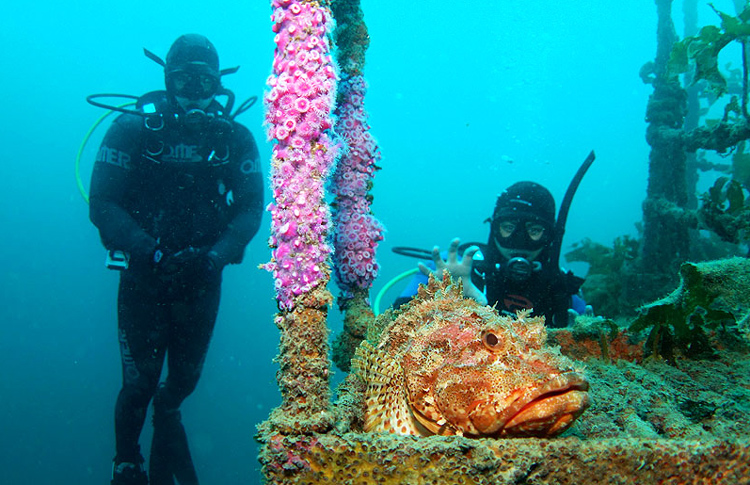 The Waikato is a much larger ship, 137 metres long, sunk in 2000 lying 30 metres down and bolt upright, she has large holes cut in the side making entry and exit very safe so less experienced divers will gain valuable wreck diving experience. Snapper swarmed over her, nipping at the anemones, sponges and hydroids, and crabs scuttled away into cracks between her plates. Kingfish cruised in like approaching aircraft making low passes over the ship, bubbles rattling up towards them from the Waikato's decks.
Early in the morning two days later we were whisked off to the Bay of Islands to dive the Rainbow Warrior. She was Bombed in Auckland Harbor by French Secret Service agents in 85 and the wreck was relocated off the Cavalli Islands two years later. This artificial reef has matured into an ever-growing host to marine life. The wreck is a splendor of color with jewel colored anemones clinging to the rails in hues of purple, yellow and blue. It is the home to schools of Golden Snapper, Kingfish and John Dory.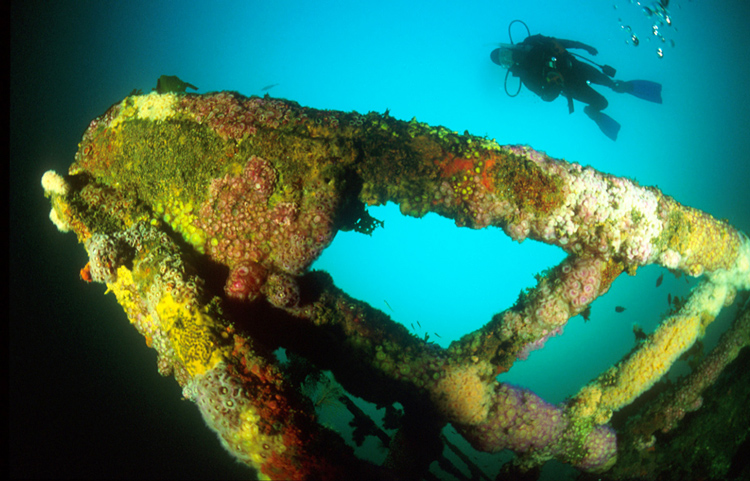 After returning to Auckland, New Zealand's largest city, we experience some excellent dining and nightlife before heading south the following day.
There are very few places you can dive a live volcano, but White Island located 45 kilometres off the coast of Whakatane in the North Island, has been steaming away for centuries, is something quite unique. We climbed to the crater edge of this active volcano in the interval between our dives, wearing gas masks so we didn't choke on the sulphur venting in every direction. The dives were awesome, with abundant varieties of fish life including huge Kingfish, Stingrays, Moray Eels and massive schools of Blue Maomao, along with someof the biggest crayfish I have ever seen. But what makes this place truly unique are the bubbling underwater fissures creating an amazing dive like being in an underwater Jacuzzi. This definitely warranted 2 days diving.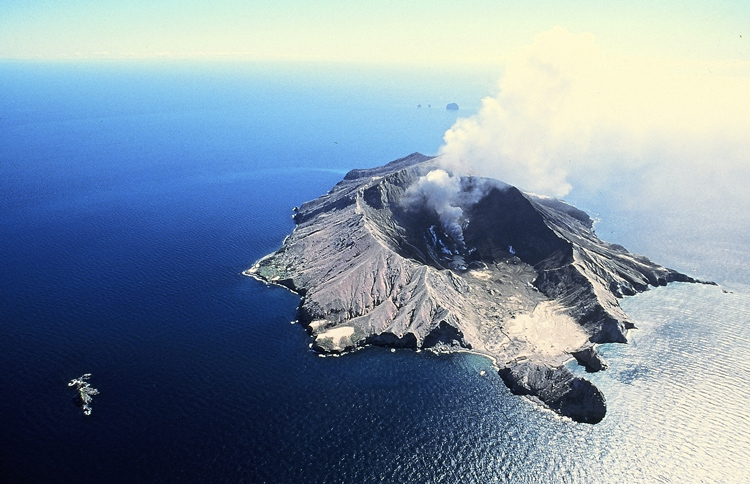 Time passed quickly as we continued southward in time to make the ferry crossing from the North to the South Island. We ended the day by cruising in the beautiful Marlborough Sounds.
By this stage we had clocked up at least 12 dives and where fizzing for what were told would be some of the best diving we would have had to date. After spending a very pleasant evening in Nelson at the top of the South Island, we drove one hour to the entrance to the freshwater Rewaka cave system.
Looking down upon the water source presents the formidable sight of a large black hole surrounded with solid rock, and spurting bubbles of pure crystal-clear water. The entrance is small, 3.6 metres wide. The depth varies depending on rainfall, but usually is only 9 meters deep. Once at the cave entrance, we were supplied with hardhats and flashlights for our heads to fend off the utter darkness found inside. After the faint ambient light from the entrance was far behind us and after following the pre-laid safety lines we surfaced and gathered together in the centre of a large otherworldly cavern only to be told we had only travelled 50 metres.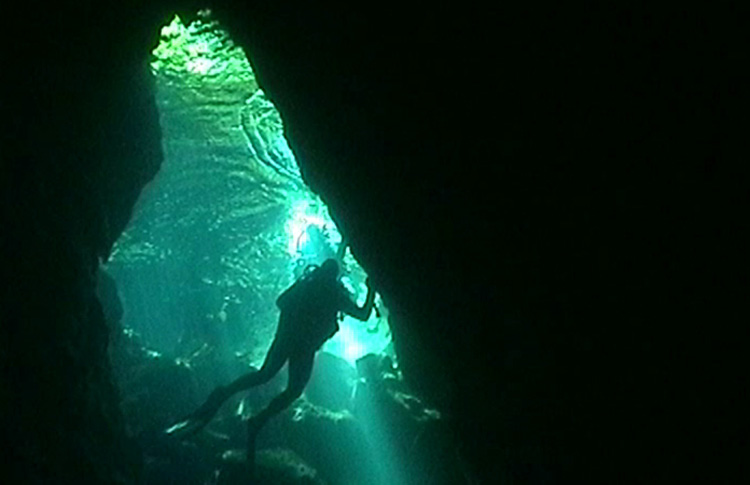 Many regard diving as some form of madness, with diving underground viewed as sheer insanity. Yet diving the source of the Riwaka River is a real adrenaline pumping experience. The highlight of the dive is the massive chamber at the end of the second sump. Here scuba equipment is removed and stalactite and stalagmite formations can be admired and explored. The sheer size of this chamber is totally unexpected; a magnificent waterfall of pink limestone cascades 20 metres or so down one side.
Next we were told we had a free afternoon but our guide told us we could if we wanted take a fast drift dive in near by Fish Creek ending at the famous PUPU springs. As the springs cannot be dived commercially we would have to fend for ourselves. Only three of us bothered and the other five really regretted it, as you could not shut us up afterwards. Ranking in the top ten freshwater diving destinations in the world, these springs have become a Mecca to divers seeking the ultimate in freshwater dives. The basin containing the main spring is 42 metres across, and through a system of mirrors scientists have recorded the horizontal visibility at 62 metres – the springs are thought to hold the clearest fresh water in the world.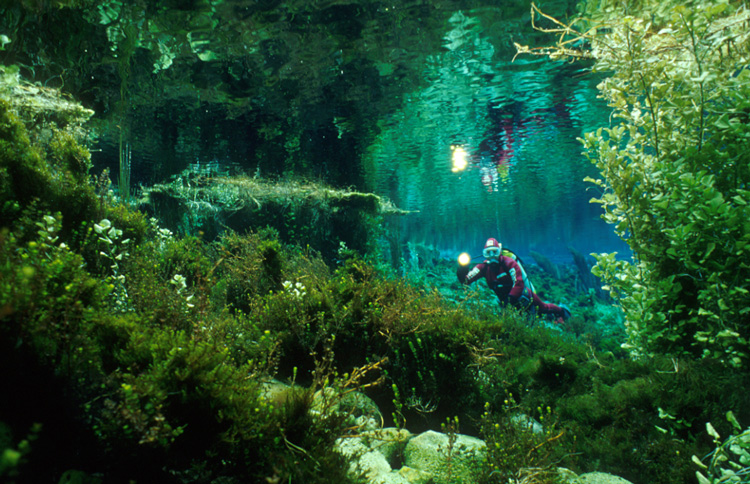 Millions of litres pour from the spring's eight main vents with enough force to make the covering rocks joggle rhythmically with amazing colours and textures – it is like an underwater garden with rich growths of aquatic plant life everywhere. Truly an awe-inspiring dive that will leave you breathless.
Nearing the end of our trip we spent a couple of days in Kaikoura swimming with the dolphins, diving with fur seals and watching the whales, The undersea world of Kaikoura beholds a vast array of wonderful and unique marine creatures from the smallest invertebrate through to the giant sperm whales. The rich diversity of wildlife found means that every day is a chance to see something different and unique and we did. From seabirds to cetaceans (whales and dolphins) to seals.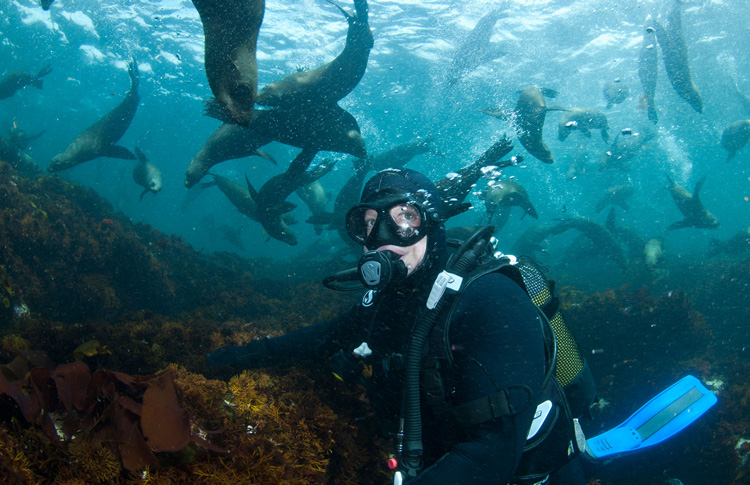 We left the best to last and did our final dive on one of the largest diveable shipwrecks in the world, the Russian cruise liner Mikhael Lermontov, which sank in Port Gore in the Marlborough Sounds in 1986. The 22,000-tonne vessel would take a week of diving to see just part of her. We gained some idea of that size when we reached her hull, 15 metres down. It took some time to swim across to the deck area and into the ballroom and bridge. Inside, the eerie sensation of everything lying sideways was apparent. Bar stools protruded from what were now walls, and spiral stairways curled sideways across the room towards chandeliers that reached out from the opposite side.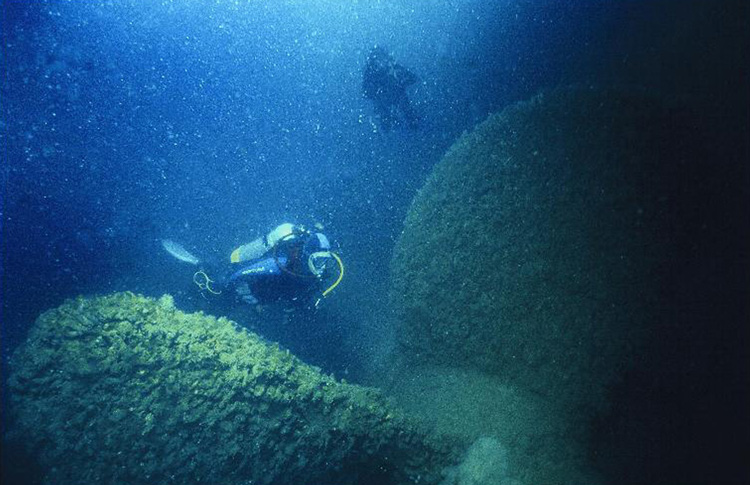 All in all we had a truly wonderful adventure in New Zealand. With my 20 years diving and having logged over 800 dives I have rarely come across a place that offers such diverse diving. Freshwater caverns, springs, Caves, a multitude of wrecks which I have not even scratched the surface with, a volcano, not to mention such a huge variety of fish and large underwater mammals.
Reference information: I was on a 10-day group dive tour with 8 people. Our guide was an Instructor and very informative and helpful. We traveled in a very comfortable air conditioned mini bus. Check their web site for departure dates. Many thanks to the folks at First Light Travel who run these tours. They also run live-aboards, self-drive dive tours, underwater photographic workshops and all kinds of adventure holidays in and around New Zealand. John Hopkins First Published "Pacific Rim Magazine" Aug. 2009
For further information on Diving in New Zealand