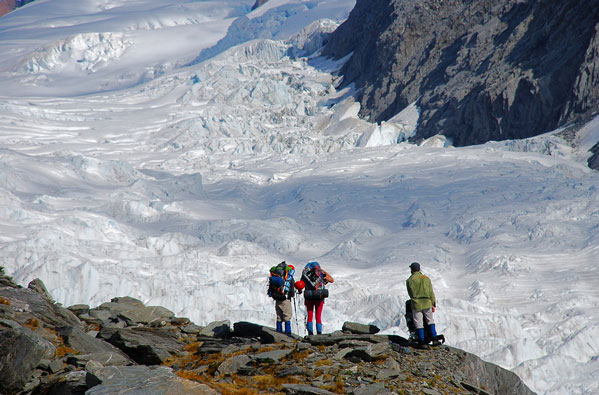 One of the most stunning natural wonders in New Zealand has to be Fox Glacier. At 13kms, Fox Glacier (Te Moeka o Tuawe) is the longest of the awe-inspiring West Coast glaciers, and its 36 square km neve is bigger than the size of Christchurch city!  But to really experience what it has to offer you need to get near its head – and that's a two-day trip.
At its head soaring peaks of over 3 000m (10 000ft) dominate the whole vista. These include Aoraki/Mt Cook and Mount Tasman, weather permitting, can be viewed when reaching the upper parts of the Glacier on the one of the overnight hiking experiences on offer.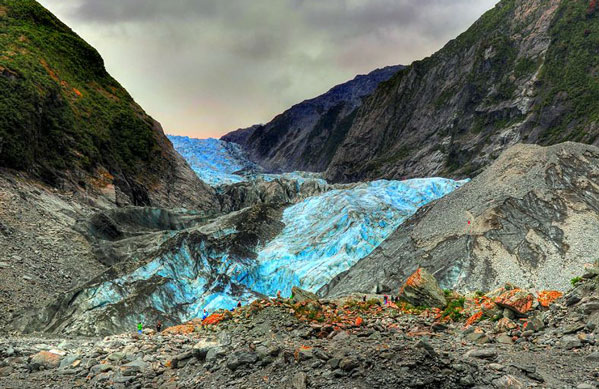 New Zealand's west coast glaciers are unique and are probably the most accessible glaciers in the world, as they terminate amongst lush temperate rainforest just 250 metres above sea level. Nowhere else does this happen! Glaciers constantly advance and retreat, held in the delicate balance by the accumulation of snow gained in the upper glacier and ice melting in the lower part. An increase in snowfall at the neve will result in the glacier advancing. Correspondingly, a faster melt will result in the glacier retreating. Overall Fox Glacier has been advancing since 1985.
The Overnight Chancellor Dome Heli-Trek
The Overnight Chancellor Dome Heli-Trek involves a mountain ascent staying at the historic Chancellor Hut thus allowing you to explore the glacier on the second day. This includes helicopter flight to the glaciers midway, ice climbing and trekking, and is suitable for people who are of a good level of fitness & agility. No prior experience is necessary.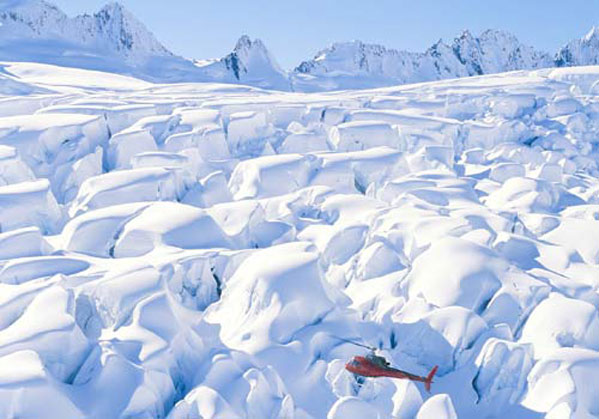 Overview
A helicopter flight over magnificent rainforest and ice pinnacles, takes you from the township into the steep valley of the Fox Glacier. Your helipad is at 1,270 metres (4,000 feet) on Chancellor Shelf just above historic Chancellor Hut. In season, this area is rich in flowering alpine plants and at any time of the year the alpine vegetation is impressive. Chamois, the mountain antelope, can frequently be seen.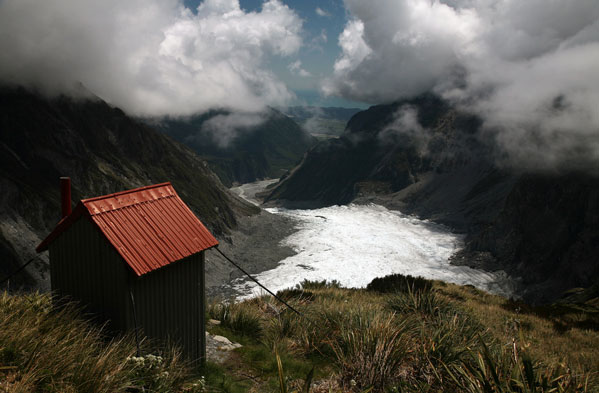 From the hut, the route ascends through snowgrass basins to a spot known as "Point A" where a glorious view of Mt Tasman appears. Here a gully gives access to a broad ridge and the beautiful snow shelf below the summit of Chancellor Dome. A highlight is the final roped ascent to the summit at 2,004 metres (6,526 feet). This delightful climb, over alpine gardens, rock and snowfields takes you to the point that affords the best view of the Southern Alps highest peaks and the magnificent snowfields that feed the Fox Glacier. To the west, you see the surf of the Tasman Sea breaking on Gillespies Beach.
As an introduction to mountaineering this trip cannot be surpassed.