Routeburn Track Guided Day Walk
Considered one of the best day walks you will find anywhere, the routeburn Track day walk is a must for nature lovers and those that want to get into the great outdoors. Access to the track is via a swing bridge, where you are immediately immersed into stunning native beech forest. The wide variety of flora and fauna on display is sure to impress! Our guides will share information about the historical significance of the Routeburn Track and how it was used by Maori and European pioneers. They will lead you across the spectacular Routeburn Canyon. There are plenty of waterfalls to enjoy and lots of places to rest along the river. The trail is moderately paced, rising gradually towards stunning snow-capped peaks with a slight altitude gain of 400m (1312 ft) to get to the Routeburn Flats, the track is well formed and of a good gradient.
 
Average fitness is all that is required to complete the walk to Routeburn Flats and return.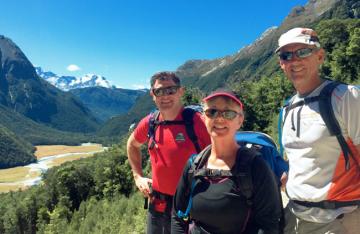 This mother of all bungy jumps is by far the highest in Australasia, towering 134 metres (440 feet) above the Nevis River the Highwire is the same height as the top of Sydney Harbour Bridge and jumpers accelerate to over a screaming 128kmph (205 km). The Nevis Highwire system is the only one of its kind in the world. Technically it takes bungy design into a new high-tech fourth generation. A sort of quantum leap forward and downward. Purpose designed and built purely for bungy jumping with a jump pod suspended by high-tension wires that span 380 metres (1246 ft) across The Nevis River, access is by cable car. Even hardened jumpers from other sites have been known to be Nervous on the Nevis.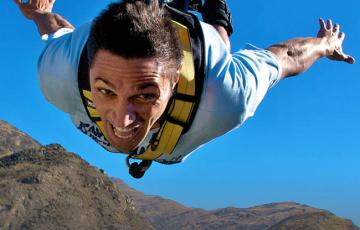 A charming village-like settlement only a short drive from Queenstown, Arrowtown is home to gold mining heritage, historic buildings and leafy riverbanks. During autumn (fall), Arrowtown ignites in a riot of gold, red and orange as the deciduous trees that line its streets prepare for winter. Arrowtown sits along the banks of the gold-bearing Arrow River. The settlement itself was created in 1862 during the height of the Otago Gold Rush – pioneers flocked here in the hope they would strike it lucky. Many of the cottages, hotels and churches they constructed can still be seen today – many of them have been lovingly restored in the town's effort to preserve its illustrious past. Don't miss a visit to the superb Lakes District Museum – one of the country's best small museums. Here, learn about the lives of early Maori in the region as well as the exciting gold rush era of the mid – late 1800's. Superb restaurants and cafes are on offer here as well as a number of art galleries. In the surrounding countryside, visitors can enjoy excellent fishing, horse riding, hiking, mountain biking and gold panning.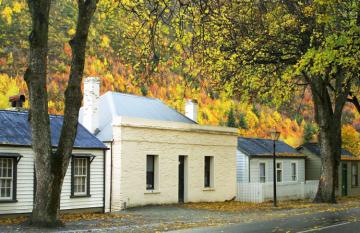 Wine Tasting Tour Central Otago
Uncork your day and learn the art of New Zealand wine appreciation by spending your afternoon with one of our senior wine guides on a wine tasting journey to the best vineyards in the Queenstown and Central Otago region providing a knowledgeable and relaxed experience. Local knowledge and familiarity with the vineyards of Central Otago is at your disposal for this intimate half day's wine experience in a truly thriving wine region - your only responsibility is to enjoy yourself fully.
 
Tasting at 4 vineyards in Gibbston Valley, Cromwell and Bannockburn
A delightful platter lunch at Carrick Winery restaurant
Visit Old Cromwell Town (time and weather permitting)
A stunning drive through the Kawarau - pioneering history of this rugged region
View the historic Kawarau Bridge and the original AJ Hackett Bungy jump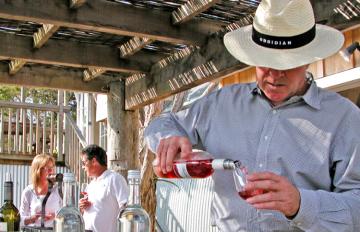 Mountain Biking Skippers Canyon
Start with a 4WD drive up the spectacular Skippers Canyon Saddle, jump on a full suspension mountain bike and explore your way down the renowned Gold Miners trail deep into the canyon. Follow the old pack track and soak up the magic scenery around you. Your guide will entertain you along your journey with historic tales and stories of the canyons' colourful past. The only access in and out of Skippers was the old "Pack Track" until 1902 when the hair-raising single lane road was completed. This was an impressive feat as large sections of rock had to be blown through and took 20 years to finish. In recent years, areas of Skippers Canyon have been used for movie locations - including scenes from Lord of the Rings.
 ADDITIONAL INFORMATION:
Mountain bike skill: Intermediate + for Pack Track (All Abilities for road)
Fitness: Average fitness level required
Skippers Canyon trip will operate subject to minimum 3 people and weather conditions on the day
Child age is up to and including 14 years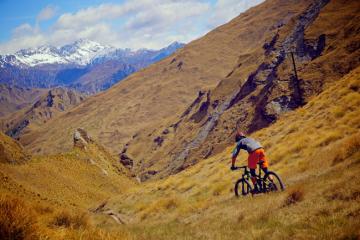 Millbrook Golf Course Queenstown
Set in a beautiful natural alpine amphitheater up against the imposing backdrop of the Remarkables Mountain Range. This course was designed by Sir Bob Charles and the course exploits the dramatic terrain fully delivering world-class golf. This championship course features five different tee positions for complete enjoyment at all levels of playing expertise. Millbrook has been described as a mix between the world class manicured "Parklands" courses and the "Links" offering a variety of natural hazards including tussocks, streams, schist stone, trees and buildings
 
Quick Facts: This 18 hole championship golf course, won the Luxury Travel Magazine's 2011 Gold List Award for the best overall golf resort in the world. It has been designed to suit all players and there are 5 tee options to choose from. Club tees for both ladies and men measure 4450 meters (4866 yards) and 5410 meters (5916 yards) and professional tee for the longer hitters.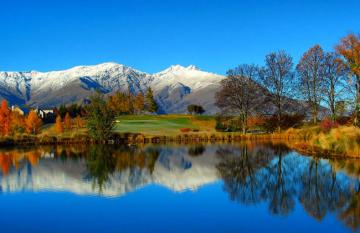 TSS Earnslaw Steamboat Cruise
Cruising the azure waters of Lake Wakatipu in the Central Otago region of New Zealand's South Island is the 1912 twin screw passenger steamship, TSS Earnslaw. Based in Queenstown, this 168ft vintage vessel is capable of carrying 11 crew and 389 passengers and today she is the oldest passenger steamship still in operation in the Southern Hemisphere. For a slice of the magic of yesteryear, the TSS Earnslaw makes a charming platform from which to view the lake and its grand surroundings or for the trip across Lake Wakatipu to Walter Peak Station.
There is a licensed café onboard or you can opt for one of the lunch or dinner cruises out to Walter Peak Farm, a historic old homestead on the far side of the lake which is now a working farm.
Departures: This 100 year old steamer has many daily for cruises on Lake Wakatipu.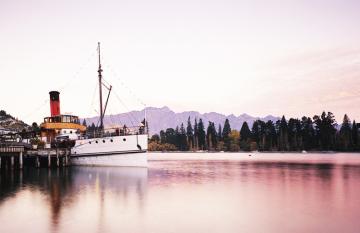 Jet Boat Wilderness Safari Queenstown
The Wilderness Safari allows you to discover and explore every aspect of this magnificent area through a combination of exciting jet boating, informative guided walk and picturesque back road drive. Experience the excitement of a thrilling jet boat journey through the Dart's ever- changing braided river system where you'll be amazed by the jet boat's capabilities and awed by your surroundings of breathtaking snow-capped mountains, ancient native forest, waterfalls, and glacial valleys frozen in time.
This safari also includes a short guided walk through ancient native Beech forest where your knowledgeable guide will enliven your walk with an informative commentary about the unique flora and fauna of this area. You'll also journey by 4WD safari vehicle along a back-road route, while hearing stories about the surrounding countryside and stopping to view spectacular scenery that has formed the epic backdrop for many international movies, including 'The Lord of the Rings'.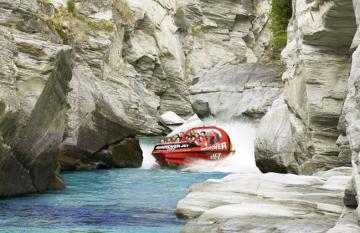 Gibbston Valley Wine Trail
Known as the 'Valley of the Vines', Queenstown's Gibbston Valley is one of the most scenic wine growing areas you'll ever encounter. Vineyards here are perched between rugged schist mountains and the turquoise-blue waters of the Kawarau River. Pinot Noir is the signature drop, with more than 70% of the valley's grapes being of this variety. The Gibbston Valley is one of the highest-altitude wine growing regions in the world; subject to a huge night-to-day temperature range as well as hot summers and cold winters, its production of world-class wines in such challenging conditions is no mean feat. As well as wine, this area is also known for its delicious cheeses – the perfect accompaniment to a bottle of the local drop.