Diving the Alderman Islands
Located 20 kilometres (13 Miles) off the coast of Tairua on the Coromandel Peninsula, are a series of dramatic island peaks – remnants of volcanoes - rising up off the ocean floor. These are the Aldermen Islands known for fantastic diving and often compared with the Poor Knights. The water clarity is 15 to 30 metres (50 to 100 fee much of the year and water temperatures reach a pleasant 22 degrees Celsius in summer. The diving is spectacular featuring huge drop offs and attracting a great range of fish life, caves, pinnacles starting at 12 metres (40 Feet), and a major feeding station starting 8m below the surface and dropping to 70m (230 feet). The marine life is varied, with Spanish lobsters relatively common in this area. The islands are occupied by visiting seals in the winter months, and schools of dolphins and pods of orca are often seen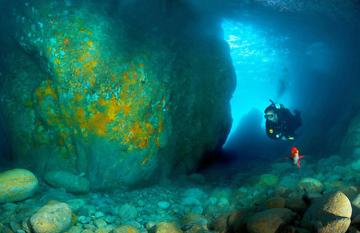 The Lost Spring of the Coromandel
Drawn from 644 metres underground Whitianga, the Lost Springs thermal waters are crystal clear and according to locals naturally good for you. A high concentration of minerals leaves your skin feeling soft and nourished. The Spring are surrounded by tropical and native New Zealand bush and the hot pools are hand sculpted filled with natural thermal spring waters.
Day Spa: Revitalize with a variety of treatments in the Day Spa. (Children only 14+). Let one of the professional  beauty therapists soothe your muscles and unwind the mind with a variety of pamper treatments from relaxation massages to indulgent facials. Enjoy one of our twin treatment rooms for a romantic couple's massage.
A brief 2.5 hour drive east of Auckland City, this stunning bay on the Coromandel Peninsula is very special and considered by most to be the jewel of the Coromandel Coastline. Considering that this peninsula boasts 400 kilometres (250m) of picture-perfect beaches and pristine waters, this is no mean feat. The cove can be reached via a short scenic walking track that showcases grand ocean views and some wonderful photographic opportunities. The walk is approximately 30 minutes; slightly more if you elect to take the 10 minute detours down to the emerald waters of Stingray Bay and Gemstone Bay. Cathedral Cove itself is a small, intimate cove enclosed by steep cliffs. At one end of the beach is the famous 'cathedral' rock formation that creates a spectacular passageway to the neighbouring cove. The other end of the beach has a magnificent waterfall that cascades directly onto the sand and is a great way to rinse off the salt water after a refreshing swim.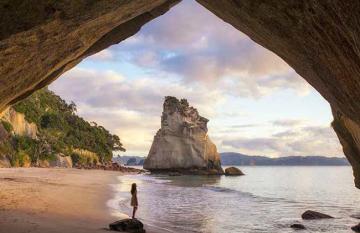 The natural up-welling of geothermal hot water rising from deep below can reach temperatures of hot as 64ºC (147ºF) and because of this people flock to the usually deserted Beach to find the hot water bubbling through the golden sand. The water contains large amounts of salt (NOT salt water), calcium, fluorine, magnesium, potassium bromine and silica – with the locals believing a bath a day keeps the doctor away.
Families, kids and couples can be seen digging their own spa pool in the sand and relaxing in the natural hot springs - this is one experience that should be on your New Zealand bucket list and a truly unique Kiwi experience.
The best time to visit the beach is within two hours either side of low tide - Just ask a local for the best time to go, they are a pretty laid back lot and before you know it you will be around at their house having a barbie, kids all running amuck.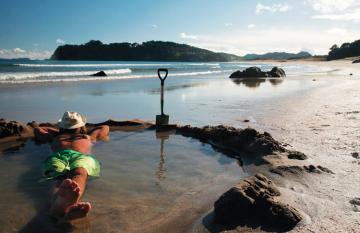 Driving Creek  Railway  is a well regarded 3-kilometre (2 mile)  scenic mountain  railway offering a delightful hour-long  ride that winds through regenerating kauri forests and native bush providing a fantastic insight into New Zealand flora and fauna.  There are also spectacular views en route  (especially from the 'Eyefull Tower), as well a  bush walks, a nationally  known  working  pottery  and,  in summer,  a glass-blowing  studio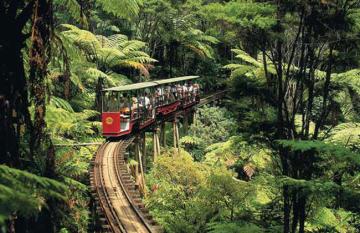 The Explorer is an hour long and cruises 12kms (8mi) taking you around the coastal Islands of the beautiful Cathedral Cove marine reserve. Experience reefs, massive sea caves and bays - including the world famous Cathedral Cove. The magnificence of this natural volcanic scenery is legendary and the approach by sea, combined with an insightful yet relaxed commentary further enhances the experience. Marine life is all around and can be experienced close up because the boat is right in amongst the natural environment. Smell the seaweed, watch gannets dive headlong around the islands, reach and touch the rainbow coloured rock formations and hear stories of Maori encampments!
One of the leading attractions is an awesome blowhole (when the tide is right) and venturing through a sea cave underground into a gigantic rock cylinder 80 feet high - A truly a magical place! Seating only seven passengers, this personalised trip caters for all age groups.
Set in 5 acres (2 ha) of tranquil Coromandel bush 'The Waterworks' is a tourist attraction on the Coromandel Peninsula which showcases the best quirky of Kiwi ingenuity. The Waterworks is a unique and entertaining theme park inspired by the ability to create something new out of something old with 70% of all materials used in the construction of the attractions are recycled with the majority of the contraptions being powered by gravity fed water.
Here you will find a place in which to marvel, play and refresh. Marvel at how the wooden water clock keeps accurate time. Interact & Play: Blast away on the wicked water cannons and let yourself loose inside the human-sized hamster wheel. Refresh: Take a dip in the natural swimming hole, relax in the bush setting picnic sites and indulge in excellent food and coffee on our café deck.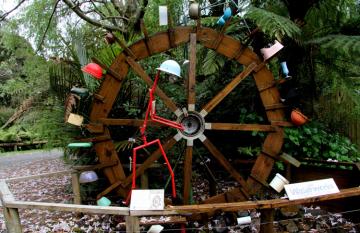 This sea-bound spine of ancient eroded volcanoes protects the placid waters of the 'City of Sails'. It also serves as a favourite holiday hideaway for busy Aucklanders and a Mecca for visitors seeking peace and solitude. The dramatic unspoilt coastline is the main drawcard, being perfectly suited to sea kayaking. Scenic bays and hidden coves have fascinating rock gardens and golden sand beaches tucked away behind glorious limestone sculptured headlands. Cathedral Cove at Hahei is a 'Blue Lagoon' fantasy scene and further south magical thermal springs bubble up through the sand at Hot Water Beach. This volcanic coast is stunning. Paddle through amazing sea caves, explore offshore islands, snorkel the marine reserve. When conditions & tides allow, we have the option of paddling spectacular volcanic remains rarely seen by other travellers. Littered with caves, tunnels & blowholes.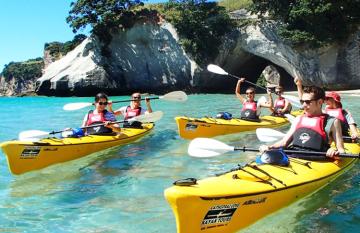 Let us take you to one of the most special places on The Coromandel; a place where our mighty Kauri tree is the king. This magnificent stand of Kauri is located on the side of an ancient volcano some of them being up to 2000 years old. Just being in their presence will leave you feeling humbled and exhilarated as you feel the energy that they willingly give to you. This is a truly amazing hike through primeval rainforest, which at times will be on 100yr old logging roads which are now reclaimed by the bush.