The Appeal of a small town with the style of a modern metropolis.  
Auckland will either be your gateway or exit point from New Zealand, and it is certainly worth exploring the cosmopolitan mix of what is the world's largest Polynesian city and year after year consistently voted one of the world's top 10 best cities to live - hang around a while and find out why.
Auckland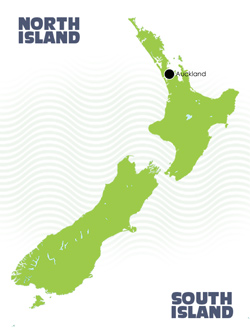 This is also New Zealand's largest city, known as the 'City of Sails' - with the highest proportion of pleasure boats per head of population in the world. There are plenty of reasons to take to the water here - not least to explore the twin harbours, outlying islands and the clear waters of the Pacific Ocean.

But there's also an array of things to do on land too. The modern city spreads across a dynamic, volcanic landscape, with historic One Tree Hill and the revolving restaurant atop Sky Tower prime vantage points, but the city also has smaller pleasures: exquisite colonial gingerbread houses and imposing government buildings set amongst glittering modern glass towers, constantly lit and framed by vivid glimpses of the clear harbour waters.
Queen Street, Auckland's Golden Mile, is the major entertainment and shopping area, complemented by Parnell and Ponsonby, leafy inner suburbs with lovingly restored clapboard villas, vibrant and 'happening' districts known for galleries, designer boutiques and al fresco cafes.

Auckland's amazing geography and warm, humid climate inspire a lifestyle that's regularly ranked in the world's top ten. In just half an hour you can be almost anywhere - sailing to an island, trekking through the rainforest, picnicking on a volcano, sampling wines at a vineyard or wandering a wild, black sand surf beach. Everything is right on your doorstep, and Auckland's layout makes it easy to jump quickly from one theme to another. 

The region is dotted by 48 volcanic cones, with easy access to the summits of Maungawhau (Mt Eden), Maungakiekie (One Tree Hill), and Rangitoto Island. In the heart of the CBD, you can't miss the imposing Sky Tower, which at 328 metres is the tallest tower in the Southern Hemisphere. You can also climb to the apex of the Auckland Harbour Bridge, and the more adventurous can bungy jump from it.

The region is surrounded by rain forested hills, such as the Waitakere and Hunua Ranges. They offer dozens of bush walks for all abilities. The Waitakere Ranges are also the gateway to the wild west coast, where surf pounds black-sand beaches, all just a 40 minute drive from downtown.