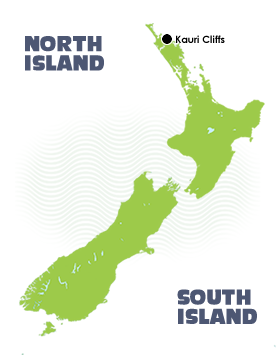 Michael Campbell and Phil Tataurangi came up and they both came off with comments such as breathless. Breathless at the thought New Zealand could now boast such a world-class golf course. Campbell rated the par-five 4th as the best par five he has played anywhere in the world. Even the great Sir Bob Charles, New Zealand's only major championship winner and one of New Zealand's best course designers, agreed. 
Kauri Cliffs has several amazing holes, but two stand out. The signature hole is seven, a mid-length par-3 along the ocean with the beautiful Cavalli Islands to the right and a tee shot that is all carry over an inlet fjord, Kauri's answer to Cypress Point. The fourth is a very reachable and very risky par-5 that Michael Campbell, the resort's touring pro and New Zealand's top golfer, calls among the five best par-5s in the world. A good drive almost demands going for it in two, since you will be left with between 200-230 yards slightly downhill. But the green is perched on the edge of a precipitous drop-off and anything long is gone. Two large bunkers guard the left side of the green, while a penal jungle ravine guards the right.
There are courses with more great holes than Kauri Cliffs, but the layout does not have one weak hole and packs in a lot of variety, with two driveable par-4s and three inland holes in a valley that guests consider the best stretch strategically, even though these are the only holes without stunning ocean views.