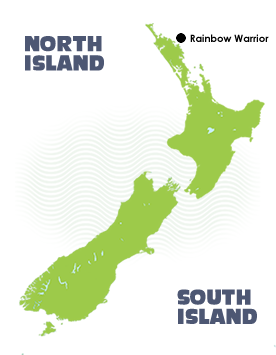 This Story is about a ship that was in Auckland  preparing to visit Moruroa Atoll for a major campaign against French nuclear testing in our back yard. But the voyage was not to be....
In 1985 the Rainbow Warrior went onto a mission protesting against the nuclear testing of the French in the Tuamotu Archipelago, French Polynesia. Having French commanders boarding protest ships when entering the shipping exclusion area near the atoll during previous nuclear tests, Greenpeace now aimed to observe the effects of nuclear testing by illegally stationing protesters on the island to monitor the blast. However the French Government found out about these plans Shortly before midnight on the night of 10 July 1985 two high explosive devices, attached to the hull of the Rainbow Warrior some time previously, detonated within the space of a few minutes. The force of the explosions was such that a hole eight feet in size was opened below the waterline at the engine room. The vessel sank within minutes. Earlier that evening approximately 30 people had been on board the ship attending a birthday party and at the time of the explosion 12 people, including the captain, were still present. Fernando Pereira, crew member and official photographer was drowned while attempting to retrieve photographic equipment from his cabin.
Following the incident several French agents were arrested however the French Government denied any involvement. It was only after two months of constant international pressure and increasing evidence that they finally admitted they were behind the sinking of the Rainbow Warrior: "Agents of the DGSE sank this boat. They acted on orders.", so the then-prime-minister Laurent Fabius on TV. The imprisoned French agents were handed over into French custody and released after only a short period. Their true identities have never been revealed to public.
The Rainbow Warrior was re-floated on 21 August 1985 and transported to Devonport Naval base in Auckland for detailed examination where a close analysis resulted in the reluctant decision by Greenpeace to scuttle the vessel, the damage being too extensive to repair. In 1987 the remaining of the Rainbow Warrior was transferred and scuttled in the Cavalli Islands in Matauri Bay in New Zealand and serves as a dive wreck since then.
Rainbow Warrior Dive-site Details

Dive Site  
Profile  
 Viz 
Temp   
Notes / Restrictions 

Rainbow Warrior    

   

10-18 m (33 to 60ft)   

 

10-15 m (32-50ft)   

   

15-22°C (59-72 °F)   

  

Must be advanced diver to penetrate