What are you looking for when hiring a self drive rental car for your New Zealand holiday? A small economical car to zip around the city? A large car to venture further afield? A tough-built 4WD for getting off the beaten track and away from it all adventuring? A big and beautiful people mover for group travel? Or even a mini-van for getting your extended family or group of friends from A to B? Here is a selection of what we have in our portfolio, please feel free to contact us if what you are looking for is not featured.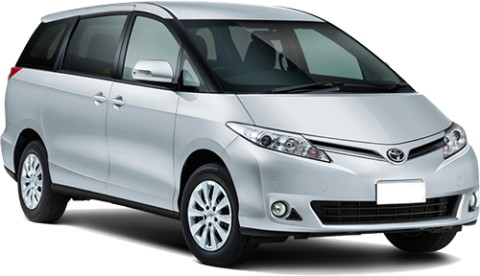 This luxury people mover has a well-earned reputation in New Zealand for safety and reliability. With these features (and superior performance and comfort) this option has proven popular with many of our customers. Negotiating the ever-changing New Zealand roads, you will appreciate the smooth ride and great views. This is an innovative vehicle with a solid reputation for intelligent design, quality and unshakable dependability. Previa proves that families and groups wanting a multi-purpose vehicle don't have to compromise on style while enjoying a New Zealand self-drive holiday.
*Actual features of this car may differ depending on availability. A list of available features will be supplied on enquiry.
Toyota Previa
Unlimited Mileage
Automatic Transmission
8 Seats
Other Features
2.4L, 4-cylinder 125kw Engine
Airbags – driver and passenger
Bluetooth Handsfree Phone
Vehicle Stability Control (VSC)