What are you looking for when hiring a self drive rental car for your New Zealand holiday? A small economical car to zip around the city? A large car to venture further afield? A tough-built 4WD for getting off the beaten track and away from it all adventuring? A big and beautiful people mover for group travel? Or even a mini-van for getting your extended family or group of friends from A to B? Here is a selection of what we have in our portfolio, please feel free to contact us if what you are looking for is not featured.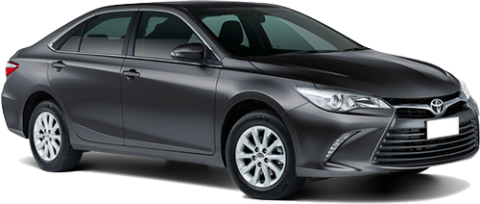 Toyota sporty Camry provides a New Zealand self drive experience that's dependable and design that's impeccable. Spacious and stylish interiors (combined with some grunt under the hood) means there's never a good reason not to jump behind the wheel and explore everything New Zealand has to offer. A touchscreen colour display, augmented by Bluetooth Hands-free phone and audio streaming capability, gives the Camry all the entertainment options. With an ergonomic enhancement of seat positions and angles, Camry boasts excellent leg room for rear passengers and added comfort for any driver. Rear seat passengers will enjoy the excellent leg and head room this spacious sedan offers. The Camry features a suite of safety technology designed to look after driver and passengers alike. Vehicle Stability Control with a reversing camera integrated into the touchscreen display are standard. 
*Actual features of this car may differ depending on availability. A list of available features will be supplied on enquiry.
Toyota's Sporty Camry
Unlimited Mileage
Automatic Transmission
5 Seats
Other Features
Electronic Stability Control (ESC)
Bluetooth Handsfree Phone
Daytime Running Lights (DRL)
Electronic Stability Control (ESC)
Vehicle Stability Control (VSC)