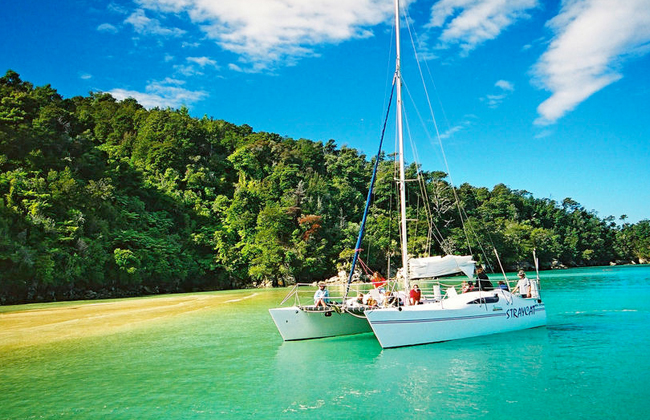 There's no better feeling than sailing on crystal-clear water, the wind in your hair and a backdrop of spectacular coastline unfolding before you. The sails are full, dolphins are surfing the bow wake, and rays of sunlight dance on an emerald-blue sea. After navigating the entrance to a crescent-shaped, white sand cove, you spend the afternoon dining on freshly caught fish and cooling off in the azure waters. This is what a sailing vacation in New Zealand is all about check out New Zealands top Sailing Destinations.  
Sheltered sounds, bays dotted with islands and more than 15,000 kilometres (9,320 miles) of coastline makes New Zealand a destination that is tailor-made for unforgettable sailing adventures. Secluded anchorages and waters teeming with colourful, thriving marine life call for a multi-day experience on the water. Days filled with snorkelling, swimming, sunbathing and island exploring ensure total relaxation, and dining on delicious meals of fresh fish and fine wines while admiring the sunset is a special kind of kiwi bliss. The former home of the America's Cup, New Zealand's passion for sailing runs deep. Because of our island status, nowhere in the country is far from the coast – and this close proximity to the ocean has shaped a nation with a passion for the sea. From sailing races to kayaking, surfing, diving and fishing, the kiwi lifestyle is synonymous with enjoying all that the ocean has to offer. Because of this, crew members on multi-day sailing trips are highly experienced with an intimate knowledge of crafting an unforgettable vacation. If you choose the fully-crewed sailing option, you're in safe hands – kiwis are some of the best sailors in the world. Or, if you're an experienced skipper, hiring a bareboat and sailing yourself is a popular choice. Different parts of New Zealand offer very different sailing vacations. From the temperate, sheltered waters of the Bay of Islands to the perfect beaches of Abel Tasman or the otherworldly landscapes of Fiordland, there's a myriad of locations and options to consider. What types of activities would you prefer? Are you looking for a luxury sailing experience or something more down-to-earth? Is this a family adventure or something to be shared by a couple or a group of friends? Below, we've selected what we believe are some of New Zealand's top sailing destinations. Read on to learn more and discover which one might suit you.
Bay of Islands: Encompassing 144 islands dotted between Cape Brett and the Purerua Peninsula in Northland, the Bay of Islands is a maritime playground. Because of the rich marine life found in these waters, pods of playful dolphins call the Bay of Islands home and orcas and whales often visit. Diving and snorkelling for scallops and crayfish is a real thrill, while the fishing here is world-class. Enjoy hours of exploring charming islands like Roberton and Urupukapuka on ribbons of walking tracks, stopping at sandy white beaches for a quick dip. The Bay offers safe anchorages for any wind direction. Activities like diving and kayaking are also on offer as part of your sailing adventure and both are great ways to explore above and below the water. Suitable for family groups as well as couples and friends, the Bay's easy accessibility, rich history and multitude of marine activities make for a vacation that is as action-packed or relaxing as you want.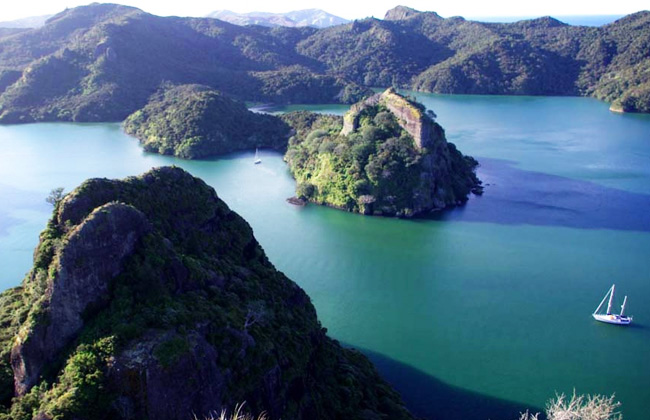 Abel Tasman: At the very tip of the South Island lies the Abel Tasman National Park, a coastal paradise that's geographically fascinating, scenic and perfect for sailing adventures. Native forest cloaks the land, tumbling down to meet inviting white-sand beaches that softly give way to pristine ocean. Walking tracks criss-cross the headlands, while just offshore lies Tonga Island Marine Reserve – a protected underwater environment offering spectacular snorkelling. Here, an attractive pink algae coats much of the rocks, while crevices conceal crayfish and conga eels. The area is also a rich feeding ground for countless fish species; look out for snapper, blue cod, tarakihi and moki. Abel Tasman enjoys the highest sunshine hours in the country, and a New Zealand Fur Seal Colony offers the opportunity to encounter cheeky animals up-close. Iconic split apple rock is great to explore by kayak. Abel Tasman is also suitable for family groups – activities like snorkelling, swimming in small, safe coves and spotting fur seals is a delight for kids. Adventurous couples will also love sailing here, as well as groups of friends looking for a mix of fun activity options and relaxation.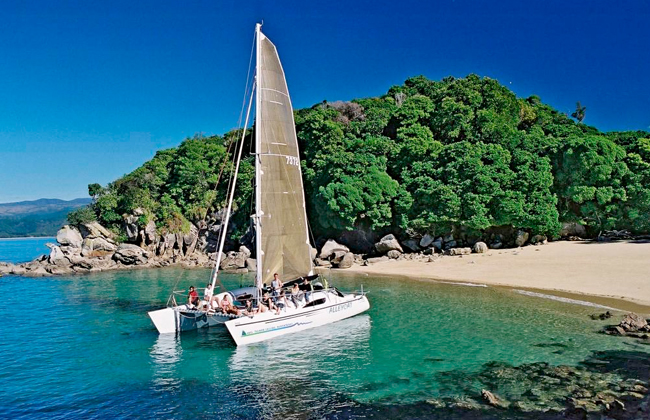 Auckland: On the doorstep of New Zealand's largest city lies some of the world's top sailing grounds. Known as the 'City of Sails', Auckland's Hauraki Gulf is home to more than 500 sheltered island anchorages, as well as beaches, great fishing and islands laced with walking tracks. From the yacht, explore the wineries, history and delightful cafe and art scene of Waiheke Island, or cast a line in the Motuihe channel – a famous local fishing spot. Between December and March the water here is the perfect temperature for swimming. The Hauraki Gulf is great for groups of friends who are keen to balance elements like wine tasting, delicious restaurants and bountiful fishing with swimming and relaxing, but it is also suitable as a sailing destination for couples and families.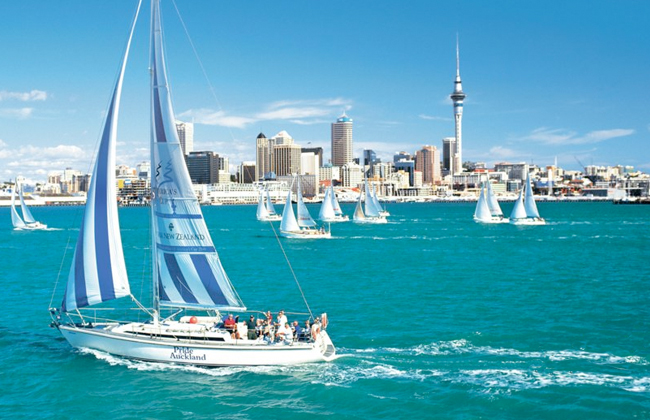 Fiordland: The spectacular fiords of the South Island's West Coast offer a one-of-a-kind sailing adventure. These unique landscapes attract a number of sailors and divers every year, who come to explore the inky blue waters, soaring waterfalls, ancient rainforests and underwater wonderland. Diving is a very special component of any Fiordland sailing vacation, due to the treasure trove you'll find underwater. High rainfall in the region means an abundance of freshwater run-off that floats on top of the salt water of the Tasman Sea. This freshwater is coloured slightly by the tannins from vegetation, reducing light transmission to the sea water below. As a result, deep sea species like red and white corals, jewel-coloured anemones, sponges and the famous Black Coral Trees thrive in relatively shallow depths of 10-12 metres. Seals, dolphins and the occasional whale may also come to join you. Discovering sheltered coves and secret waterfalls before enjoying unforgettable diving creates a sailing vacation like no other. Sailing in Fiordland is perfect for groups of friends or couples passionate about experiencing this truly unique maritime world – both above and below the water.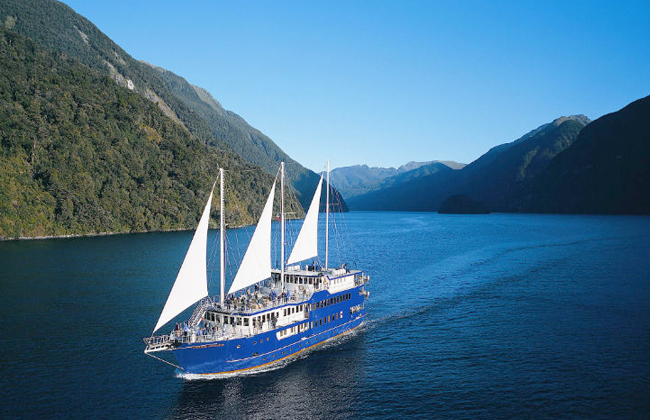 A New Zealand Sailing Vacation with First Light Travel: Sailing and getting out on the water is something we enjoy a lot in our leisure time here at First Light Travel, so we're well qualified to offer advice and expertise to bring your sailing vacation to life. From multi-day sailing adventures that are fully crewed and catered to learning to sail or chartering your very own vessel, we can help to craft a New Zealand sailing experience that you'll remember for a lifetime and without a doubt you will sail through some New Zealands top Sailing Destinations Find out more about the sailing options we offer here, or get in touch directly.