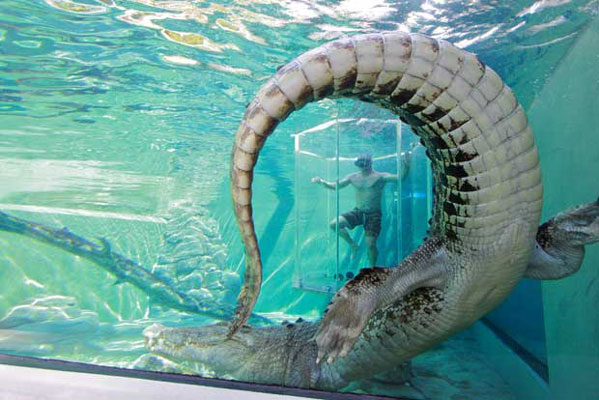 This attraction at Crocosaurus Cove in the heart of the city of Darwin in the Northern Territory has been given high marks by adrenaline-junkies. The "Cage of Death" allows the participant to get up close and personal with a fully-grown Saltwater Crocodiles. Read on and Have a Look at How Close these Croc's actually get!
This encounter commences as you are lowered into one of three crocodile enclosures.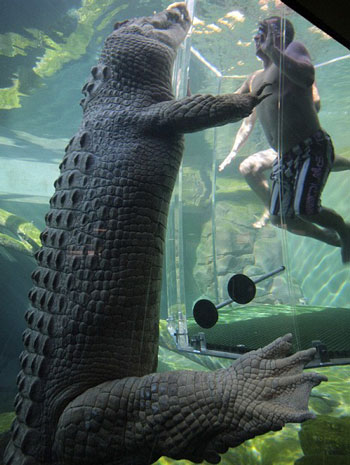 Gradually you become submerged in the very same waters as some of Australia's largest crocodiles. Each cage dive will spend approximately 5 minutes in each of the 3 enclosures! Operated by an over-head monorail and designed for 1 or 2 people per cage, the Cage of Death has you suspended above the crocs before being lowered into the pens to get an up close and personal look at these amazing reptiles.   The cage made from 4cm-thick panes of acrylic-strengthened glass. The glass is apparently too tough for reptiles' jaws and claws to break through. But it bears several ominous-looking gashes where they have tried. 
First Light Travel Australia is proud to be an Aussie Specialist- a designation awarded by Tourism Australia, and your guarantee that our travel consultants are Experts in Australian Travel. If you are travelling to Australia then who better to give you the best advice than an Australian specialist travel agent..