Forget the Blood, Sweat and Tears - 7 Great Australian Hiking Trails to Ease you into the 'Great Outdoors'.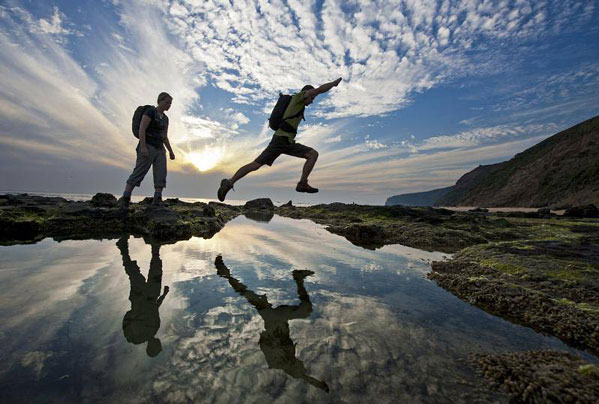 Australia boasts some of the most extraordinary landscapes for the hiker to enjoy, ranging from Lush tropical rainforests to remote and seemingly endless deserts and everything in-between. This country was made to be explored, but you won't have to compromise on either comfort or cuisine as the new breed of walker gets into the 'Great Outdoors' Here are some great Australian hiking trails.
Over the last decade or so, tourism operators have gone out of their way to satisfy requirements for a broader range of traveler wanting to get into the Great Outdoors, hence the birth of Glamping (camping with all creature comforts supplied). The same has happened for the hiker, sure you can still carry your food and shelter on your back and be totally self sufficient in the wilderness, but more and more people are wanting an easier experience but with the same rewards. Take, for example, the 'Arkaba Trek' featured below, the idea of sleeping in a swag, to most Australians, conjures up images of a wiley bush-ranger sleeping rough with the most rudimentary of comforts - but as you can see with the image below the 'Arkaba Walk' have taken the concept to the totally new level - after all, the climate is conducive to sleeping under the stars, so why not make the most of it.

Options are available to those wanting to enjoy an outdoor hike, carrying the absolute minimum, spending the evening in a comfortable Bed and Breakfast/Wilderness Lodge or even an up market Safari Style Camp with support vehicles transferring luggage to the next evenings accommodation, while others simply provide a cook so you can just relax at the end of a days hike and not have to worry about cooking or doing the dishes. Every year more options become available, enticing folk to experience beautifully remote regions that otherwise they would not have explored. Here are a handful of treks to inspire you of the 'Beaten Track', that allow some creature comforts to ease the way.
Bibbulmun Track – The Beautiful South East of Western Australia
The Bibbulmun Track is Australia's longest walking track that makes its all the way from Perth to Albany and offers a range of experiences from an epic eight-week adventure staying in all 48 campsites, to day walks staying in quaint rural towns The most popular is self-guided hikes that take in the beauty of a nine-day section between Walpole and Albany staying overnight at comfortable bed and breakfasts. On this section walkers move through towering karri forests, down through misty valleys, over giant granite boulders and along coastal headlands and passing through the most beautiful national parks of the southwest. Carefully selected walking trails provide a variety of different walking experiences from moderate to challenging walks that are well within the abilities of most guests. No special skills are required.
Fitness level: 40% easy, 50% moderate, 10% harder. 15-25 km walking (5-7 hours) each day.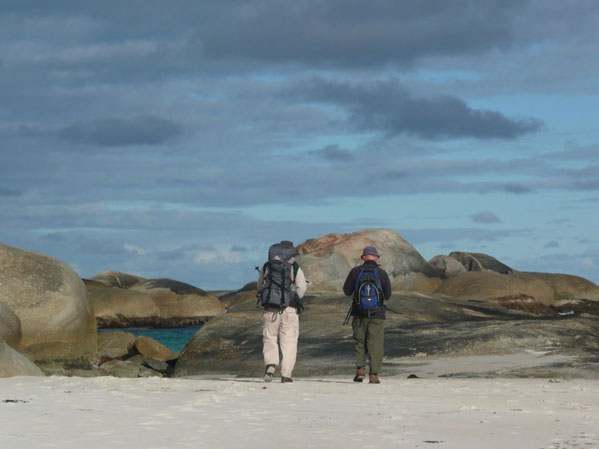 The Gold Coast Hinterland Walk - Explore Jurassic Park
The Gold Coast of Queensland's Hinterland Walk connects Lamington and Springbrook Plateaus and is a World Heritage rainforest with an abundance of rivers and waterfalls that is populated by Australia's most fascinating wildlife including hundreds of different species of sub-tropical birds providing amusement for everyone. Two thousand year old Antarctic beech, massive strangler figgs, rosewood and booyongs with red cedar, tower overhead, whilst countless species of palms give you shade and keep everything looking lush, while vines, ferns and orchids flourish beneath keeping your vista full regardless of where you look. The six-day guided hike will take you through a world heritage rainforest (with a self guided option available) you walk through the National Park from one delightful accommodation setting to the next and to make things really easy your luggage can be transferred while you are out walking, limiting the weight you need to carry.
Fitness level: 35% easy, 45% moderate, 20% harder. The longest day has 7 hours walking (this can be reduced)

The Arkaba Walk - Flinders Ranges
The best way to appreciate the beauty and complexity of the many landforms making up the ancient Flinders Ranges is on foot. Immerses yourself in 600-million years of geological history with a 4 day walking safari deep into the Australian outback Expert guides interpret flora and fauna and the geology of the Flinders. Imagine isolated watering holes that are home to thousand-year-old river gums with a backdrop of craggy ridgeline hills covered in cypress pines. You will traversing the Wilpena Pound as you move through the 40,000 acres that make up the Arkaba's private wildlife conservancy. This is an opportunity shared with just a privileged few and is considered one of Australia's most spectacular outback landscapes Two nights are spent at luxury wilderness camps, which are in spectacular locations on the property, with the last night in the beautifully restored 1850's homestead. The Akaba daily itinerary is worked around the interested and fitness of the group.
Day 1 is approximately 12km, 4-5 hours easy to moderate walking Day 2 is approximately 10-14km, 6-7 hours Day 3 is approximately 8-12km, 6-7 hours Day 4 - no walking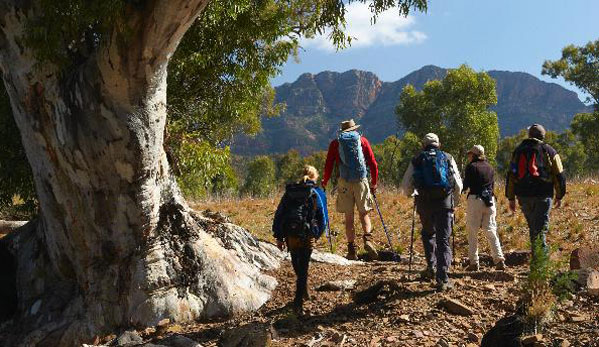 The Blue Mountain Traverse
Within an hour from Sydney, the 1,000-meter (3,280 Feet) sandstone plateau of the Blue Mountains is part of the spectacular World Heritage Area that covers more than 1 million hectares. (2.47 Million Acre's). Retrace the route of our early mountain explorers as you embark on a 5 Day Blue Mountain's Traverse. This walk is an easy self-guided journey staying in historic guesthouses and B&Bs and to make life easier we transfer your luggage to your next evening's destination as you walk. Learn the Aboriginal legend about three gorgeous sisters, why the earth in the park is blood red and find out why the Blue Mountains are 'Blue'. Walk down the Giant Stairway and get close enough to touch the three sisters. Encounter cascading waterfalls that have hanging swamps growing out of cliffs. Explore stunning canyons where forest giants tower overhead and the only sounds are flowing water, bird song and the wind in the trees.
Fitness level: 30% easy, 35% moderate, 35% harder. 9-16 km walking (4-6 hours) each day.

The Jatbula Trail - Katherine Gorge
This fully guided 5 Day, 58 kilometre (36 Mile) Jatbula Trail features stunning scenery, waterfalls and ancient Aboriginal rock art. The trail moves from Katherine Gorge (Nitmiluk) to Edith Falls/ Leliyn. It is a long and potentially difficult walk but adequate preparation (fitness) will ensure a safe and enjoyable journey - this is a full pack carrying bushwalk. It is advised to only walk it in the cooler months to get the best experience of the tropical environment. This is a fantastic experience, the stone country, or Arnhem Land, is one of the most awe-inspiring wilderness areas in the country. Nitmilik National Park features picture postcard waterfalls cascading from high quartzite cliffs, monsoon forests line the creeks and stunning Aboriginal rock art adorns the caves and overhangs. With an abundance of clear creeks and pools throughout, there are plenty of opportunities for swimming in the warm crocodile free waters.
Fitness Level: Fit and active people with some bush walking experience - (Capable of walking over rough ground with up to 15kg backpack)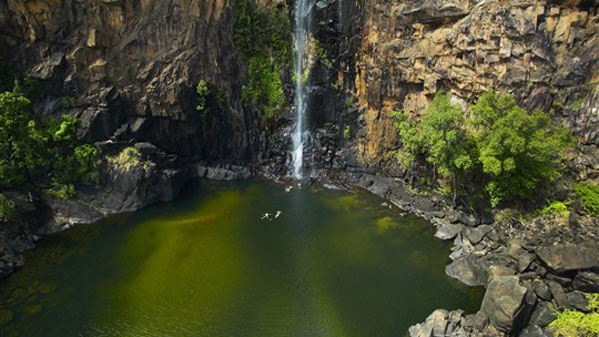 Snowy Mountains Hike - The Top of Australia
Follow the footsteps of the 'Legendary' Man from Snowy River, this 7 Day self-guided (or guided) hike traverses the so called 'Australian Alps', staying overnight in remote ski villages throughout the spectacular Kosciuszko National Park and to make things easy we move your luggage while you are out walking. Sporting the UNESCO Biosphere Reserve status, Kosciuszko National Park contains rare plants and animals in an alpine and sub-alpine setting that is found nowhere else in the world. Here rare animal species like the corroboree frog and the tiny mountain pygmy-possum can be found. Considered one of Australia's truly great national parks, Kosciuszko, encompasses the countries highest mountain (with the parks namesake) at 2,228 meters (7,309 feet), the headwaters of the Snowy River and some spectacular limestone caves. Covering over 690,000 hectares (1,705,000 Acres) the park offers walkers a multitude of diverse landscapes to explore, from the snow country where the alpine herb fields show spectacular displays of flowers during early summer with buttercups, billy buttons, snow daisies, golden everlastings and the very unique alpine gentians. From the cool temperate rainforest to drier forests and woodlands in the West and sub-alpine woodlands of beautiful snow gums giving way to the tall forests of mountain gum and alpine ash in the east. Fitness level: 25% easy, 55% moderate, 20% harder. 14-23 km walking (4-6 hours) each day.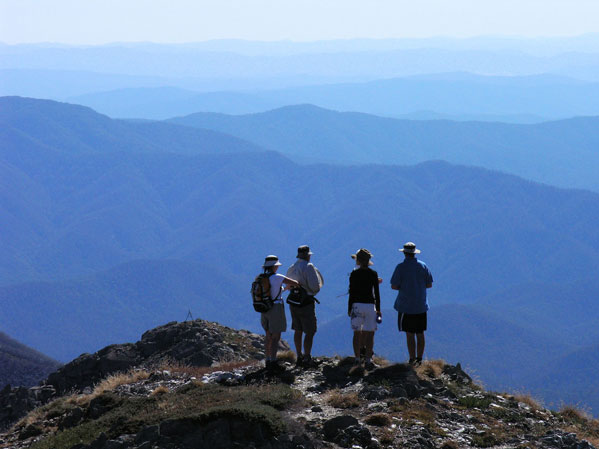 Tasmania's Overland Track
This 6  day, 65 Kilometer (40 miles) hike through Tasmanian Wilderness World Heritage Area Overland Track takes you from Cradle Mountain to Lake St Clair through a variety of inspiring landscapes. Carring a full pack with 5 nights camping (Basic Hut Accommodation is optional) you trek over mountain ranges, through temperate rainforest, across wild rivers and alpine plains. This extraordinary wilderness features a huge diversity of flora and fauna, rainforests, glacial lakes, craggy peaks, alpine meadows, button grass plains. You will see echidnas, wombats, wallabies and the Tasmanian devils all making this area home. If you are really lucky you may catch a glimpse of the Tasmanian tiger, thought to be extinct – some locals say otherwise.
Fitness level: Moderate – approximately 10km walking per day carrying a full pack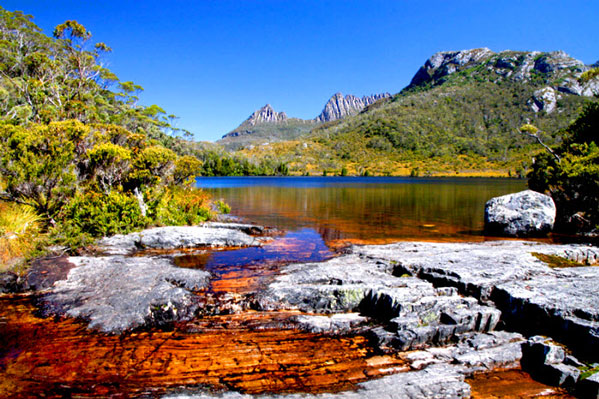 First Light Travel Australia is proud to be an Aussie Specialist- a designation awarded by Tourism Australia, and your guarantee that our travel consultants are experts in Australian Travel. If you are traveling to Australia then who better to give you the best advice than an Australian specialist travel agent.. Australian Travel and Tours