Hiking The Central Plateau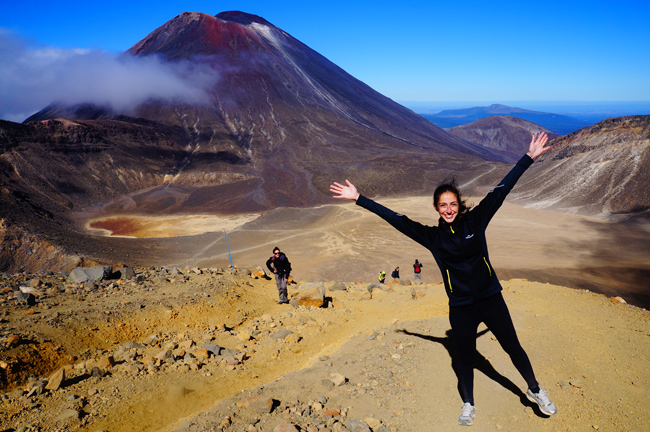 THE CENTRAL PLATEAU
Our active New Zealand volcanoes are confined to the Taupo Volcanic Zone, a belt that extends from Tongariro National Park, over lake Taupo and on to White Island Volcano on the East coast of the North Island. Lake Taupo itself is a huge crater lake bought into existence by a huge eruption in 181AD, the effects of which could be seen from Europe and China and the result was the largest lake in Australasia "Lake Taupo" which feeds the longest river in New Zealand "the Waikato River".
The volcanoes found in the centre of the zone are Tongariro, Ngauruhoe and Ruapehu, these three volcanoes and their surroundings were constituted as Tongariro National Park in 1894, the first national park in New Zealand and only the fourth in the world, further to this in 1990 it gained dual World Heritage status, which means it's recognized for its Maori culture and its outstanding volcanic features.
Tongariro National Park, is a place of extreme contrasts - delicate alpine herb fields to pockets of dense podocarp and beech forests; swathes of waving tussock to barren lava flows, vast winter snow fields, hot springs and steaming active craters. Of course Peter Jackson chose to shot scenes for The Lord of the Rings and the Hobbit here, a perfect for Mordor!
Hiking:
Needless to say the hiking around the National Park is highly recommended it is the home of the world famous Tongariro Alpine Crossing and one of Nine New Zealand Great Walks - the Tongariro Northern Circuit
There are countless outstanding walks varying in duration and intensity throughout this wonderful region from a 30 minutes waterfall walk to a four-day hike around the volcanoes contact us to find out which one is right for you.
TOUR PACKAGES:
1 Day Guided Tongariro Crossing
4 Day Tongariro Crossing
Enquire now, and one of our team of New Zealand travel specialists will customise your New Zealand tour within 24 hrs. FREE of charge!